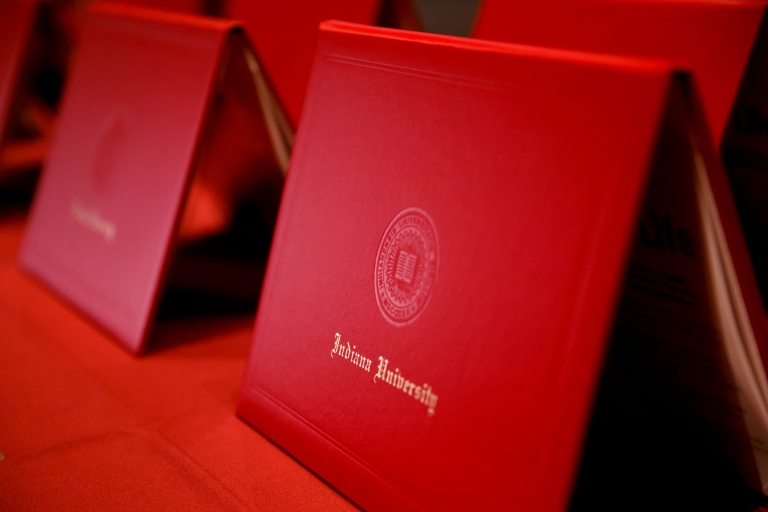 The Indiana University Board of Trustees approved two new degrees at its August meeting: a Doctorate of Philosophy in nutrition at the Indiana University School of Public Health-Bloomington and a Bachelor of Science in quantitative economics at the IU School of Liberal Arts at IUPUI.
The new doctoral degree in nutrition fits within one of the focuses of IU's Bicentennial Strategic Plan — "Health Sciences Research and Education to Improve the State and Nation's Health." According to the Council on Education for Public Health, this program is offered by only seven other accredited schools of public health in the country.
Graduates are projected to aid Indiana and surrounding states' public health rankings by supplying the workforce with nutrition scientists in academic, governmental, nonprofit and private-sector settings.
IUPUI offers a doctoral program in nutrition and dietetics with a focus on clinical practice, but this new School of Public Health-Bloomington program will differentiate itself in the following ways:
Graduates will complete research-related courses with a focus in nutrition science and public health.
Graduates will be trained to execute independent research outcomes such as creating hypotheses, developing methodology, collecting data, interpreting data, and producing formal oral and written forms of communication that meet the program's expectations.
Graduates will learn the structures of research design, biostatistics and evidence-based principles for the critical evaluation and application of research literature.
Founded in 2012, the School of Public Health-Bloomington adds nutrition to the six other doctoral programs offered in the school: biostatistics, environmental health, epidemiology, health behavior, human performance and leisure behavior. With a strong emphasis on research, the school aims to apply a "comprehensive and holistic approach to disease prevention, wellness and teaching."
The new bachelor's degree in quantitative economics at IUPUI is providing a more focused course of study for liberal arts students pursuing business, math and/or science interests. The School of Liberal Arts is adding new pre-major math and science requirements that are expected to be particularly appealing to business, science or math students.
The new Bachelor of Science competencies replace the 14-credit word languages and perspectives requirement with a six- to eight-credit international dimension requirement and a six- to eight-credit science, math and analytical skills requirement.
Requirements for the quantitative economics degree include eight credits of relatively demanding math courses, replacing six credits of less-demanding courses from the Bachelor of Arts requirements. They also include required upper-division mathematical-economics (optimization theory) and economic statistics (econometrics) courses.
Additionally, this new degree path will replace the current quantitative track variant of the Bachelor of Arts degree. That variant includes the extended eight-credit math requirement and the econometrics course requirement.
The end goal of this degree is to provide students a more focused and useful learning experience with training better suited for the types of jobs or graduate studies they seek. Students graduating with a degree in quantitative economics should be adequately prepared for a variety of math, statistics and analysis-oriented jobs in the private, governmental or financial sectors. The degree's title should make it a more convincing credential for those jobs and should provide superior preparation for graduate study in economics, public policy, business, medicine and other fields in which the instruction and training have substantial and increasing math/statistics content.