BLOOMINGTON, Ind. – Indiana University Bloomington students are moving into residence halls this weekend for the 2021-22 school year, with nearly 4,000 students arriving Sunday, Aug. 15. IUPUI students will begin moving into residence halls Aug. 21, and classes on both campuses will start Aug. 23.
IU Bloomington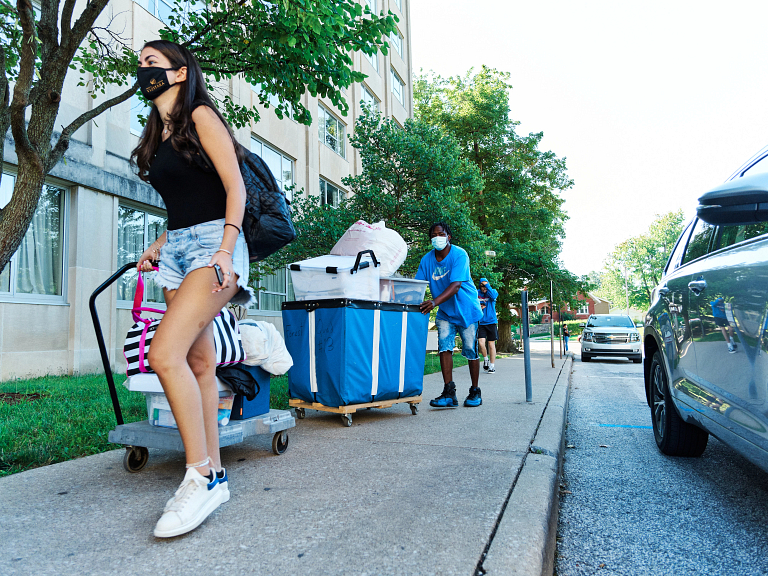 Move-in at IU Bloomington will begin Aug. 15 and extends throughout next week. All students moving into residence halls at IU Bloomington will go through a centralized check-in process at Memorial Stadium when they arrive on campus.
These students will enter check-in from the State Road 45/46 Bypass at Gate 11, Purple Lot, and park in the Green Lot. Students will then complete their COVID-19 check and housing check-in in the North Lobby of Simon Skjodt Assembly Hall. This site will be open to students on their scheduled move-in day between 8 a.m. and 5 p.m.
Once they have completed centralized check-in, students will proceed to their residence halls. Individual parking and move-in instructions for each residence hall are available on the Residential Programs and Services website.
Masks are required indoors for all visitors and students.
Those traveling to campus from the north should allow for extra travel time for I-69 detour delays. Travelers should check the Indiana Department of Transportation website before heading to Bloomington. IU Police Department officers will be stationed at several intersections around campus, and signs will redirect traffic.
IU President Pamela Whitten and Interim Provost John Applegate will be greeting students at centralized check-in the morning of Aug. 16 and will then visit students at residence halls across campus.
Wednesday, Aug. 18, will mark the start of Welcome Week activities aimed at helping students find their way around, make new friends and acclimate to campus. Highlights include:
IUPUI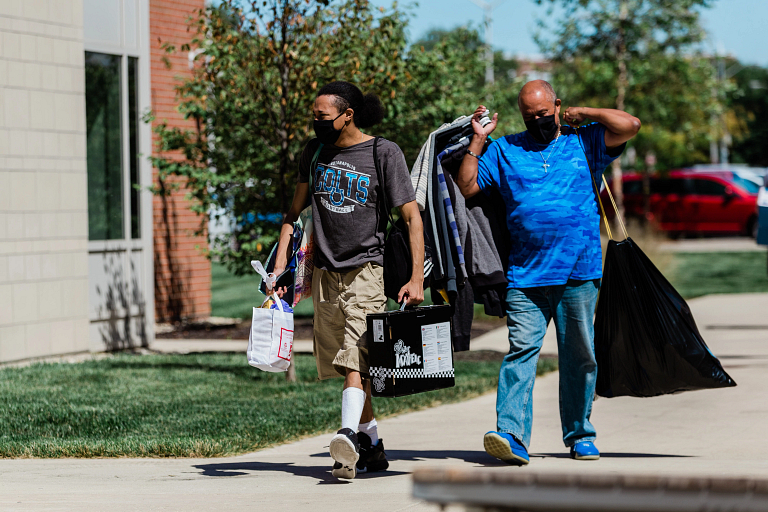 Fall move-in days for students living on the IUPUI campus will be from 8 a.m. to 3 p.m. Aug. 21 and 22. All students will check in at the IUPUI Campus Center at 420 University Blvd. in Indianapolis. Parking for students to check in will be available in surface lot 80, just south of the Campus Center.
Students will complete their centralized check-in process and COVID-19 check in the Campus Center. Students will then proceed to their residence hall to complete move-in.
There will be no limit to the number of guests who can help students move into their rooms, but everyone will be required to wear masks while indoors.
President Whitten and IUPUI Chancellor Nasser Paydar will greet students at the Campus Center the morning of Aug. 21, then they will be meeting with students moving into residence halls.
Aug. 21 will also mark the start of IUPUI's Weeks of Welcome. Highlights include:
EDITOR'S NOTE: Day-of video footage and images will be added to a media kit on the afternoon of Aug. 16 for IU Bloomington move-in and the morning of Aug. 23 for IUPUI.