BLOOMINGTON, Ind. – Indiana University continues to see strong overall university-wide enrollment and record enrollment at its Bloomington campus, while also further diversifying its student body.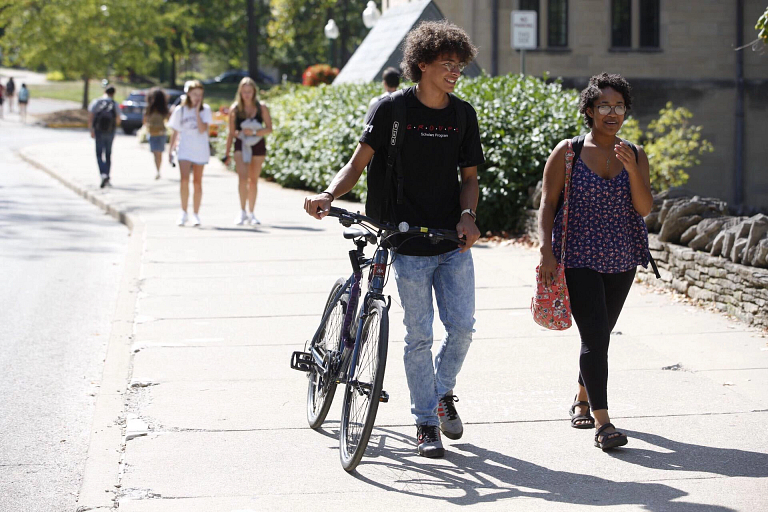 As of Aug. 30, the official IU census day for fall semester, overall enrollment totaled 91,084 students across all IU campuses, a small decline of 1.6 percent from fall 2020. Degree-seeking students of color total 23,782 this year, reflecting a record enrollment level of 29 percent. International enrollment across campuses totals 6,338, up nearly 4 percent from last year and the first increase in international students since fall 2016.
"As we return to in-person learning on our campuses across the state, IU is pleased to welcome more than 91,000 students and a record number of students of color," IU President Pamela Whitten said. "This year's enrollment reflects IU's continued success in keeping an IU education affordable, accessible and responsive to the needs of students from all backgrounds."
IU Bloomington
IU Bloomington has shattered all enrollment records this year due in part to an incoming class of 9,482 – a 20 percent increase over last fall. The campus's total enrollment for fall 2021 is 45,328 students, an increase of more than 5 percent from last year. This includes 11,075 graduate and professional students, a 10 percent increase over last year.
During the inaugural year of IU Bloomington's test-optional admissions policy, 46 percent of the beginning cohort opted out of test score consideration. This policy signaled a heightened focus on the student's academic course work in high school in both admission and scholarship consideration, and resulted in increased interest from underserved students and those from diverse socioeconomic backgrounds. It also helped IU Bloomington build on its record-setting decade of growth in diverse student enrollment. This figure has nearly doubled since 2011. IU Bloomington's overall enrollment of students of color totals 10,853, a record share of 27 percent of the student body.
The academic merits of the incoming class are evidenced by the 5,329 direct admits (a 43 percent growth over last year), the 1,597 incoming students admitted to the Hutton Honors College (a 40 percent growth over last year), and the class's median high school GPA of 3.85, which is tied with the incoming class of 2019 for the second highest ever. In addition, the number of beginning students receiving merit scholarships from the Office of Enrollment Management totals 4,518 – a 61 percent growth over last year.
In addition, 6,534 beginners are receiving gift aid. This is 69 percent of the incoming class and a 25 percent increase in the number of students who received this aid last year. A record 1,713 incoming students have received federal Pell Grants, which are awarded to undergraduate students demonstrating exceptional financial need.
Students in the IU Bloomington incoming class hail from all 92 Indiana counties, 47 states and Washington, D.C., and are citizens of 46 countries across the globe.
IUPUI
Enrollment across IUPUI's Indianapolis campus and two Regional Academic Centers totals 27,690, with 25,713 students enrolled at the Indianapolis campus this fall. IUPUC in Columbus is welcoming 1,051 students, while IU Fort Wayne enrollment this fall is 926.
A record share – nearly 33 percent – of IUPUI's degree-seeking students are students of color, and the campus boasts the largest number of Hispanic/Latino students as well as Asian American students in its history. Overall enrollment of international students at IUPUI increased by nearly 2 percent compared to last year.
While undergraduate enrollment at IUPUI saw a decrease this fall, the campus's graduate and professional program enrollment is at an all-time high at 8,292 students. The incoming class at IUPUI this fall totals 3,496.
Regional campuses
With some dips in enrollment compared to last fall, students of color reflect a record share of the degree-seeking student body at six of IU's seven regional campuses. International student enrollment at IU East has reached a new high, and Hispanic/Latino students represent a record share of nearly 27 percent of the student body at IU Northwest, earning the campus a designation as a Hispanic-Serving Institution. IU Northwest also saw a 3.5 percent increase in graduate student enrollment.
IU Online
The university's highly successful IU Online program continues to grow, with a record total of 8,224 students enrolled in fully online programs. IU Online now offers 204 degree and certificate programs – nearly 50 more than last academic year – all taught and developed by IU faculty. Thirty-eight of these programs are offered through a collaboration between multiple IU campuses. Credit hours from online courses represent nearly 23 percent of all credit hours at IU.