BLOOMINGTON, Ind. – The United States Agency for International Development has awarded the Partnership for Higher Education Reform – a five-year, $14.2 million project to strengthen teaching, research, innovation and governance within the three largest national universities in Vietnam – to Indiana University, subject to availability of funds.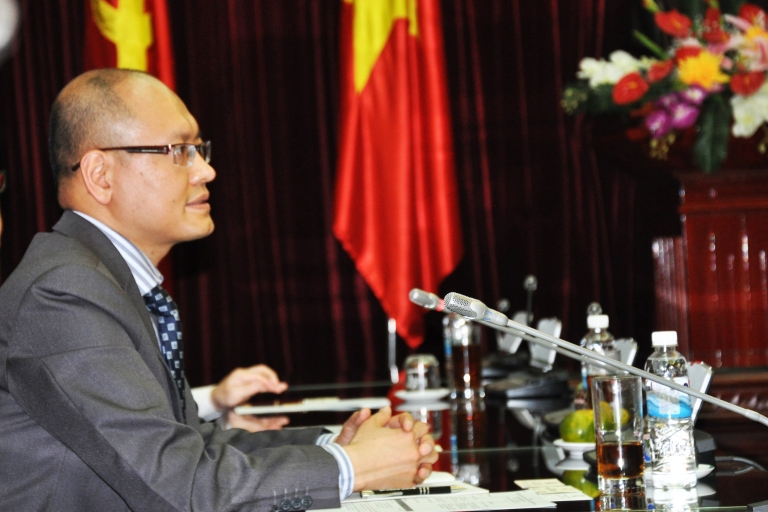 During her recent visit to Southeast Asia, U.S. Vice President Kamala Harris underscored the United States' commitment to the future of Vietnam and the enduring nature of the U.S.-Vietnam partnership, including this new USAID grant. Led by IU, the project will support inclusive economic opportunities for nearly 150,000 Vietnamese students in support of a strong, prosperous and independent Vietnam as a vital U.S. partner.
The project will be spearheaded by O'Neill School of Public and Environmental Affairs professor Anh Tran and Teshome Alemneh, associate vice president for international research and development and head of IU's Office of International Development. Supporting three major Vietnamese universities – Vietnam National University-Hanoi, Vietnam National University-Ho Chi Minh City and the University of Danang – the program will help these institutions become more sustainable, accountable and autonomous; improve academic quality; and advance research and innovation.
"IU has been selected as the right partner in this project among many U.S. universities that applied, in part because of IU's rich experience working in Vietnam and training many faculty members, scholars and policymakers for the country," Tran said. "The U.S. government and USAID have invested significantly in Vietnam because of the U.S.-Vietnam comprehensive partnership in higher education, trade, climate change and national security.
"For Vietnam, modernizing higher education will upskill its labor force, allowing Vietnam to enter more high-tech industries and achieve higher economic growth in the future."
The project's strategy centers on four key programs: governance, teaching and learning, research, and university-industry linkages. Core activities will strengthen university governance and financial systems, provide faculty training in designing state-of-the-art courses, facilitate research collaborations and expanded research capacity, and develop guidelines and incentives for prosperous partnerships between universities and the private sector. Virtual knowledge repositories will anchor the four program pillars, providing flexibility during the project's COVID-19-era launch, facilitating a broader partnership network, and accommodating content developed by IU and Vietnamese partners throughout the project's lifespan.
"Through this partnership with USAID and local institutions, IU will be able to mobilize its experts and resources in order to advance higher education in Vietnam," said Hannah L. Buxbaum, IU vice president for international affairs. "This project reflects Indiana University's long-standing commitment to collaborative, research-driven work in institutional development around the world."
In addition to the four focus areas, cross-cutting strategies around higher-education policy advocacy and reform, technology and digitization, and gender empowerment will support the long-term sustainability of project outcomes. The initiative also supports the Vietnamese government to examine the current higher-education policy environment and seek ways to institutionalize reforms. Through policy research, workshops and seminars to dive deeply into key policy issues, IU and partners will develop recommendations to improve efficiency and create a culture of innovation within the Vietnamese higher-education system.
"One of USAID/Vietnam's priorities is to strengthen the partnership between the U.S. government and the government of Vietnam to advance reforms," said USAID/Vietnam Mission Director Ann Marie Yastishock. "This partnership between USAID, IU and the Vietnam National University system is a strategic opportunity to significantly broaden higher education reforms that have been enabled by the 2019 Revised Law on Higher Education. As this project will address both the legal framework and institutional capacity of the three largest universities in Vietnam, it will benefit not only nearly 150,000 students but also the higher education sector more broadly."