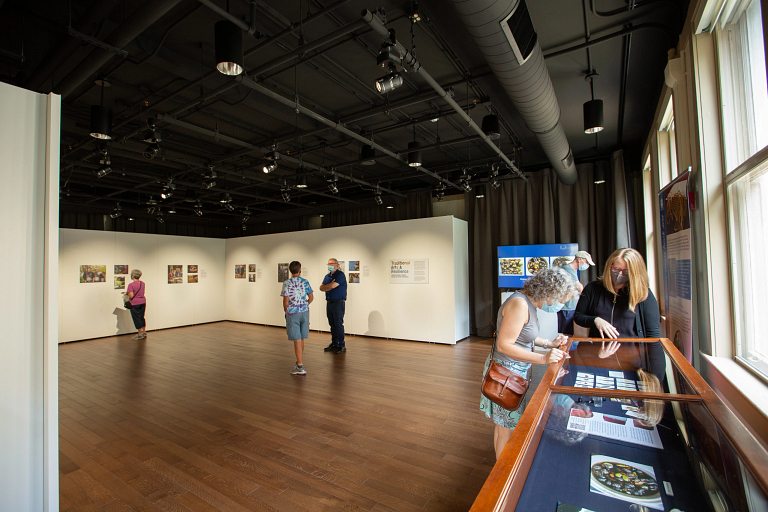 Indiana artists have felt the financial pinch over the past 18 months. Performance venues closed, exhibitions and conferences were canceled, and furloughs and layoffs were necessary for businesses to stay afloat during the COVID-19 pandemic.
The Indiana University Arts and Humanities Council and the Center for Rural Engagement wanted to support these artists, particularly from rural communities. The solution was a collaboration with the Indiana Arts Commission to offer a three-day workshop to teach emerging artists practical business skills. Those artists' works will be featured in the Artists at Work exhibition at the Gayle Karch Cook Center for Public Arts and Humanities from Sept. 22 to Oct. 23.
The Cook Center's exhibition is an eclectic mix of creative works that showcases the cultural and artistic environment thriving in Indiana and strengthens IU's connection to the community. The emerging artists were part of the On-Ramp Creative Entrepreneur Accelerator program, which provided tools to help them kickstart their professional career.
"This program is heavily focused on reaching communities across Indiana and helping artists become more sustainable and resilient," said Gerard Pannekoek, program and operations coordinator for the Arts and Humanities Council.
The workshop brought musicians, filmmakers, woodworkers, painters, photographers, metalsmiths and other new, independent artists together at the Cook Center to learn from established artists who dug into business practices to help these emerging artists reach their career goals.
Lisa Dodson of Lisa Loves to Quilt LLC, who creates quilts for exhibitions and sales, found help in areas like grant writing, forming an LLC, pricing art and creating a budget with the program.
"The pandemic brought everything to a halt and changed how business is conducted," she said. "The On-Ramp program was the boost I needed to gain inspiration and meet those changes caused by the pandemic."
Artist Zach Roy, a green woodworker who makes functional art in the form of wooden utensils and other home wares, wanted to learn new skills and network with other artists.
"On-Ramp really opened up my worldview to the possibilities that are out there for working artists," Roy said. "My mind was blown that people were facing the same struggles as I was, and we got to hear from other artists who had been there before in their own careers and moved past it. The transfer of information, wisdom and experience was simply invaluable."
The workshop engaged participants from all over the state, including artists from rural communities like Orange, Brown and Washington counties.
"We want to connect university resources with rural communities and reach independent artists who may not be connected to their regional network, " said Adrian Starnes, quality of place liaison for the Center for Rural Engagement. "Partnering to deliver the On-Ramp program helps us build on our goals of developing and supporting the cultural identities of rural Indiana and improving Hoosier lives."
The On-Ramp program was a first for the Cook Center and the Arts and Humanities Council, but Starnes and Pannekoek are already looking ahead.
"The Cook Center is a very welcoming space that was beautifully renovated with the intention of fostering and encouraging thinking about the arts and humanities," Pannekoek said. "We had not hosted a workshop like this in this space before and are really excited about what's possible in the future."
"We're already thinking beyond this year and what we can do to keep building on this momentum and the network the program creates," Starnes said.