How do people reckon with their country's troubled history regarding racism? An Indiana University professor wants students from the Bloomington campus to consider that fundamental question when they participate in a civil rights tour with college students from Serbia.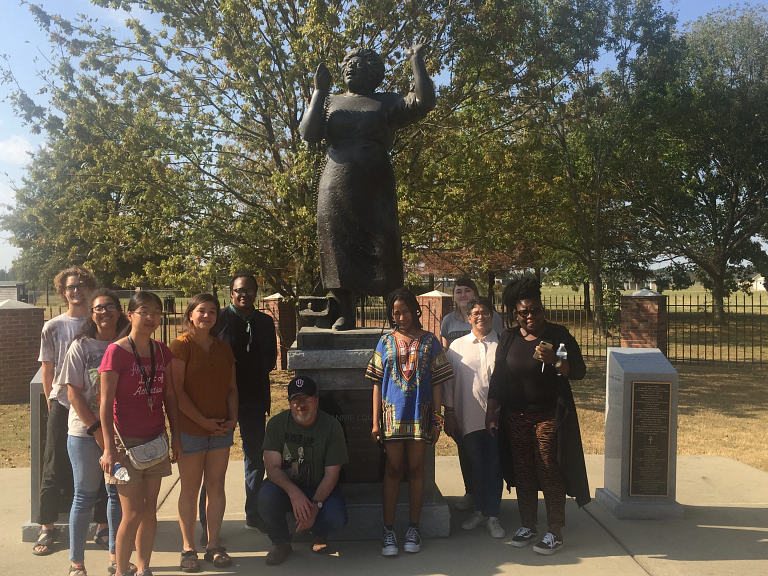 Alex Lichtenstein, a professor of history and American studies in the IU Bloomington College of Arts and Sciences, will lead tours in 2022 and 2023 of U.S. civil rights memorials in the South that will involve about a half-dozen IU students and 10 from the University of Novi Sad.
The first trip will take place in late May, starting in Washington, D.C., at the National Museum of African American History and Culture. The trip will include visits to the Emmett Till Memorial in Mississippi, the National Memorial for Peace and Justice in Alabama, and the National Center for Civil and Human Rights in Atlanta.
While slavery, segregation and racial violence are part of United States history, Lichtenstein said, the civil rights tour offers a similar connection for the Serbian students, whose country has a barely acknowledged past marked by ethnic cleansing during the Yugoslav Wars in the 1990s.
"As a historian, I believe a democratic future rests on an honest reckoning with the past," Lichtenstein said. "Americans are arguing about how best to come terms with racism. We want the Serbians to join us in this journey of reckoning with a troubled past."
Students from the Department of History, Department of American Studies, Department of African American and African Diaspora Studies, and Global Living-Learning Community will be invited to participate, but any IU students may apply for the trip. Details about this University Partnership Program and how to apply are available on the College of Arts and Sciences' College International webpage.
The U.S. Embassy in Belgrade, Serbia, is making this program possible through a $100,000 grant to IU's College of Arts and Sciences. The U.S. Embassy wanted to support the creation and nurturing of university partnerships between the U.S. and Serbia, said Carolyn Lantz, director of international affairs in the College of Arts and Sciences, who helped Lichtenstein prepare the grant application. This partnership program between the U.S. and Serbia is part of a larger U.S. foreign policy initiative to help countries develop democratic practices and learn about the U.S., and help U.S. students learn about these countries and support a mutual understanding.
"On an individual level, we want both the Serbian and IU students to spend some time thinking about how we characterize the past and how we acknowledge it," Lantz said. "A lot of Serbians still need to work though the fact that maybe they were not in the right in the 1990s and need to acknowledge that and the pain."
To promote good relations among Serbians and Americans, the project is also supported by a $50,000 donation from David and Ann Erne through the Robert F. Byrnes Russian and East European Institute at IU's Hamilton Lugar School of Global and International Studies.
"This is an important opportunity to solidify and strengthen IU's partnerships with universities in Serbia through direct ties between faculty and students from both sides," said Sarah D. Phillips, director of the Russian and East European Institute. "We are very grateful to the Ernes for their continued support of Serbian studies at IU."
Lichtenstein is partnering with professor Aleksandra Izgarjan of the English department at the University of Novi Sad; Izgarjan is also the president of the Association for American Studies in South East Europe. In addition to building a partnership with IU, the University of Novi Sad is interested in improving its American studies curriculum, Lichtenstein said.
After the trip, Lichtenstein will travel to Novi Sad to consult with students and professors. While there, he will convene a workshop with Serbia's Centre for Public History to discuss how public memorials can be used to prompt honest discussion of painful historical events like ethnic cleansing, lynching and genocide.
Lantz said that on an institutional level, she expects some faculty from the University of Novi Sad to incorporate some of what they see into their history and American studies classes. The hope, she added, is that the lessons IU and Serbian students learn have a long-term impact in promoting dialogue about how to commemorate the past.
Lichtenstein said he wanted to seize this opportunity after partnering with South Africa's University of Pretoria in fall 2019 to bring five students on a civil rights and memory tour in the U.S. He took the South African students and five from IU's Global Living-Learning Community to sites in Mississippi and Alabama, including the National Memorial for Peace and Justice.
"That was the showcase, to bring memories of racial violence to the forefront," Lichtenstein said. "There was a connection to South Africa, obviously, because of their reckoning with the history of apartheid and the connection to the struggle against racism."
Similar trips are a possibility for the future.
"I can imagine us doing this again with other people that are struggling with issues of racial conflicts," Lichtenstein said.