BLOOMINGTON, Ind. – Kristin Hahn, a successful movie and television producer, director, screenwriter and author, will visit Indiana University as the Kelley School of Business' Poling Chair of Business and Government this academic year.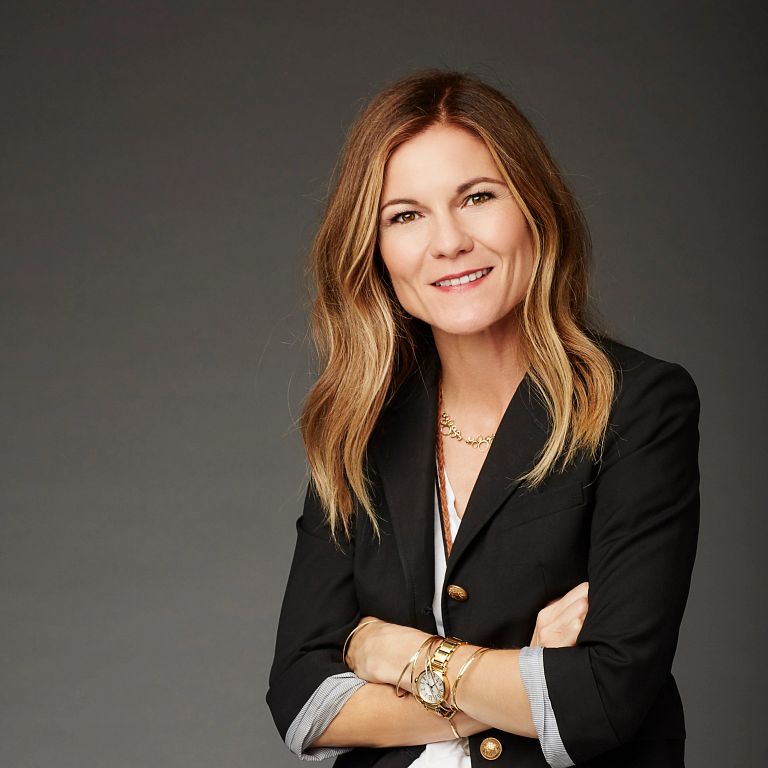 She will be joined as the Kelley School's Poling Chair this semester by former Maryland Gov. Martin J. O' Malley, whose visits to campus were interrupted by the COVID-19 pandemic. His tenure as the school's leader-in-residence began in 2019.
Hahn has served as a producer for several critically acclaimed films, including "Cake," "The Time Traveler's Wife," "The Switch" "The Yellow Birds," "Dumplin,'" "Stargirl" and "The Departed," which won four Academy Awards. She currently is executive producer of the Apple TV+ hit series, "The Morning Show," starring Jennifer Aniston and Reese Witherspoon, which tackles topical issues in the workplace.
During her visits, Hahn will discuss business ethics issues in Hollywood and beyond.
Hahn's first visit will begin Nov. 9. She will attend a screening at IU Cinema of the first two episodes of the second season of "The Morning Show" at 7 p.m. Nov. 10, which will be followed by a Q&A. The event is free but ticketed. Masks are required for all attendees at indoor events. There will be no standby or late seating. Hahn previously visited IU Bloomington for a presentation at IU Cinema in 2017.
Both Hahn and O'Malley, who was Maryland's governor from 2006 to 2014 after six years as mayor of Baltimore, will meet with MBA and undergraduate students and with faculty at IU Bloomington and IUPUI. O'Malley returns Oct. 18.
The Poling Chair was established by the late Harold "Red" Poling, a Kelley School alumnus and Ford Motor Co. chairman and CEO from 1985 to 1994. Recipients are given the charge to stimulate discussion in the areas of leadership, the critical interactions between private business and government in matters of public policy, enterprise competitiveness, and economic growth.
"Our students and faculty will benefit tremendously from the experiences and insights of these two recognized leaders," said Idalene "Idie" Kesner, dean of the Kelley School and the Frank P. Popoff Chair in Strategic Management. "Our students thoroughly enjoyed their classroom discussions with Gov. O'Malley that occurred before the disruptions caused by the pandemic, and I know they will appreciate the opportunity to revisit and advance those earlier conversations. So much has happened at the intersection of business and government over the past two years.
"We are also excited to welcome Kristin Hahn, who brings a new perspective and valuable insights from her 25 years of success in the entertainment industry. During her visits, she will share her experiences and knowledge about business issues behind the camera. They serve as an inspiration to all our students and especially our female students."
Hahn also is the author of two books published by Harper Collins, "In Search of Grace: A Journey Across America's Landscape of Faith" and "Anthem: An American Road Story," which was a companion to an award-winning documentary she produced after graduating from the University of Southern California Film School.
She formed Plan B Entertainment with Jennifer Aniston and Brad Pitt, where she originated and supervised a large slate of pictures, including "A Mighty Heart," "The Time Traveler's Wife" and "The Departed." She and Aniston subsequently formed Echo Films, which produced the Emmy-nominated Lifetime miniseries "Five," which explored the impact of breast cancer on people's lives; and its sequel "Five: Call Me Crazy."
Hahn also adapted the New York Times best-selling novel "Dumplin'" by Julie Murphy for Netflix, featuring new original songs by Dolly Parton and newly recorded collaborations of Parton's classic songs. Most recently, Hahn wrote DreamWorks Animation's "Spirit Untamed," which was released theatrically this summer, and she is adapting the best-selling novel "The Light We Lost" for Apple TV+.
Previous Poling Chairs have come from both the public and private sectors. They have included Dr. Mae C. Jemison, the first female African American astronaut and an engineer and entrepreneur; Deepender Hooda, a former member of India's parliament; Elizabeth Acton, retired chief financial officer of Comerica and a former vice president and treasurer of Ford Motor Co.; Bob Eckert, former CEO of Mattel Inc. and Kraft; Samuel K. Skinner, former U.S. secretary of transportation and chief of staff to former President George H.W. Bush; former Sen. Evan Bayh; and Randall L. Tobias, chairman emeritus of Eli Lilly and Co., former vice chairman of AT&T Corp. and former chair of the IU Board of Trustees.