BLOOMINGTON, Ind. – Indiana University will inaugurate Pamela Whitten as its 19th president on Nov. 4 with a ceremony and autumn festival on the IU Bloomington campus. An inauguration celebration will also be held Nov. 5 at IUPUI. Inauguration watch parties are scheduled on IU's campuses throughout the state.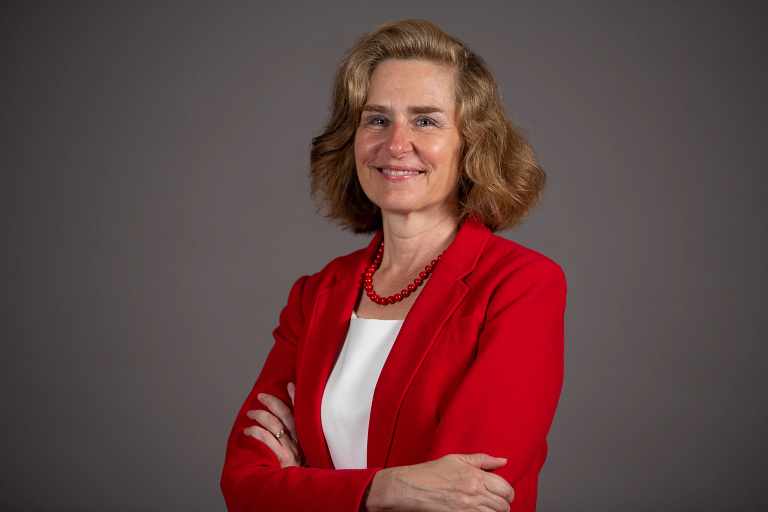 Whitten began serving as IU president on July 1, 2021, and she is the first woman to lead the university in this role. A visionary scholar and accomplished educator and researcher, Whitten held a variety of leadership roles before joining IU, including president of Kennesaw State University and dean of Michigan State University. She is also an internationally recognized expert in the field of telemedicine.
Since taking office at IU, Whitten has emphasized the university's three core missions: placing students first; expanding university research, discovery and creativity; and advancing the quality of life for residents of Indiana and beyond.
She has also introduced a $30 million investment in accelerating the hiring of diverse faculty across IU. The seven-year Presidential Diversity Hiring Initiative focuses on hiring professors from groups traditionally underrepresented in higher education.
Details for reporters covering inauguration events
Members of the media can attend the inauguration events. For more information about interview opportunities with Whitten and others after the inauguration, contact Chuck Carney at 812-855-1892 or ccarney@iu.edu, or Marah Yankey at 812-856-1442 or mqharbis@iu.edu.
Inauguration and festival at IU Bloomington
What: A procession, ceremony and autumn festival to inaugurate Pamela Whitten as IU's 19th president.
Who: All the events are open to the public and will include faculty, students and staff from all of IU's campuses, as well as members of the community, including Gov. Eric Holcomb and Bloomington Mayor John Hamilton. This will also be the first time that students from IU's core campuses in Bloomington and Indianapolis and all seven regional campuses and centers are represented in the inaugural delegation. The festival will include the Marching Hundred band, Grammy Award-winning bluegrass fiddler Michael Cleveland, and numerous booths and activities offered as part of the IU Arts and Humanities Council's November First Thursdays Festival.
When: 2:45 p.m. Thursday, Nov. 4. An RSVP is recommended for public seating. Masks are required at indoor events. The ceremony will also be available to view via livestream at broadcast.iu.edu.
Where: The procession will begin at the Fine Arts Plaza, 1296 E. Seventh St. in Bloomington, with the ceremony taking place in IU Auditorium, 1211 E. Seventh St. A festival will follow immediately after on the Fine Arts Plaza/Showalter Fountain.
Parking: Paid parking will be available at East Garage, and university permit parking will be available at East and Poplars garages. Free parking will be available in the White Lot at Memorial Stadium, with Campus Bus Service arriving about every 7 minutes to take passengers to IU Auditorium. Those nearby are encouraged to walk. Accessibility parking will be available at the East Garage. For additional accessibility parking resources, visit parking.iu.edu or contact Campus Bus at 812-855-8384 or iubus@indiana.edu.
Inauguration celebration at IUPUI
What: A fall festival to celebrate Whitten's inauguration, with food, entertainment, activities and prizes.
Who: The event is open to the public and will include faculty, students and staff, as well as members of the community.
When: 1:30 p.m. Friday, Nov. 5. An RSVP is recommended. Masks are required at indoor events.
Where: IUPUI Campus Center, 420 University Blvd. in Indianapolis.
Parking: Complimentary parking will be available from 1 to 4 p.m. in the Vermont Street Garage adjacent to the Campus Center.