BLOOMINGTON and CRANE, Ind. – Indiana University renewed its commitment to a longstanding partnership with Naval Support Activity Crane during a visit today to the southern Indiana naval installation by IU President Pamela Whitten and other university leadership.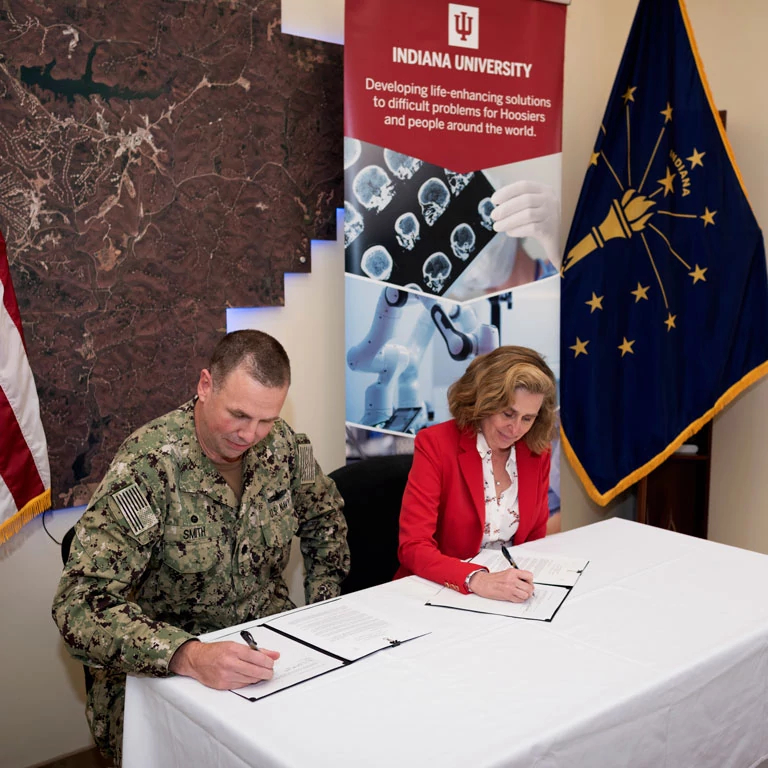 IU's Educational Partnership Agreement with NSA Crane, established in 2015, was ceremonially renewed during a signing event at noon between Whitten and NSA Crane Commanding Officer Cmdr. James L. Smith. Joining Whitten for the ceremony, as well as for meetings with NSA Crane leadership and a tour of the naval installation, were John Applegate, IU Bloomington interim provost and executive vice president; Fred Cate, IU vice president for research; and Kirk White, IU assistant vice president for strategic partnerships.
"As the state's largest research university and the state's largest military installation, respectively, a partnership between Indiana University and NSA Crane is a beneficial pairing," Whitten said. "Crane personnel and IU students, faculty and staff collaborate on sustainability and conservation efforts, as well as groundbreaking research advances in areas critical to the national defense. We look forward to expanding this partnership in the coming years to improve the safety, security and well-being of citizens of Indiana and beyond."
Other attendees at the event included Angela Lewis, technical director of Naval Surface Warfare Center, Crane Division; Capt. Duncan McKay, commanding officer of NSWC Crane; and Col. Santee Vasquez, commanding officer of Crane Army Ammunition Activity.
The purpose of the Education Partnership Agreement is to aid IU students' educational experience by providing a mechanism by which they can benefit from the NSA Crane's staff expertise, unique facilities and equipment. NSA Crane's contributions include encouraging and stimulating student interest in science, engineering, mathematics, sustainability and information technology.
Under the partnership, IU has already completed over a half dozen projects in collaboration with NSA Crane, including multiple projects related to environmental monitoring and sustainable development of lands near the installation and the reduction of its energy waste, including a net-zero building analysis and recommendations for increasing its use of sustainably energy. IU scientists, along with researchers at Old Dominion University, have also monitored the spread of ticks and tick-borne pathogens in the region near NSA Crane, helping reduce the spread of tick-borne diseases in Indiana.
In another notable project, IU used global positioning systems data to map the military compatibility zones surrounding the installation and recommended resources and strategies for voluntary conservation. This contributed to the public land conservation webtool of the White River Military Coordination Alliance, a coalition of surrounding communities and local economic development groups devoted to implementing conservation recommendations put forth in IU's report.
IU partners on these projects include the O'Neill School of Public and Environmental Affairs and the Maurer School of Law's Conservation Law Center Clinic.
"Our continued six-year partnership with IU has brought forward a tremendous avenue for students and faculty to engage in vital research associated with important challenges and solutions within the Department of Defense and Crane while earning academic credit," Smith said. "NSA Crane is proud to be able to play a role in encouraging and enhancing study in various disciplines with Indiana University while also supporting Crane's diverse missions."
In addition to the educational partnership, IU is engaged in significant research activity at NSA Crane under the Cooperative Research and Development Agreements with NSWC, Crane Division, located at NSA Crane. These include projects related to artificial intelligence, machine learning, programmable circuit boards, and quantum information processing in service of national defense. The primary investigator on one of these projects, IU assistant professor of physics Philip Richerme, said their research gathered evidence that sources of low-dose radiation do not have a negative impact on the particles used in quantum information processors, suggesting the feasibility of using this technology in extreme environments.
Among other funding in partnership with Crane, IU is a part of awards totaling $2.2 million to advance AI workforce development and $1.7 million to collaborate on AI programming for rural Indiana middle school students.
Additionally, NSWC Crane has hosted 25 graduate and Ph.D. students from IU Bloomington, IUPUI and IU Southeast in support of its research efforts with IU, including 16 research fellows. A number of IU Ph.D. students have also gone on to full-time employment at NSWC Crane upon graduation, including the first Ph.D. graduate of IU's intelligent systems engineering program, Adam Duncan, and the first Ph.D. graduate of the electrical and computer engineering program at IUPUI, Dave Emerson.