BLOOMINGTON, Ind. – More than two-thirds of eligible Indiana University Bloomington students voted in the 2020 general election – an increase of nearly 22 percentage points from 2016, which exceeds the 13-percentage-point increase in nationwide student turnout.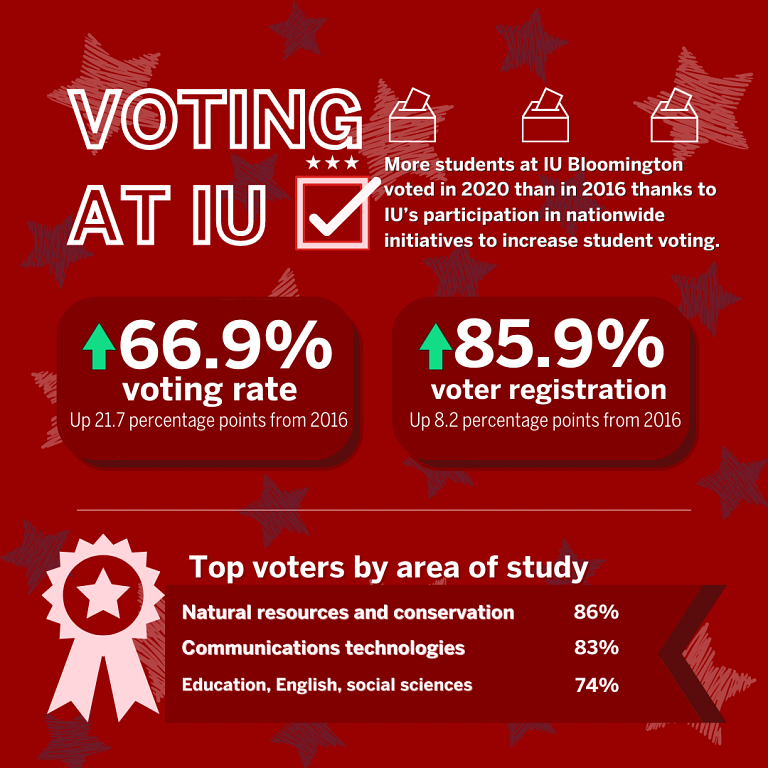 IU Bloomington's jump to 66.9% in 2020 from 45.2% in 2016 reflects a national trend of greater student engagement in the electoral process, as well as IU's participation in several national efforts that foster nonpartisan student voter education, registration and turnout.
"Encouraging our students' civic engagement is key to preparing them to be engaged citizens of our state and nation," IU President Pamela Whitten said. "This increase in voting among students is impressive, and we are proud to have such engaged citizens as students at Indiana University."
The university participated in the 2020 Big Ten Voting Challenge and the All In Campus Democracy Challenge, both nationwide initiatives to increase student voter turnout and boost civic engagement. IU Bloomington's student voting rate slightly exceeded the national rate for all institutions (66%), including those with greater resources, and earned the university a Silver Seal from the All In Campus Democracy Challenge for nonpartisan student voter participation. Additional results, comparing the Big Ten schools, are expected within the next couple of months.
IU's voter engagement efforts involved a robust action plan. It focused on promoting solidarity in a time of social distancing during the COVID-19 pandemic and inspiring democratic revitalization in a time of political turmoil. For example:
PACE, the Political and Civic Engagement program in the College of Arts and Sciences, has led or collaborated with many IU Bloomington units and community groups on campus voting efforts that include:

Creation of a state-by-state voter registration guide to help students register to vote and request vote-by-mail ballots.
A campus-wide 19th Amendment centennial commemoration.
Events to encourage early voting.
Outdoor Cocoa and Conversation events following the November 2020 election, during the height of the pandemic.
A student-focused video series partnership with IU Studios.

IU Libraries offered a variety of programs and resources, including virtual drop-in hours to help students register to vote. It also provided resources and organized events to aid voter literacy and increase voter confidence.
IU Athletics, through its IU Excellence Academy, organized monthly programming to inform student-athletes about state and national issues, and encourage them to register and vote. These efforts led to a 100% voter registration rate in 10 teams: football, men's basketball, women's basketball, field hockey, volleyball, women's soccer, men's tennis, water polo, softball and rowing.
The Black Student Union hosted a virtual event, "Race to the Polls," to inform students about federal, state and local elections. It included a panel of speakers representing Bloomington and Monroe County government who discussed the importance of local elections. This was part of a semester-long Black Student Union initiative called "Let's Get Political," which encouraged civic participation and literacy.
"Collaborations both on and off campus, with our outstanding Big Ten Voting Challenge team and many others, have been key to our success in increasing civic engagement among IU students," said Lisa-Marie Napoli, PACE director. "It's humbling to witness a shared, collective vision and commitment to build working relationships for equitable, widespread nonpartisan voter education, registration and mobilization.
"These relationships supported our ability to organize films, panels, conversations and courses designed to enhance students' understanding about how to engage in the electoral process, and why that engagement is so crucial. We also respond to suggestions that bubble up from students, which is what led IU to join turbovote.org and how the IMU became an official polling place. It's an exciting time, and we're delighted to see evidence of the energetic turnout in the 2020 presidential election."
IU's results are based on student voting data calculated by the National Study of Learning, Voting and Engagement at Tufts University's Institute for Democracy and Higher Education. The figures are based on enrollment records submitted to the National Student Clearinghouse and publicly available voting files collected by Catalist, a voter information and analysis firm.
According to the study data, from 2016 to 2020, IU Bloomington increased:
The number of students who voted by 8,216.
The number of students who registered by 3,145.
Its registration rate to 85.9% from 77.7%.
Its voting rate among registered students to 77.9% from 58.2%.
The data also reflected increases in voting among younger voters and minority groups, and in early and not-in-person voting. Voting rates for students in the 18-to-21, 22-to-24 and 25-to-29 age groups all jumped 28 percentage points, and all increasing to 65% or better. The National Study of Learning, Voting and Engagement report noted that while voting rates have increased across all age groups in past election cycles, the most significant increases in recent cycles have been among first-time and the youngest voters.
Members of IU's Big Ten Voting Challenge steering committee said the results showed young voters staking a claim in building a world where they belong, and the changes reflect a culture shift toward making civic engagement a priority.
Voting rates among students who identified as Asian, Black or Hispanic all increased at least 20 percentage points, and voting rates among those who identified as two or more races jumped 19 percentage points. Total voting rates for each of the four groups ranged from 53% and to 65%.
In 2020, 6,833 students voted early, compared to just 142 in 2016. Additionally, 11,628 students voted not-in-person in 2020, compared to 8,314 in 2016.