BLOOMINGTON, Ind. – Indiana University's Environmental Resilience Institute has received a $1.25 million grant from the McKinney Family Foundation. The grant will expand programs that help Indiana communities take action against climate change and connect students with valuable career training in sustainability and the environment.
The five-year grant will support the formation of the McKinney Midwest Climate Project, which will be administered by ERI. It will also officially merge ERI's Resilience Cohort program and Sustain IU's Indiana Climate Fellows – now called the McKinney Climate Fellows.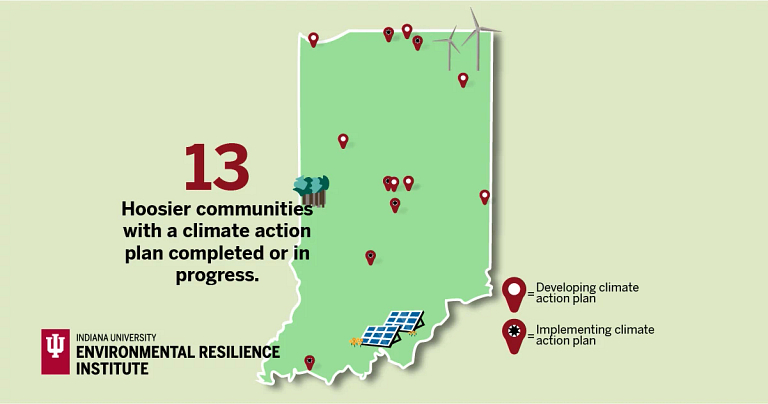 Since 2019, the Resilience Cohort and Indiana Climate Fellows have worked hand in hand to accelerate local governments' progress toward their climate-related goals. The Resilience Cohort has provided training, tools and expertise to dozens of Indiana communities intent on managing and reducing local greenhouse gas emissions and energy costs. In support of these efforts, climate fellows have led greenhouse gas inventories, facilitated community climate action planning and contributed to green initiatives.
The McKinney Midwest Climate Project will build on these successful partnerships, while simultaneously preparing the next generation of climate leaders for the workforce.
"Through ERI's work with Indiana communities, it's clear that many Hoosiers understand the urgent need to address local contributions to climate change," ERI Managing Director Sarah Mincey said. "The McKinney Midwest Climate Project represents a phase change in our ability to develop new programming and partnership opportunities and expand our network across Indiana and the Midwest. The project also formalizes the important roles students are playing in the creation of a vibrant and healthy Indiana economy that prioritizes climate solutions."
Under the McKinney Midwest Climate Project, ERI will broaden its climate mitigation and resilience programming to include business and nonprofit partners while continuing to support local governments. The number of students named McKinney Climate Fellows will increase, and the program will offer more opportunities for year-round fellowships.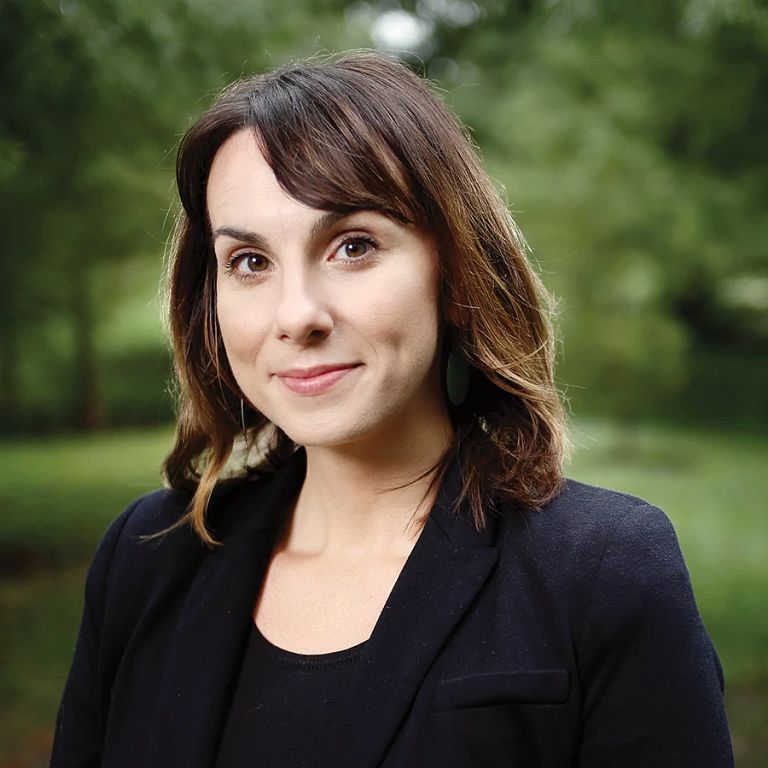 Fellowship eligibility will be expanded beyond IU to include students at other Indiana universities and colleges. Additionally, ERI will continue to emphasize equity and environmental justice in all McKinney Midwest Climate Project programs.
"The McKinney Family Foundation believes in transforming sustainability and climate resilience in Indiana through meaningful partnerships with leaders across the state," said Robert H. McKinney, chair of the board of the McKinney Family Foundation. "ERI's McKinney Midwest Climate Project was selected as a grant recipient because of the institute's leadership in local climate adaptation planning and its life-changing student internship program, the McKinney Climate Fellows."
In less than five years, both the McKinney Climate Fellows and Resilience Cohort have made significant contributions to jumpstarting Indiana's journey toward sustainability and carbon neutrality.
To date, IU undergraduate and graduate students have taken part in 123 paid fellowships, working with more than 70 businesses, nonprofits and local governments throughout the state. More than one-third of past fellows have gone on to work full time in sustainability and environmental careers, with about half of these professionals staying in Indiana.
In addition, Hoosier communities representing 44 percent of the state's population have completed greenhouse gas inventories through the Resilience Cohort. Collectively, these communities have identified the equivalent of 34 million metric tons of carbon dioxide for elimination. That's about the same as removing 7.4 million cars from U.S. roadways for one year.
ERI has also helped Indiana communities map long-term plans and take steps toward their climate goals. In 2020, 10 communities began the process of creating climate action plans through the Resilience Cohort, with Zionsville, Goshen and Evansville having already ratified their plans. An additional three other Hoosier communities have developed climate action plans independently.
In 2021, a dozen Indiana communities partnered with ERI to implement climate initiatives to expand solar energy, electrify transportation, and reduce energy used for water and wastewater treatment. In 2022, six local government partners will develop equity-focused urban green infrastructure plans to offset emissions and manage climate impacts like extreme heat and precipitation.
"ERI's Resilience Cohort program has enabled us to move forward on critical projects while being able to work within reasonable staffing and financial frameworks," Richmond, Indiana, Mayor David Snow said. "Most importantly, thanks to ERI, Richmond has built relationships with other communities, allowing us to learn from each other as we work toward a healthier future."