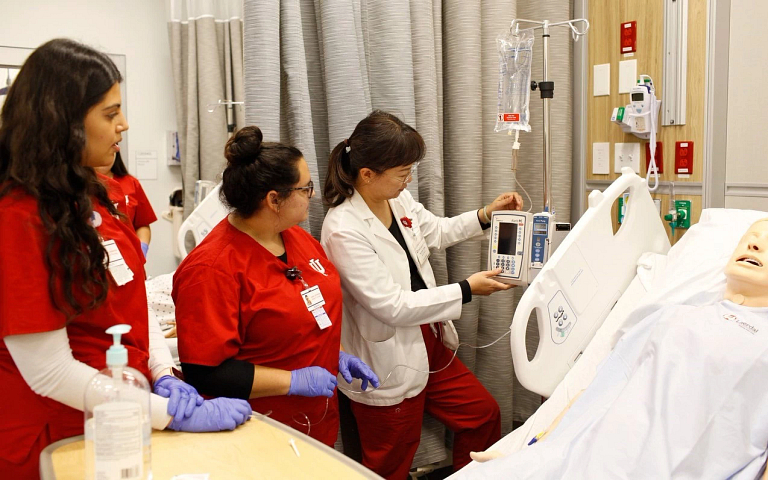 As one of the three core campuses of the IU School of Nursing, the Bloomington program offers a Bachelor of Science in Nursing with three tracks. Throughout its history, the IU School of Nursing program in Bloomington has had a strong relationship with IU Health Bloomington Hospital for educating future nursing professionals. IU nursing students in red scrubs are seen in nearly every area of the hospital, learning and observing as part of their education.
This relationship is poised to grow even stronger at the IU Regional Academic Health Center. Nursing students now learn in IU Bloomington's Health Sciences Building and, starting in the spring semester, will complete many of their clinical rotations in the new, state-of-the-art IU Health Bloomington right next door to their academic space.
"The opportunity for our IU School of Nursing academic programs to be co-located with the new hospital, IU Health Bloomington, transforms our learning environment to an academic health center" said Robin Newhouse, dean of the IU School of Nursing. "Our students will have experience in interprofessional practice, research and service that will broaden their clinical experience and prepare them to work collaboratively on interdisciplinary teams."
The building itself is a nod to the philosophy and strategy for further collaboration between the School of Nursing, other IU health sciences programs and IU Health Bloomington. This collaboration is an essential element of interprofessional education, a key component of the Regional Academic Health Center.
"Obviously it's critical that our nursing students learn the skills needed to care for patients, but what's just as important is learning how to work well with a team of other health care professionals," said Marsha Hughes-Gay, clinical assistant professor and assistant dean in the school's Bloomington program. "The interprofessional learning opportunities the Health Sciences Building and Regional Academic Health Center provide are invaluable. Our nursing students learn and work alongside medical students, social work students and others, which is great experience prior to beginning their careers."
Students learn in classrooms with advanced technology as well as the building's new Nursing Learning Resource Center, which is more than double the size of the skills lab nursing students used previously. The center has 22 beds, a labor and delivery area, and specialized areas for teaching skills in medical-surgical nursing and critical care.
"The technology available to us in the training labs and simulation center is exactly like what we see in clinicals, which makes the transition from practice to real life so much easier," said Kenzie Thompson, a senior in the School of Nursing and president of IU Bloomington's Student Nursing Association.
In addition to the tangible benefits of a new and larger teaching and learning space, the intangible advantages of having an education space adjoined to a practicing hospital are also significant.
"This facility and collaboration will be transformative," said Mary Lynn Davis-Ajami, who was actively involved in the planning of IU's Health Sciences Building and is now an associate professor at the IU School of Nursing in Indianapolis. "Being located in adjacent buildings, we'll be able to create synergies that aren't possible when you're distant.
"It's extremely exciting to see a decade's worth of work coming together in IU's Regional Academic Health Center and I'm very thankful to all those who helped to lay this foundation and give us the infrastructure to dream about being a more impactful school of nursing. Our co-location will help with communication, efficiencies and building relationships."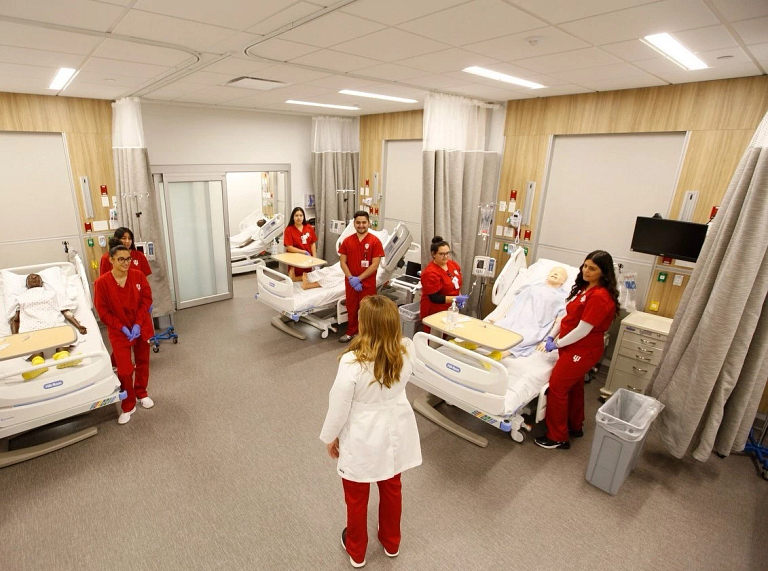 It's these relationships, not only within nursing but across disciplines, that make this a unique opportunity for IU students. And, with IU Health Bloomington's shift from a traditional community hospital model to an academic health center comes the opportunity to incorporate research – among not only faculty and health professionals but students as well.
"As part of the honors research program, I'm working with a team of students, faculty and clinical nurse specialists at IU Health Bloomington on a quality and safety improvement project," Thompson said. "The connection between the hospital and the Health Sciences Building, plus the access to spaces specifically designed for collaboration, allow us to truly work together as a team, which is exciting and something I really value."
This foundation of academic and professional collaboration, coupled with new frontiers in nursing research, gives IU nursing students broader career opportunities and offers a glimpse of what's possible for their future influence on moving the profession forward.
"The education I'm receiving at IU and through IU Health Bloomington is going to be incredibly beneficial in the transition from school to the workforce," Thompson said. "Our professors are amazing, but what's special about this program is that the education we receive goes well beyond lecture. The interprofessional events with other health sciences majors, simulations and community outreach, along with the foundational classroom knowledge, are preparing us well for our future careers as nurses."
The academic knowledge and practical experience IU's nursing students receive, along with the new, more connected space between the academic program and hospital, will be catalysts for better access to care in south-central Indiana.
"The future is so bright for our students and for health care in our region," said Eileen Hacker, professor and associate dean of the IU School of Nursing's Bloomington program. "The collaboration, research and educational opportunities the IU Regional Academic Health Center brings to our program and community will not only benefit our students and the education they receive here in Bloomington, but also Hoosiers across the state as our students graduate and take their education and experience with them into their nursing careers."