As Indiana University's earliest site for medical education, IU Bloomington has a storied history of training physicians that spans 113 years. The next chapter unfolded this year, as IU School of Medicine-Bloomington started educating future physicians at the new Regional Academic Health Center.
With the school located just steps away from IU Health's new hospital, the move is expected to transform medical education in Bloomington by providing opportunities for robust training with other health care disciplines, a wider range of educational offerings and a greater sense of community among medical students and faculty.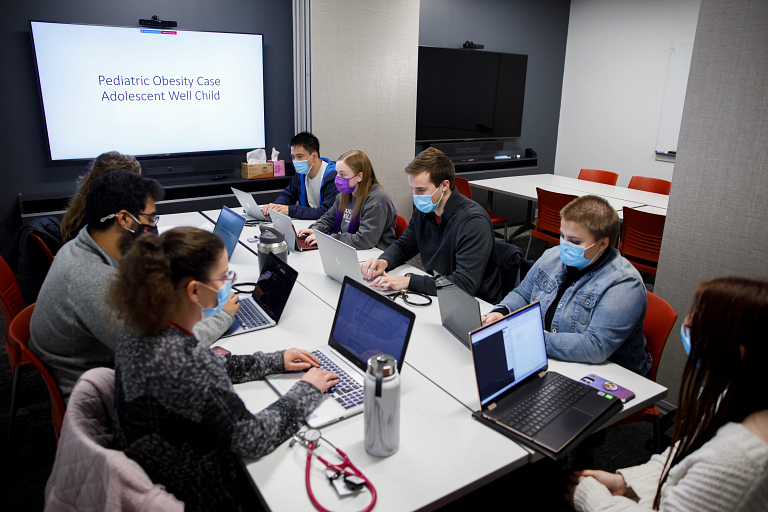 In addition to benefiting from an upgraded learning environment with state-of-the-art technology and an on-site clinical simulation center, students in all four years of medical school will be together in one location. Before moving to the Health Sciences Building at the Regional Academic Health Center, first- and second-year medical students attended classes in the school's on-campus home in the Biology Building, while upper-class students completed clinical rotations at the hospital across town.
"Our third- and fourth-year students spent very little time on campus, so being all together in the health sciences building, literally right next door to the hospital, will give students in all years a chance to interact on a regular basis," said Dr. Katherine Hiller, associate dean of IU School of Medicine-Bloomington.
For students enduring the shared experience of a rigorous medical school curriculum, both formal and informal peer teaching is popular, said Dr. Sarah Tieman, assistant director of clinical education in Bloomington. With flexible classrooms and designated study and lounge spaces, the medical school's new location supports student interaction and is likely to build collegiality.
"Seeing near peers who are successful, contributing members of the health care team reinforces for the first- and second-year students that they are on the right track," Tieman said. "Such interactions also help upper-level students feel accomplished and more confident in their education, reminding them of how far they've come in a few short years."
One of the premier educational features of the new academic building is the 11,000-square-foot simulation center. A combined venture of IU School of Medicine, IU School of Nursing and IU Health, the new simulation center is nearly three times larger than its predecessor on the Bloomington campus.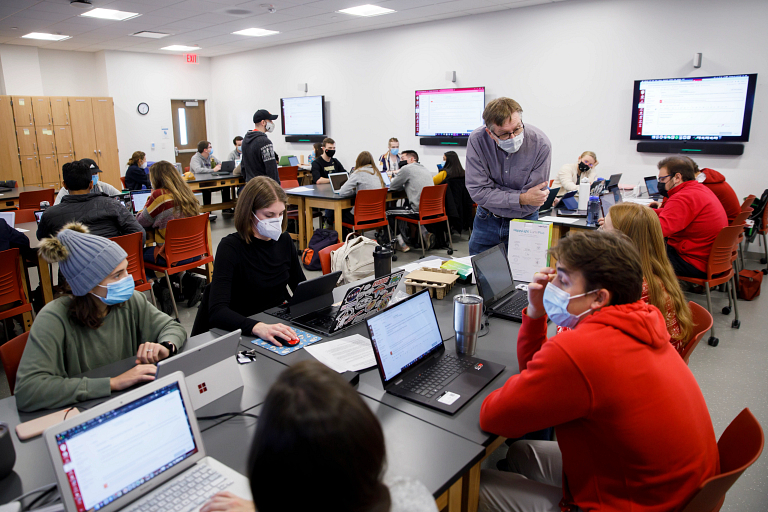 "This was very intentionally designed as an interprofessional health sciences campus, and the place where that's most evident is the simulation center," Hiller said. "Students undoubtedly benefit when they have the opportunity to interact with colleagues in other health care disciplines, and the center will support and strengthen those connections."
Second-year medical student Aish Thamba said she's especially excited about the opportunities students have as a result of the new simulation center. She said the Regional Academic Health Center fosters collaboration in a way that wasn't possible before, providing students a wider range of experiences.
"I feel like I'm adding more to my education because the building has the capability to allow me to work one on one or with a team of students, and to be able to do a lot more problem-based learning practices in a team-based environment," Thamba said.
The medical school's proximity to the hospital also has a number of advantages for teaching and learning, including the more seamless integration of pre-clinical and clinical curricula.
"Fundamental skills like how to talk to a patient, take a medical history and do a physical exam are best taught by clinicians, so having an emergency medicine physician, for example, walk over just before a hospital shift to help facilitate a pre-clinical session will be much easier," Hiller said. "Previously, we either had to move these sessions off site to the hospital, or clinicians would have to make time to drive to campus."
The move and the resulting expansion of hospital-based clinical and research partnerships have wider implications, as well. IU School of Medicine will have the capacity to increase enrollment for third-year students in Bloomington and is poised to begin offering graduate medical education, starting with residencies in internal medicine and emergency medicine, in 2024.
"Graduate medical education is one of the elements that will fully qualify us as an academic health center," said David Daleke, vice provost for graduate education and health sciences at IU Bloomington and an IU School of Medicine faculty member. "Once we have hospital-based graduate medical education up and running, we will have the full continuum of medical training in Bloomington – from first-year medical student through resident - giving students the opportunity to see the full path of their career in medical education."
Jill Jansen is a contributing writer for IU Studios.