As a social worker walks into a hospital room to talk to a patient's wife, the scene quickly becomes chaotic.
"It looks like he's having a seizure," the wife says.
Two nurses in crimson scrubs quickly tend to the patient, as the wife looks on distraught. The social worker guides the wife out of the room, telling her in an upbeat tone to take some breaths. The wife starts to explain why she brought her husband to the hospital.
"That is very strong of you; I'm very proud," the social worker responds.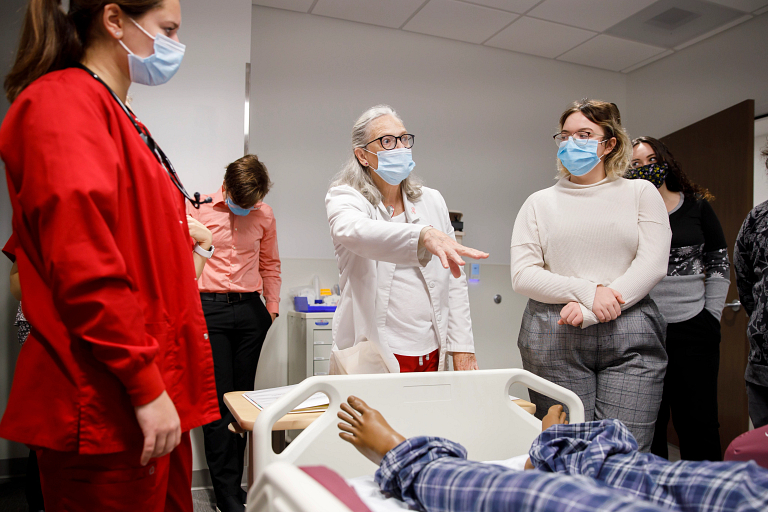 This isn't a scene inside a hospital, but a scenario taking place near one – in the new IU Interprofessional Simulation Center, inside the IU Bloomington Health Sciences Building at the IU Regional Academic Health Center. Students from several different programs use the facility, and on this day, School of Social Work and School of Nursing students work alongside each other.
"We do this early in their education so this type of teamwork and collaboration doesn't seem so foreign," said Tammi Nelson, senior lecturer in the School of Social Work.
Once the simulation is over, the students who participated and those who observed reflect on what went well and what could be improved. They praise Mariangella Consiglieri, who played the role of a social worker in the scenario, for her upbeat approach and reassuring words when addressing the patient's wife. In terms of what they could have improved, Consiglieri and the nursing students who were part of the scenario agreed that they could have done a better job of introducing themselves to each other, and presenting themselves to the patient and his family.
"If the family sees there's this cohesive team coming together with their expertise, there's comfort in that," Nelson tells the students.
Running through these interdisciplinary exercises in the facility is just one of many ways the School of Social Work is benefiting from its move to the IU Bloomington Health Sciences Building. The building includes ample study space, easy access to faculty and a state-of-the-art simulation lab, and it allows social work students to be more integrated with their peers. Before moving to the new facility, the School of Social work occupied two houses on Atwater Avenue, making it feel somewhat removed from other health care disciplines.
"Building a community with other professionals, that's not something we had a lot of opportunities for in the past," said Kirsten Fox, a graduate student in the School of Social Work. "As social workers, we're going to be working with a lot of different professions, and being in a building with the other health sciences is a great learning opportunity."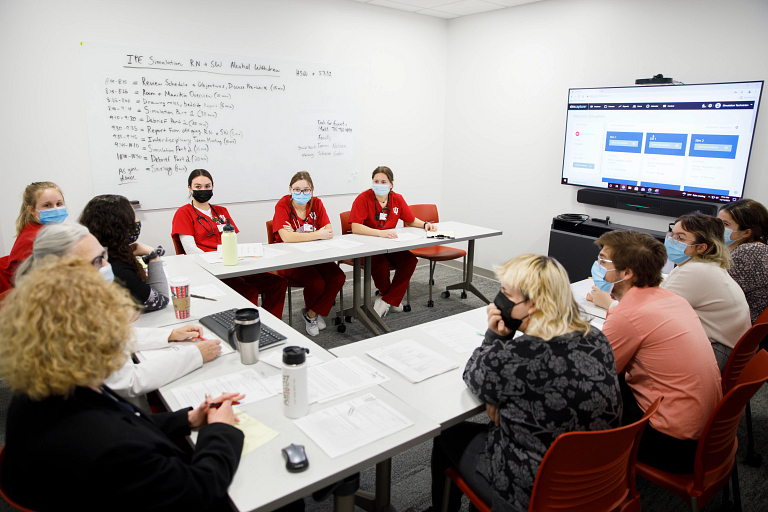 The proximity to peers and professionals also provides an opportunity to broaden people's understanding of the critical role social work plays in health care. Social workers help patients resolve barriers to addressing their health care problems, ultimately improving outcomes in multiple areas of their lives.
"A lot of the times I feel like our profession is overlooked, or people make a lot of assumptions about what social work is and what it isn't," Fox said. "This is giving us a really great opportunity to be part of the team."
That increased awareness is facilitating more collaboration between the School of Social Work and other disciplines, and can change how health care professionals approach community health issues – such as when IU needed students to help with its COVID-19 vaccination clinics.
"We were thinking, 'Our students can help with people who may need assistance understanding forms they have to sign so that other folks, like nursing students, can do the shots,'" said Colleen Rose, student services coordinator and recruitment specialist for the School of Social Work. "That is just one example of how we can better support patients through collaboration."
Rose anticipates those collaborations growing at the Regional Academic Health Center – transforming the care patients receive, and the future of social work.
"I think our new home at the Regional Academic Health Center definitely elevates the profession, and reflects that social work is essential to the delivery of quality health care," she said.