For more than 50 years, the Indiana University Bloomington College of Arts and Sciences' Department of Speech, Language and Hearing Sciences has been tucked away in a building often overlooked in the grand landscape of the IU Bloomington campus. Despite working in retrofitted spaces, the program – and the two clinics it operates – has thrived.
Consistently ranked in the top 20 nationally for its graduate programs, the department is poised for an even more promising future fueled by its move of its graduate classes and clinics to the IU Bloomington Health Sciences Building, part of the new IU Regional Academic Health Center.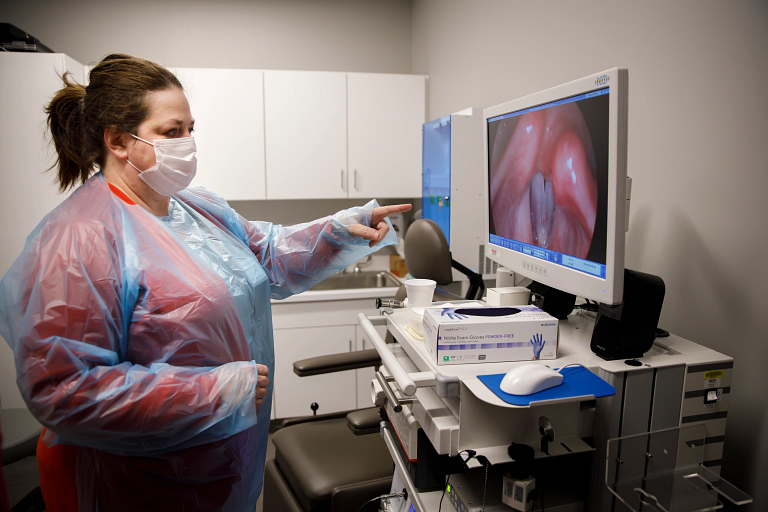 Department of Speech, Language and Hearing Sciences faculty and staff moved into the new building earlier this year, and the IU Speech-Language Clinic and the IU Hearing Clinic began serving clients in the new location in late January. The clinics, which are open to the public, are staffed by the department's clinical faculty and speech-language pathology and audiology graduate students.
"I've been fortunate to be a part of this when we were just starting to draw boxes on paper," said Laura Karcher, clinical professor of speech, language and hearing sciences. "So it's really exciting to be in the space now and see the reactions of our students and clients when they see it."
Karcher and Department Chair Jennifer Lentz said the improvements to the department's education, collaboration and clinic spaces are almost too numerous to count. Including modernized treatment rooms, a "sensory garden" for pediatric clients and faculty research labs configured for optimal collaboration, the department's new home is vastly different from its previous on-campus location. The customized space, designed with input from faculty and students, offers benefits for all involved, particularly graduate students who move easily between classes and clinic assignments in the new building. For the first time, they are also studying side-by-side with other health sciences students, a key interprofessional learning feature of the new Health Sciences Building.
"With a huge room that can accommodate up to 70 of our students at one time, the space is really designed for students to learn from each other within our program and across the other health disciplines," Lentz said.
Clinical professor Nancy Nelson agrees, adding that contact with students from medicine, nursing, social work and other health sciences disciplines was typically only found in more formal settings such as simulation exercises. With the new building, informal and casual encounters among students in a variety of health sciences fields will be more natural and common.
"There are wonderful, shared break and study spaces that allow for interdisciplinary interactions, both casual and professional," she said. "In our old location, our student work areas were on separate floors, which created a barrier to even informal contact among our own speech and hearing sciences students."
The department is also looking forward to even more collaboration with the new IU Health Bloomington and related opportunities for its students. For many years, babies born at the hospital who do not pass a hearing screening are referred to the hearing clinic. The clinic's location next door to the new hospital will provide opportunities for more communication with families as well as the potential for students to participate in screenings and referrals.
Updated spaces, latest technology enhance learning
For the department's nearly 100 graduate students, the new clinic environment provides a host of upgrades to enhance education, including state-of-the-art treatment rooms with high-definition video recording capabilities and functional workspaces for pre- and post-session preparation, documentation and evaluation.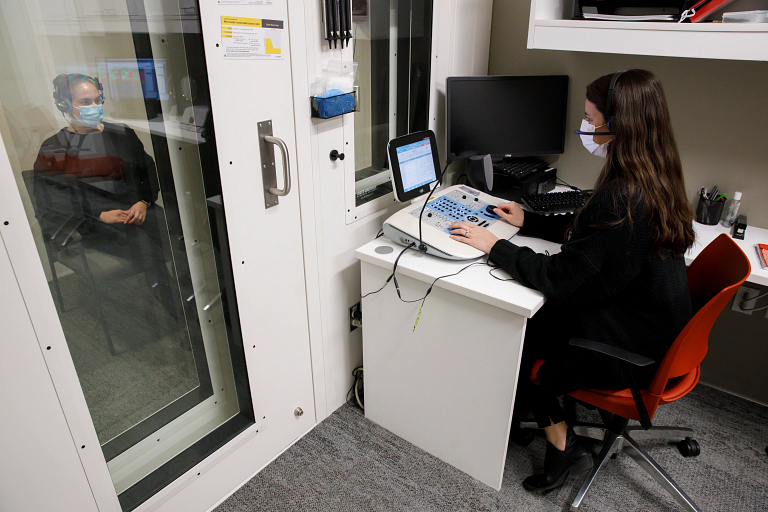 "The video recordings allow us to closely monitor client performance and critique our own skills as student clinicians," said Taylor Streander, a master's student in the speech-language pathology program. "This makes it easy to observe things we may have missed during the session and find areas where we can improve."
Victoria Patiño Arreguín, also a speech-language pathology graduate student, appreciates the individual study areas in the Health Sciences Building.
"I had to walk long distances to other university buildings to find quiet places to study and attend virtual meetings and classes," she said. "Not only are study spaces easy to find in the new building, but I have access to resources and equipment to support my learning and provide better services to my clients."
New possibilities for research
To promote collaboration and encourage sharing of equipment and resources, the department made a deliberate decision to organize faculty research labs into four collaborative units based on subject matter: the Speech & Language Lifespan Lab, the Hearing Sciences Lab, Developmental Speech and Language Laboratories, and the Voice and Speech Production Lab.
"It's a different way of thinking about research, but we see opportunities for synergy, especially between faculty who do research on language development and hearing sciences and those investigators in our department who do research on the actual clinical disorders," Lentz said.
Assistant professor Ishanti Gangopadhyay researches language and cognitive development in children living in dual-language households. Her lab, along with two others, comprise the new Developmental Speech and Language Laboratories.
"It's a great way to be collaborative," she said. "We're all working with similar populations and age groups and may have areas of our research that overlap. It gives us a chance to talk to each other a lot more and learn about how others are conducting their studies.
"It's easy to get pigeon-holed into just the research you're doing. By having a collaborative laboratory space, it gives you more opportunity to learn from others as well as hear about advancements in research that you may not otherwise.
Gangopadhyay is already seeing the benefits of the shared space. She is planning to collaborate with associate professor Julie Anderson on a study examining language processing in young children using eye-tracking technology.
The department's faculty predict their relocation alongside IU's other health sciences disciplines – and the close proximity to the new IU Health Bloomington – will increase opportunities for interdisciplinary research collaborations and clinically oriented research in voice and hearing disorders.
"In our previous space, we existed as a bit of an island, not interacting regularly with professionals from other health professions," said Annette Loring, clinical associate professor. "This was improving through the university's interprofessional education, but I think sharing a building will accelerate relationship-building among the health professions."
The move to the IU Regional Academic Health Center is sparking optimism about the future of speech and hearing sciences at IU.
"We're most excited right now about the clinics because they're fully up and running," Lentz said. "But as the other pieces start to fall into place, such as our new research labs and full in-person classes this fall for our graduate students, it will be interesting to see four or five years down the road what our department looks like. I'm really excited to see where we'll be given the opportunities we now have."