By 2030, it's estimated that 1 in 5 Hoosiers will be over 65. However, Indiana ranks among the nation's 10 worst states when it comes to health and wellness of its older adults, according to the Community Well-Being Index by Boston University and digital health company ShareCare.
One organization addressing this issue is Traditional Arts Indiana. A statewide program based at Indiana University Bloomington, Traditional Arts Indiana was created in 1998 to document and promote the state's traditional arts through collaborations with artists and organizations. It's now using the arts to better the lives of Indiana elders through the Everyday Arts and Aging project, which recently began a new effort to create a guide for the public to highlight diverse ways of aging in urban areas.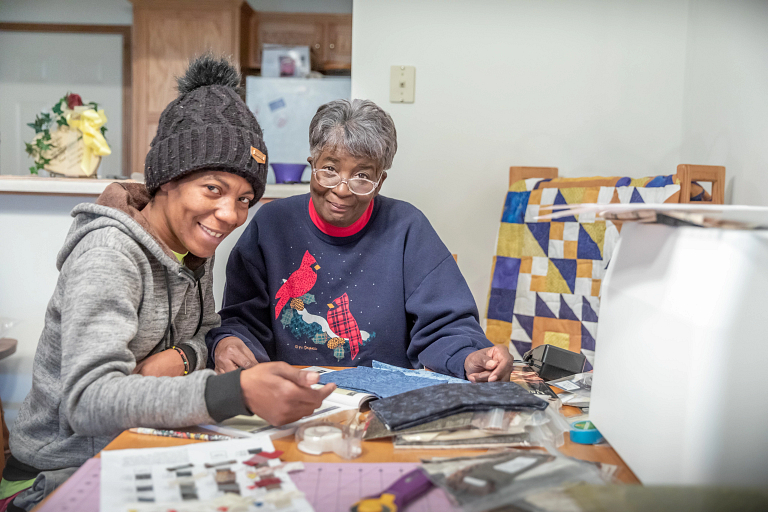 "Ageism is a huge problem across the world, but especially in the United States," said Jon Kay, director of Traditional Arts Indiana and an associate professor of folklore and ethnomusicology in the College of Arts and Sciences at IU Bloomington. "When you become old in our culture, you have a certain self-loathing, you feel bad about your body, about becoming 'slow,' etc. You don't like who you are. One of the answers to fighting ageism is lifting up the lives of older adults and changing the way elders are seen in the community."
Elders around the world are challenged by what gerontologists call the "three plagues" of aging: isolation, boredom and helplessness, Kay said. The Everyday Arts and Aging project aims to combat those "plagues" by helping elders in and around Indianapolis use creative and expressive activities to expand their social connectedness, mental and physical engagement, and feelings of personal mastery.
Traditional Arts Indiana has long worked with older adults through various community programs. That ongoing work was inspiration for the new aging and arts project, Kay said.
"When I thought about all the older artists we've worked with, most of them are very engaged, with extended networks of friends and family," he said. "They never seem to feel helpless; they always have something to do. That led me to think about how traditional arts and expressive practices can be accessible to any elder, not just artists, which could make a real difference in communities."
"Everyday arts" are activities such as singing, quilt-making, wood carving, dancing, storytelling and writing poetry. Kay and his colleagues documented the positive impact of such activities in "Memory, Art, and Aging: A Resource and Activity Guide," a pilot project completed in 2020.
Done in collaboration with IU's Center for Rural Engagement, the pilot guide is filled with profiles, spotlights and activities highlighting the creative activity of adults in mostly rural Indiana communities.
The new Everyday Arts and Aging project, recently funded in part by the Allen Whitehall Clowes Charitable Foundation, expressly focuses on diverse ways of aging in urban areas.
"The A.W. Clowes Foundation funding will allow us to center on Indianapolis so we can work with communities of urban elders as well as elders in immigrant communities," Kay said. "We want to produce a guide that allows everyone to see themselves represented and find resources that speak to them."
For example, working with IU graduate and undergraduate students, Kay and others will engage specifically with members of the Chin community in and around Indianapolis. The Chins are a minority ethnic population from northwestern Burma, or Myanmar, and many thousands have immigrated to the Indianapolis area.
The end result, according to Kay, will be a guide of use to libraries, senior centers and care facilities, but also to individuals around the country. This wide reach is a signature asset of Traditional Arts Indiana, according to Ed Dallis-Comentale, director of IU Bloomington's Gayle Karch Cook Center for Public Arts and Humanities, which is where the program is housed.
"Traditional Arts Indiana is an essential component of IU's thriving public arts and humanities scene," Dallis-Comentale said. "Jon and his team have been at the forefront of all our public work, leading the way with productive models of engagement and by establishing dynamic networks of artists, scholars and community members. Our success in this area would not be possible without TAI's continuously groundbreaking work."
For his part, Kay hopes the guide will help everyone appreciate the knowledge, skills and abilities held by Indiana's older population.
"How are you going to structure the next chapter of your life? What's important to you? Elders have so many inspiring stories. We can learn from them," Kay said.
Traditional Arts Indiana's work also receives major support from the Indiana Arts Commission and the National Endowment for the Arts.
Lauren Bryant is associate director of research communications in the Office of the Vice Provost for Research at IU Bloomington.