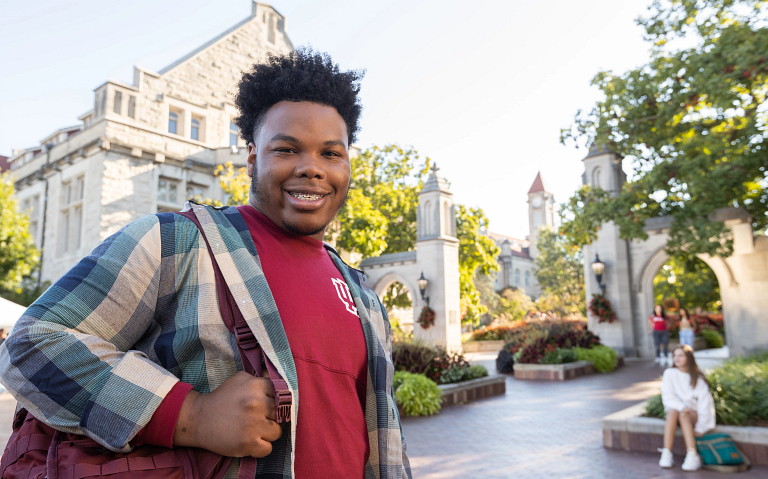 Joa'Quinn Griffin has an infectiously positive personality, an ambition to succeed and a lifelong desire to help others and make a difference. He said Indiana University Bloomington has been the perfect fit for his talents and passions.
Only midway through his sophomore year, Griffin already has co-led a social justice project, advocated for diversity, equity and inclusion through his student government role, and helped students as a resident assistant. He also expresses himself artistically as a choral ensemble member, operates a dessert business and a marketing and management company, and is the star of a new commercial showcasing student experiences and opportunities at IU Bloomington.
"If it's something you want to do, you've just got to do it. I think IU is a good space for that," said Griffin, 19, a nonprofit management and leadership major in the Paul H. O'Neill School of Public and Environmental Affairs. "IU gives you the opportunity to have an open mind and do what you believe you should do."
A visible example of that is the Black Lives Matter mural on Jordan Avenue – intentionally located on the street named for former IU President David Starr Jordan, a proponent of eugenics. Each of the 16 letters in the 200-foot-wide mural, located in front of the Neal-Marshall Black Culture Center, is colorfully adorned with images that symbolize an underrepresented community of people.
Helping people feel at home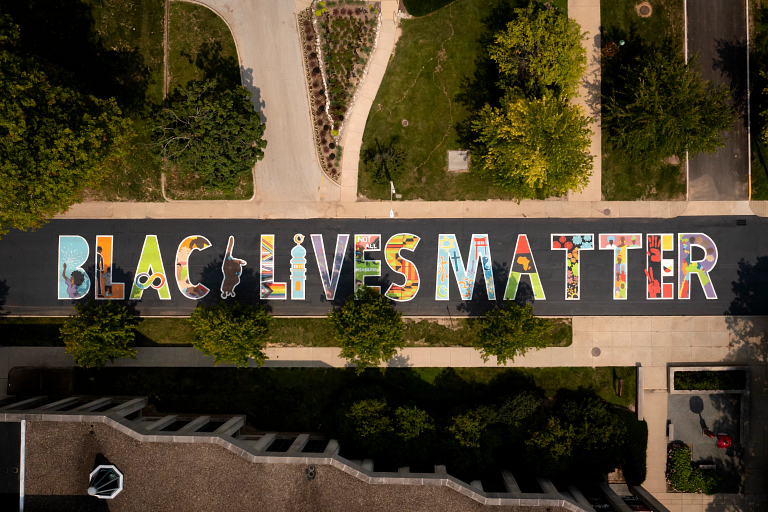 Griffin and student government colleague Tiera Howleit co-led the mural project. Griffin got the idea in fall 2020 when he saw a Black Lives Matter flag obscured by trees outside the Indiana Memorial Union. Although the steps by the IMU hotel lobby also featured Black Lives Matter wording, Griffin thought a mural would be a more visible way to show that IU supports the movement.
"I wanted to let students know if IU really believes this, let's let them know," Griffin said. "And I also wanted to not just be inclusive of Black students, but I wanted to take it to another level and be inclusive of other underrepresented communities."
Griffin turned to Howleit for help with connections and resources. Howleit at the time was director of diversity, equity and inclusion for IU Student Government and had founded Black Collegians. With the support of IU's administration and the city of Bloomington, and help from student and community volunteers, the mural was completed over the July Fourth weekend.
"It helps people see their communities, "Griffin said of the mural. "It helps them feel at home and make their own connection."
Howleit said the project required many hours of work, but Griffin never showed a hint of wanting to give up.
"It showed how dedicated he is to issues that affect marginalized communities and people in general," Howleit said. "It helped me understand how compassionate he is."
Gloria Howell, director of the Neal-Marshall Black Culture Center, said she met Griffin when he was a freshman participating in a leadership program.
"Joa'Quinn immediately impressed me with his willingness to take initiative and build community among his peers during our sessions," Howell said. "I was fortunate to get to know Joa'Quinn more one on one and learned about his entrepreneurial ventures and some of the work he was doing at IU, including the BLM mural project with Tiera Howleit and Black Collegians.
"I was so inspired by Joa'Quinn's commitment to the project and the time and effort he put into it. He shows a level of dedication and strong work ethic that I admire and that can ultimately be an example for other students who are passionate about social justice."
The importance of diversity, equity and inclusion took root for Griffin during his childhood in Michigan. Growing up in an impoverished, mostly Black community, he witnessed injustices and inequities – facts of life not found in a neighboring, more affluent and predominantly white community. His hometown's water system is dealing with lead contamination. Griffin said he's been fortunate, though, because others his age are in jail, victims of violence or struggling young parents. He was raised most of his life by his paternal grandmother, moving to Indianapolis when he was in the sixth grade.
Griffin said his childhood taught him valuable lessons and motivated him to want a better life experience and achieve his goals and dreams. He said he's always enjoyed school and learning, and is inquisitive by nature, so he's always wanted a good education. Griffin would be the first in his family to earn a college degree.
The path to IU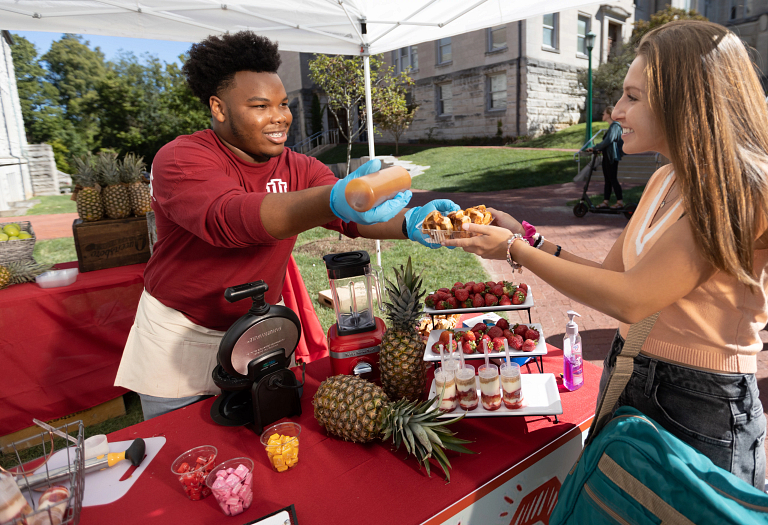 He learned of Indiana University after moving to Indianapolis, initially because of its athletic teams and its popularity as a state school. During his senior year at Ben Davis High School, Griffin gave IU a closer look. He was thinking of pursuing a nursing major, because of his desire to help people, and considered IU along with two other universities. His first tour of IU was in March 2020, right before the COVID-19 pandemic upended life.
"I enjoyed the campus," he said. "My guidance counselor in high school, she was an IU alumna. I knew a lot of IU alumni. I heard about the Groups Scholars Program. I was a 21st Century Scholar, because I had applied for that in middle school. I knew financially that IU would be one of the better decisions."
He realized during his first semester, though, that nursing wasn't going to be the best career fit, so Griffin used career services to find a major that encompassed the things he wanted to do. Two career surveys he used from IU's website both indicated nonprofit management and leadership. Griffin said it combines his love for business and helping people, and the change in major has been a great fit.
"I think IU is a great place to find yourself and discover who you are," Griffin said. "I have had the opportunity to voice my opinion and have it heard, and now I am working to make that true for everyone. There are so many opportunities and resources that you can take advantage of to help you excel. And the campus, my God, it is beautiful."
Making a difference
Griffin's desire to help people is evident in other ways. He served on the IU Student Government and its Diversity, Equity and Inclusion Committee as a freshman, and this year he's the director of diversity, equity and inclusion.
"My role specifically is to make IU a more inclusive place, a more fair and equitable place, and increase the diversity," Griffin said.
Life on campus
Josie Pipkin, a senior and director of advocacy for IU Student Government, has come to know Griffin during the fall semester. She's witnessed his passion for achieving big goals and the way he encourages others and listens to their ideas. Pipkin and Griffin have worked together on several projects, including a diversity, equity and inclusion assessment that IU Student Government can use long-term to measure strategic efforts. Another is connecting the campus community with Student Involvement and Leadership Center series, such as a recent one on environmental justice and climate change.
"I think Joa'Quinn is a great example of what great leadership looks like," Pipkin said. "Joa'Quinn is a well-rounded person, and you just see that DEI is more than a position for him; it's something he lives out on a daily basis."
Griffin lives out his desire to help people daily too. He is a resident assistant at McNutt Quadrangle, helping students who may be struggling to adjust to college, or providing advice or answers.
"Being an RA is an interesting experience," he said. "I'm the closest person to the residents as far as supervision. And I'm a go-to person, a resource for them.
"I enjoy being able to give them advice and help them through situations they might otherwise might not have the answers to or the resources to get."
He also leads the conduct board for the Groups Scholars Program, which helps first-generation students earn bachelor's degrees. He said the conduct board is an opportunity to educate students and give them information to make better choices.
Pursuing his passions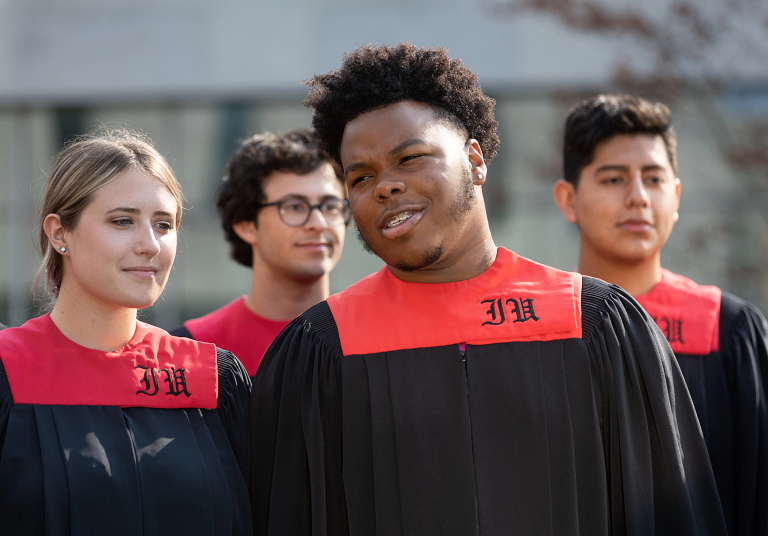 Griffin has continued his personal passions while at IU. He loves to sing, having performed with choirs at a Boys and Girls Club, and in middle and high school. At IU, he explored choir options and joined the African American Choral Ensemble, which preserves the legacy of African American choral music though performances. The ensemble is also a course for academic credit among IU's acclaimed and broad arts and humanities offerings. The ensemble recently performed at the inauguration of IU President Pamela Whitten.
"The type of people and the type of music we sing, it's not just for African Americans," Griffin said. "There are different cultures in the choir, which makes it even better."
Griffin juggles all of his interests, activities and studies while also following his entrepreneurial spirit. He started in middle school by selling snacks and sodas to classmates; that continued in high school until the pandemic hit.
During the spring of his senior year, he tapped into his love for baking by making desserts, such as cheesecake in a mason jar, and letting friends know via social media. When his offerings sold out, Griffin realized he'd hit on something. That idea evolved into Crack Snax, which makes desserts for events and special occasions.
Griffin also had visions of starting future businesses. In the spring, he started Griffin Marketing and Management, which focuses on helping entrepreneurs.
"I can help other entrepreneurs manage their businesses and help people get started and go to a one-stop shop for the things they need," Griffin said.
Some IU students have started reaching out for help with their ideas, he added.
With so many interests, what does the future look like for Griffin? He not quite certain. He said he's thought about a career in education and going to law school, or possibly continuing his advocacy through politics. One thing that is certain: His future endeavors will involve helping people.
"My biggest goal is to make a more equitable place for everybody. I think everybody should be able to have the same opportunity," Griffin said. "I don't think anybody should ever have to suffer or go through things that a lot of underrepresented people have. I do want to make a more inclusive and equitable world."