A once-in-a-lifetime opportunity awaited Indiana University Bloomington senior Elvin Irihamye: an interview with the committee that would decide whether to name him a prestigious Rhodes Scholar. The challenge was he had only 20 minutes during a video conference interview to convince the members.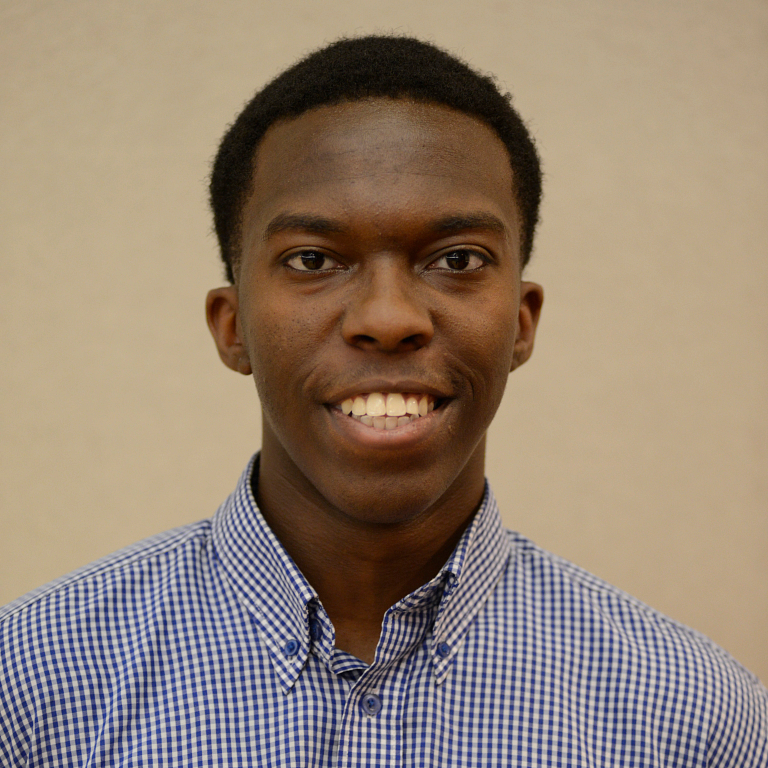 Irihamye's plan was straightforward: present the most genuine version of himself.
"The thing I wanted to get across is that I am an academic, but I try to be someone who is a doer: someone who is creating plans, someone who is trying to implement those plans and someone who wants to make the world a better place," he said.
That much must have been obvious, as the committee named Irihamye a Rhodes Scholar on Nov. 20. Over his last two years of high school and the past three years at IU, the neuroscience major has demonstrated how capable he is.
Irihamye, 20, has been deeply involved with two nonprofit organizations while at IU. He co-founded The Eckford Mentorship Program, which uses industry and academic partnerships to strengthen the pipeline of Black, Latinx and Native American talent into the workforce. He's also been active with Create Circles, which connects college students with older adults through virtual visits.
He is currently a student advisor to IU President Pamela Whitten as a member of the Board of Aeons, which endeavors to improve the student experience. Irihamye is also the co-author of scientific papers published in peer-reviewed journals that describe the results of research to decrease the effects of chemotherapy compounds on hearing loss, which were conducted while he was a student at The Gatton Academy of Mathematics and Science as a high school student.
The Rhodes Scholarship will send Irihamye to the United Kingdom in fall 2022 to study at the University of Oxford – an opportunity for which he said he's overjoyed and grateful. At Oxford, Irihamye will pursue a Master of Science in applied digital health and a Master of Science in global health leadership or a Master of Business Administration.
"I feel as if the Rhodes Scholarship means that I have a responsibility to fight the world's fight," Irihamye said.
Early influences
His desire to help people on a global scale is rooted in his exposure to a variety of people, cultures and countries at an early age. His father, Phocas, and mother, Jeanne, are from Rwanda. Irihamye said they are the most resilient people he knows and have greatly influenced him. His father's academic achievement and high test scores as a student in Rwanda allowed him to attend college in China and complete an undergraduate degree in engineering. His mother immigrated to the U.S. following the Rwandan genocide.
Irihamye, born in North Carolina where his parents met, lived in China for four years as a youth because of his father's job. The family lived in the cities of Shenzhen and Suzhou, but travels to other countries – including Japan, Kenya, Turkey, Israel and Burundi – further opened Irihamye's eyes.
"It made me cognizant of how different the human condition looks like in different countries," he said. "When you see people in Hong Kong living in cramped homes right next to casinos, you start to wonder why that is and what it would take to solve the issue."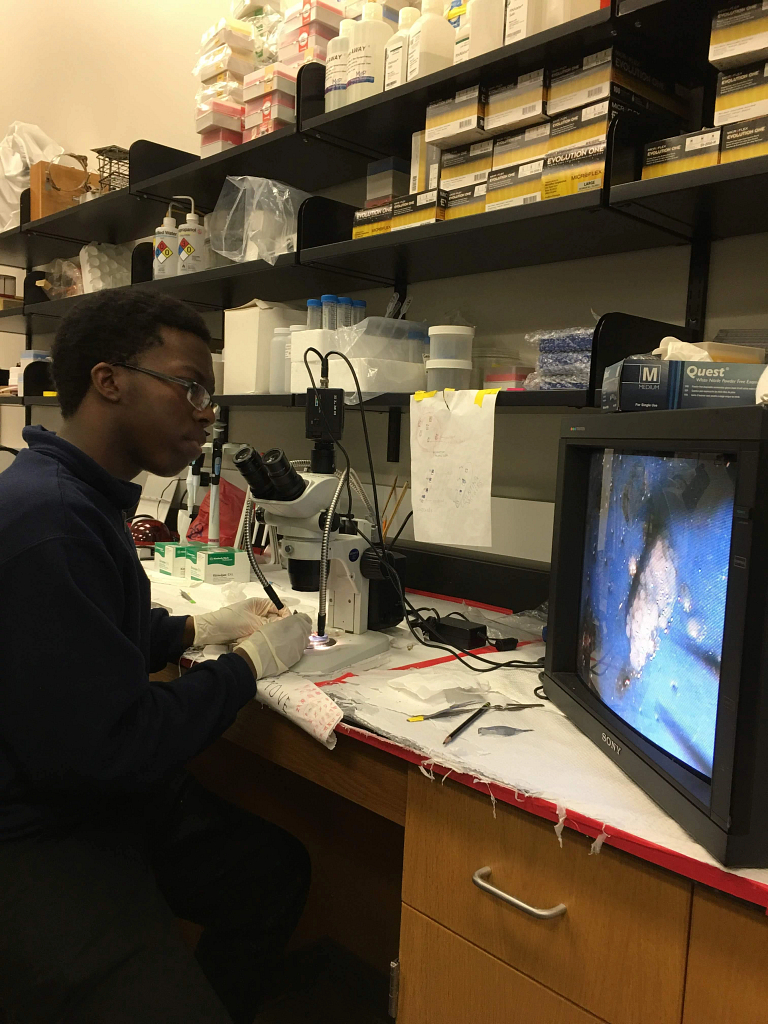 But even after returning to the U.S. in fifth grade, he said he still witnessed systemic inequities that bothered him.
His parents considered education to be the most vital investment in his future, so they did all they could to help. As a young student, Irihamye received additional tutoring from his father after school – and additional homework. Irihamye said that support gave him confidence as he took more and more difficult classes.
"I can assure you I wasn't was born with any extra level of intelligence," he said. "It was my parents investing in my education that gave me a chance at success."
That investment resulted in Irihamye attending The Gatton Academy, a residential STEM school for talented high school juniors and seniors on the Western Kentucky University campus in Bowling Green, Kentucky. There he took college courses and worked with professors and scientists on experiments and research.
Irihamye's research investigated the possibilities for a novel class of DNA-binding chemotherapy compounds to mitigate the hearing loss that so many cancer patients suffer. As a research assistant, Irihamye spent countless hours in the lab leading dissections of ear sacs from zebrafish, working with cancer cell lines and large genomic datasets.
Understanding the side effects of chemotherapy drugs creates the potential for new therapies in the future, Irihamye said.
His interest in medicine – particularly neuroscience – was fueled by the book "Gifted Hands" by Dr. Ben Carson, a renowned Black neurosurgeon and later presidential candidate and U.S. secretary of housing and urban development. The book chronicles how Carson went from an angry, non-academic student to overcoming obstacles and becoming a neurosurgeon, Irihamye said, and reading it caused him to fall in love with the brain and neuroscience.
It's his time at IU, though, that has transformed how Irihamye would like to apply his interest in science and medicine.
Experiences at IU
Irihamye said he initially had difficulty choosing a college, but when he visited IU to learn more about the Wells Scholars Program, he quickly fell in love with it.
"I think the thing that attracted me to the Wells Scholars Program the most was the diversity of people and interests," he said of the community of talented young scholars. "I've had a lot of interesting conversations that opened up my eyes to different perspectives."
Christoph Irmscher, Wells Scholars Program director, said he's seen a mature young man with a multinational perspective build on his experiences and start thinking in a broader way about helping communities since arriving at IU.
"I believe life shaped him in ways that has turned him into somebody who thinks beyond his immediate environment," Irmscher said, "and he has learned to reflect on what has led people to get to a certain place and to ask himself, 'What can I do about it?'"
Irmscher said he first mentioned the Rhodes Scholarship to Irihamye a year ago.
"I approached Elvin and said, 'You are made for this,'" Irmscher said. "Rhodes wants people who have not just a strong investment in whatever major or area they study, but want to make the world a better place and give back."
Irihamye said he considers his involvement with Indiana University Student Government, working on the sustainability committee as a freshman, as a foundational experience. The goal was to create collaboration between the sustainability efforts of the Big Ten, and Irihamye said this work gave him confidence working in teams, creating strategic plans and executing them. That experience, he said, prepared him to pursue nonprofit work.
At the end of his freshman year, early in the COVID-19 pandemic, a friend from The Gatton Academy asked him to help the nonprofit Create Circles expand its program. Irihamye said the opportunity to work with nursing home administrators, senior executives at nursing home corporations and an excellent boss showed him the value of good leadership in creating social impact. That experience inspired him to co-found The Eckford Mentorship Program in summer 2020.
Quarantined at home during the Black Lives Matter protests, Irihamye began talking with his close friends about racial opportunity, and they identified a major source of inequity for minority students: social capital. By strategically linking Black, Latinx and Native American students with minority industry mentors and recruiters, The Eckford Mentorship Program empowers students with industry connections. Students work one on one virtually with minority industry professionals who help them navigate the job recruitment process from end to end.
"What we were trying to do is cut the degrees of separation," he said. "We wanted to create mentorship connections as a way for us to create equity."
Expanding people's opportunities also has been a goal of Irihamye's this academic year as a member of the Board of Aeons. The members have been working on projects that deal with inclusion, diversity and the creation of student opportunities.
"Elvin and his team are emphasizing the importance of undergraduate research and how that can contribute to meaningful undergraduate experiences," said Lucy LePeau, presidential faculty fellow to the Board of Aeons.
She said Irihamye has made a quick impression in his short time on the board. He actively listens to his peers, asks good questions to gain a deeper understanding of issues and feels pride in the opportunity to make a difference.
Future goals
The desire to make a difference on a large scale is one reason Irihamye was interested in becoming a Rhodes Scholar. He said his foundational interest in the scholarship is to create health innovations for the developing world, and to integrate artificial intelligence and machine learning as a means of improving health outcomes at the international scale.
Irihamye said he believes technology can make health care more equitable. He said the company Zipline has a partnership with the government of Rwanda that allows health care workers to send mobile requests for blood products. Drones are loaded with blood products from central blood banks and flown to the clinic's location. The drone sends a quick WhatsApp message alerting the health care provider of its arrival, and the blood parachutes down from the drone. The transformative technology breaks down computer, electrical and road infrastructure barriers.
A specific interest of Irihamye's is electronic medical records. While commonplace in the United States, many developing countries still use pen and paper for patients' records, he said. This hinders their public health systems' ability to not only collect crucial health data but to use the power of artificial intelligence to power large-scale health studies.
Irihamye believes that with the implementation of health care information technology, AI algorithms will one day be able to sift through massive global health data sets, creating clinical insights that will rival human decision-making and shift health care as a whole. Irihamye said he aspires to co-found a technology startup company with friends and fellow Rhodes Scholars that would implement blockchain electronic medical records in the developing world and use AI and machine learning to ethically extract crucial health information for patients and populations.
"If medicine is about helping people, then there needs to be a focus on shifting resources and creating innovations for those who need it the most," Irihamye said. "That is why I am so focused on making health care equitable, because I think equity is at the core of what medicine ought to be."