The Indiana University Board of Trustees approved the architectural design of the new Indiana University School of Medicine Medical Education Building in Indianapolis. The design was presented by Thomas A. Morrison, IU vice president for capital planning and facilities.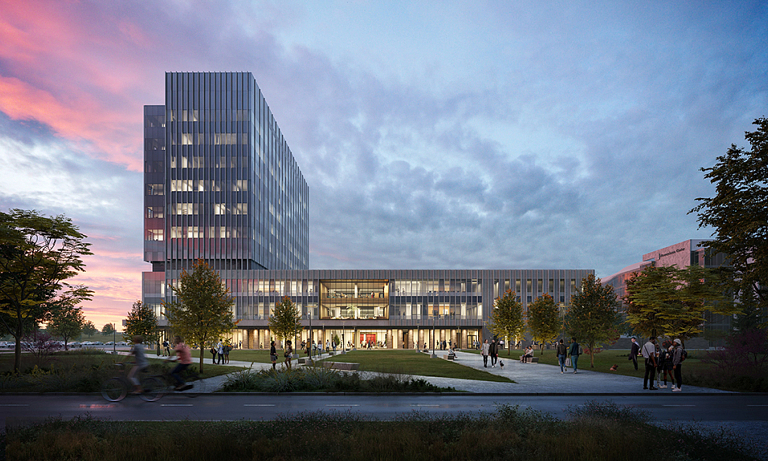 The Medical Education Building, to be co-located with the Indianapolis Academic Health Center in development by IU Health, will be west of Senate Street and south of the IU Neurosciences Research Building in Indianapolis. The 11-story, approximately 326,200-gross-square-foot facility will address growing instructional and research needs of programs in the School of Medicine.
The building design features a three-story base structure with a basement and an eight-story tower atop the southern quarter. The base structure, which will focus primarily on medical education, will consist of support spaces and shell space for a future research vivarium, as well as academic learning spaces featuring 12 small learning communities, classrooms of varying size and a medical library, all surrounding a central daylit gathering space.
The eight-story office and research tower rises above the south end of the academic base structure with three floors of faculty offices (floors 5-7) and three floors of shell space (floors 8-10) planned for flexible, modular biomedical research, research support and offices. Two full mechanical floors, one at the fourth floor between the base and the tower and the 11th floor at the penthouse level, provide mechanical services for the building.
The architecture expresses the unique character of Indiana University with its use of Indiana limestone and precast concrete accents. Along the first floor, warm brick accents will give scale to the building and acknowledge the use of brick on adjacent existing buildings. The tower will be predominately clad with a high-performance glass and metal curtainwall, permitting unobstructed views and planning flexibility.
The architectural design of the IU School of Medicine Medical Education Building was developed by Browning Day of Indianapolis and Perkins & Will of Chicago.
Beth Feickert is a capital planning project specialist for the IU Office of the Vice President for Capital Planning and Facilities.