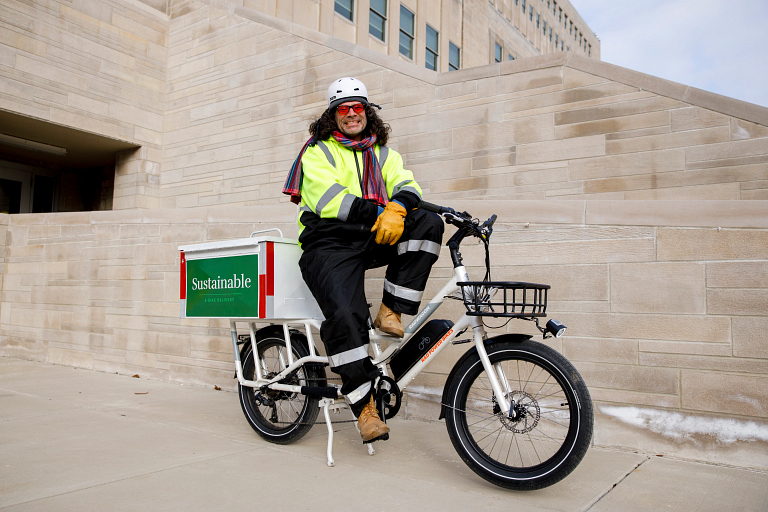 The air is a biting 20 degrees, and you can ever so slightly see light flurries beginning to fall, as Greg Eisman rides through Indiana University Bloomington's Old Crescent with a smile on his face and the wind blowing through his curly hair.
"I can't believe they pay me to do this," he jokes.
Eisman is a bike courier for IU Document Services, a new position that started in the fall of 2021. You'll see him riding across campus on a white e-bike with a large, metal cargo box on the back that proudly boasts "sustainable" on the side. He delivers smaller orders, like business cards, throughout the Bloomington campus. The two wheels come in especially handy for servicing buildings that are difficult for delivery trucks to get to.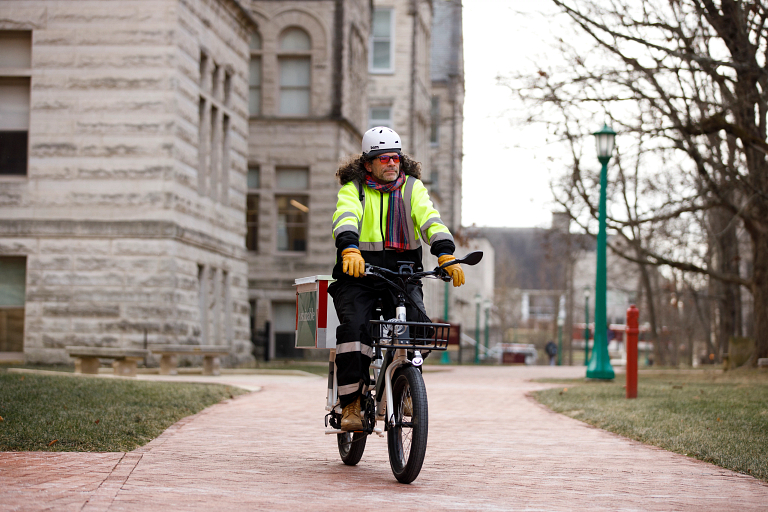 "The e-bike is the perfect solution for servicing the Old Crescent," said Jonathan Pittman, production manager at Document Services.
Pittman said the new delivery method was Director Neil Hugentober's idea. He'd heard about a bike courier program at the University of Washington, and thought something similar at IU Bloomington would align well with Document Services' sustainability goals.
"We've always been green-minded," Pittman said. "We use vegetable-oil-based inks and recycled paper. One of the areas we started looking at more was our carbon footprint."
Document Services shared its plan with Anna Dragovich, coordinator and bicycle manager at IU Transportation Demand Management, and she was so enthusiastic about the idea that her office offered to fund the e-bike purchase. Adding a bike courier allowed Document Services to get rid of one of its three delivery vehicles, and gave Eisman the opportunity to take on what he describes as a dream job.
"Exploring the campus while I'm making deliveries and even riding around finding new routes, I don't think I could ask for anything better," Eisman said.
He typically makes four to five trips a day from Document Services to the inner campus, with several stops along the way.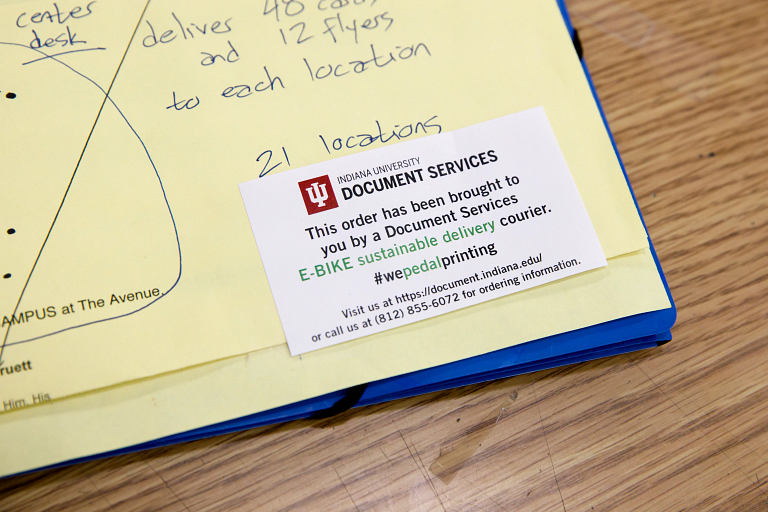 In addition to working as a bike courier, Eisman has become a sustainability ambassador. Each delivery he makes includes a sticker that reads "This order has been brought to you by a Document Services E-BIKE sustainable delivery courier." That gets people asking questions, and some even want to come outside and check the bike out.
"One person asked where the gas goes, so I explained how it works," Eisman said.
The e-bike runs on a rechargeable battery, which provides pedal assistance that allows Eisman to travel further distances and tackle Bloomington's hilly terrain with ease. He can make it through a full day of work on one battery, which he then charges overnight.
Eisman's already logged more than 500 miles during his first couple of months on the job, many of those during less-than-ideal biking conditions. Even on frigid days that require wearing a thermal shirt, two T-shirts, two jackets and two pairs of pants, Eisman said he's thrilled to set out on the e-bike and make deliveries around campus.
"It's an honor to be representing the possibility of what can be done in terms of sustainability," he said.
Document Services hopes to expand its e-bike services in the future, and hopes that seeing Eisman around campus will inspire other units to follow their lead.