BLOOMINGTON, Ind. – Indiana University and Dubois County are expanding their community development collaboration with the Center for Rural Engagement's Sustaining Hoosier Communities initiative.
Sustaining Hoosier Communities connects IU Bloomington faculty, their courses and the energy of hundreds of students to address projects such as health and wellness, infrastructure planning, and natural resource management. Representing an estimated value of $150,000 in research, inquiry and implementation hours, Sustaining Hoosier Communities brings an extensive suite of university resources to the partnership. This initiative received international recognition as the 2019 Outstanding Program of the Year from the Educational Partnerships for Innovation in Communities-Network.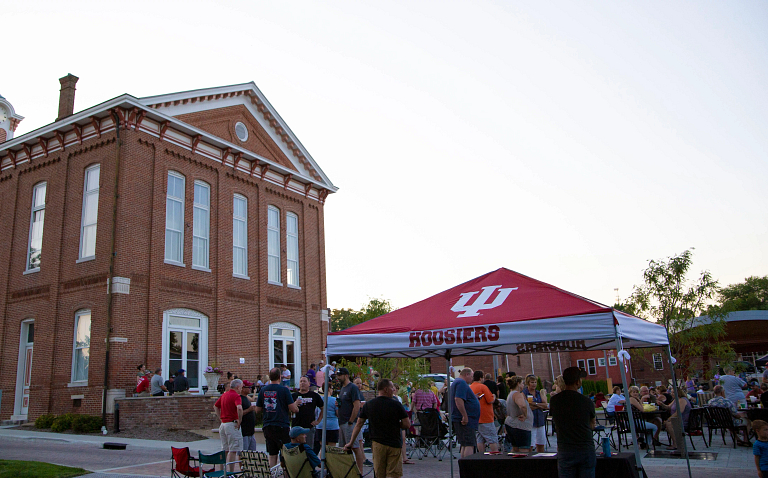 "Sustaining involves helping, but most importantly, recognizing the fundamental characteristics of our community and through them, building up a community that supports growth in an equitable manner," said Rossina Sandoval, member of the Sustaining Hoosier Communities Dubois County community committee and director of community engagement for Southwest Dubois School Corp. "The SHC partnership with the IU Center for Rural Engagement offers unbiased, expert counsel and direction towards the goals we envision for Dubois County."
Dubois County has actively worked with the Center for Rural Engagement on arts and culture, creative placemaking, local food system expansion and community capacity development projects since 2018. Thriving programs – including the activation of Huntingburg's Market Street Park for the 4th Fridays music festivals and the recent Indiana Department of Health I-HOPE initiative to reduce racial inequities in health – have emerged through this existing partnership.
The county is also poised to partner with IU and higher education institutions across the state through the Hoosier Enduring Legacy Program, developing strategic plans for federal coronavirus recovery funding.
"Education and collaboration have long been strategies propelling Dubois County forward, creating innovative approaches that drive the development of our people, culture and economy," said Christian Blome, co-coordinator for the Sustaining Hoosier Communities Dubois County community committee and assistant vice president and dean at Vincennes University Jasper. "The SHC partnership with the IU Center for Rural Engagement recognizes how special Dubois County is, and it provides us an opportunity to leverage the intellectual property of Indiana University to achieve our individual, corporate and organizational goals – now is the time to dream big, come together and seize the moment."
The history of Dubois County is rooted in entrepreneurship and innovation. Many national and global organizations – including Kimball International, Jasper Engines and Transmissions, and OFS Brands – call Dubois County home. The county is a manufacturing and agricultural hub in the state, employing more than 37,000 people in the Indiana Uplands region.
Dubois County hosts an annual cultural festival and a variety of community resources managed by the Association of Latino Americans of Southern Indiana. The county is also well known for its historic League Stadium, the setting of the beloved sports comedy-drama film, "A League of Their Own." Located approximately 70 miles southwest of the IU Bloomington campus, Dubois County will be the fifth community to partner with the center on the Sustaining Hoosier Communities initiative.
"Indiana University is delighted to collaborate with Dubois County, bridging this innovative community with transformative resources at IU," said Kerry Thomson, executive director of the Center for Rural Engagement. "This initiative builds upon our already successful partnership, giving our students a foundation for professional, high-impact experiences right here in Indiana while also creating a conduit of energy and strategy that supports the community's goals."
Community meetings to generate ideas, gather feedback, and discuss possible projects and plans will be held throughout the county in February, from 6:30 to 8 p.m. EST on the following dates:
Feb. 16: Vincennes University Jasper, Center for Technology, Innovation and Manufacturing, 961 College Ave. in Jasper. This meeting will include Spanish interpretation.
Feb. 22: Ferdinand Community Center Mobel Room, 1710 Community Drive in Ferdinand.
Feb. 23: Old Town Hall, 309 N. Geiger St. in Huntingburg This meeting will include Spanish interpretation.
Feb. 24: Parklands Pavilion, 800 W. 15th St. in Jasper. This meeting will include Spanish interpretation.
These meetings are open to the public. Residents are encouraged to attend any of the scheduled sessions for a full discussion and planning activities. Current public gathering policies for Indiana University will be observed; masks are required in indoor settings.
Residents can contact Sustaining Hoosier Communities program Dubois County community committee co-coordinator Dennis Tedrow at dennis.tedrow@vinu.edu or 812-482-3288 to share ideas and learn more about this partnership.
The Sustaining Hoosier Communities website has more information about the program and past projects.