When Stacee Williams and Marc Abplanalp were playing in Bloomington High School South's bands, they never pictured themselves – or each other – with a winding career path that led them to Indiana University Bloomington's Student Legal Services.
"I wouldn't have seen either of us as lawyers at that point," Williams said. "We were serious music kids back in the day."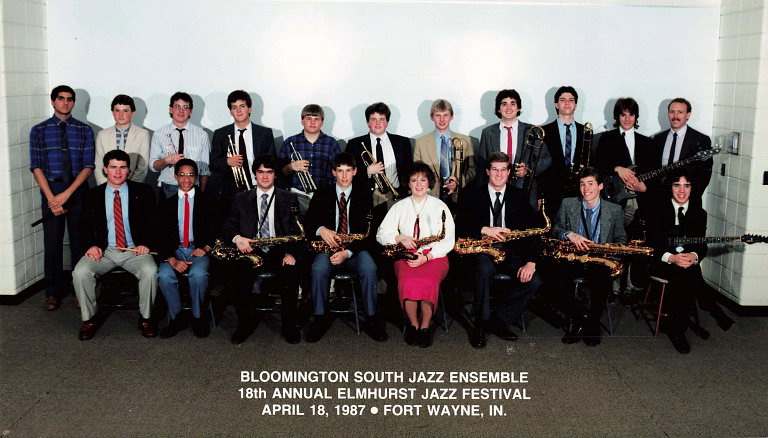 Williams was one year head of Abplanalp at Bloomington South, and she lived for marching band. She was a drum major, leading her peers. Abplanalp played trumpet in the marching band, but he was more passionate about the jazz band he and Williams belonged to. Their shared love of music made them feel connected, but they lost touch after high school.
Williams attended the Jacobs School of Music to pursue her dream of becoming a classical saxophonist. She spent two years in the program before deciding she wanted to change her major to a larger field. She switched to history and political science, then attended IU Bloomington's Maurer School of Law. As a law student, she worked as an intern in the office she would later come to lead, Student Legal Services.
"I just decided I wanted to do something with direct service to people," Williams said.
Abplanalp spent a year and a half at Jacobs before leaving school to work as a musician. He toured for about three years, including gigs on cruise ships and even the circus. Abplanalp was in and out of college for a decade, getting his degree in business before returning to his music career. He eventually decided he wanted a job that provided more stability.
"Off I went to law school," Abplanalp said. "I started law school in Boston, and I really knew about three weeks in that I wanted to be back in Bloomington. So I finished at the Maurer School like Stacee."
It wasn't until years later that the two would cross paths again, not as musicians, but as practicing attorneys at the Monroe County Courthouse. Abplanalp was working in private practice at the time, and Williams was a staff attorney for Student Legal Services. When another staff attorney position opened at Student Legal Services in 2010, Abplanalp thought it seemed like a great opportunity and applied. He jokes that he's glad Williams kept an open mind after knowing him as a teenager.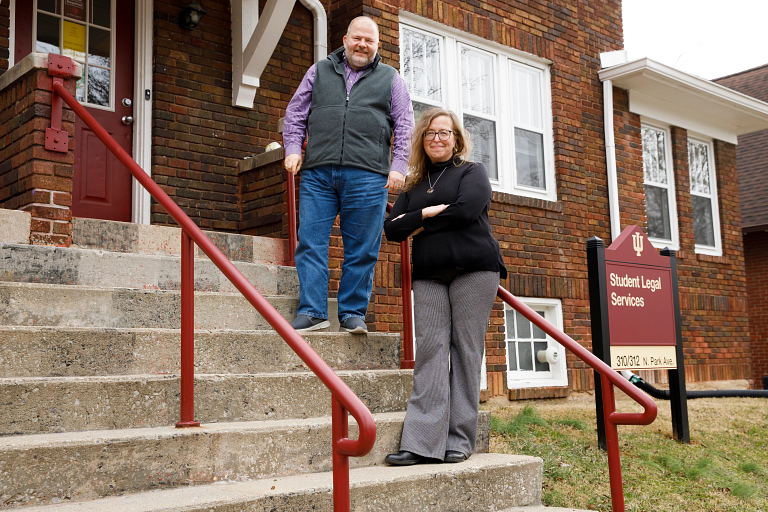 "I remember one jazz band trip we took down to Gatlinburg, and it was crazy," he said. "The first day we were there – not Stacee – but some of us were throwing patio furniture into the swimming pool. Stacee was kind enough not to bring that up during my interview."
Abplanalp got the job, and the two have been working together ever since. While it's not the professional path either imagined back in high school, they're both happy with how their careers have worked out.
"At the end of the day, when I look at how we've affected people's lives, we just radically improve the course of someone's life here," Abplanalp said.
And it's been rewarding for the pair to work together again after all of these years. Like she did in marching band, Williams is a leader at Student Legal Services. That doesn't surprise Abplanalp.
"Leading the program, that's a component of Stacee's personality that's kind of been evident from the get go," he said. "She cares very much about doing good work and helping people, so this was the natural sort of progression for her."
And Williams said that being a leader is always easier with a talented, dedicated team. Abplanalp has been an asset to Student Legal Services, Williams said, and she's especially grateful for his support when the office has faced challenges with caseloads.
"Marc's such a great colleague, and I'm really happy it ended up our paths crossed again," she said.