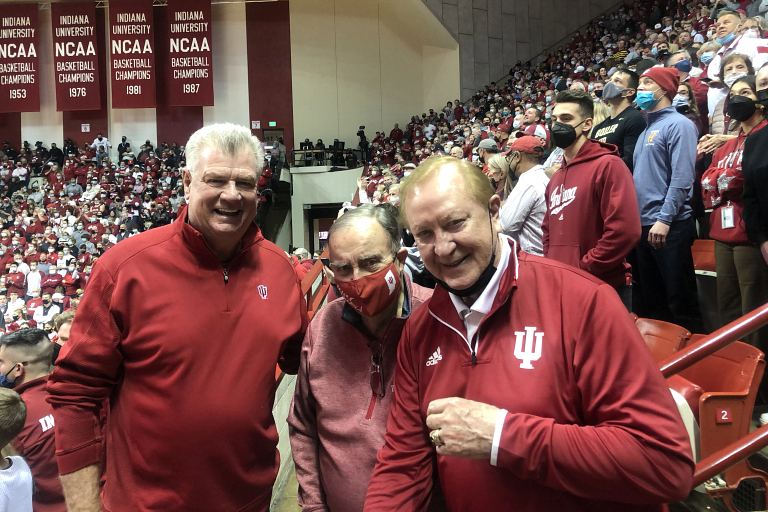 Ask Tom McGlasson what he remembers first, and he'll tell you it was the massive hole in the ground.
The Indiana basketball home court he knew as a student manager from 1961 to 1965, and then as a season ticket holder as an IU law student, was the 17th Street Fieldhouse now known as Gladstein Fieldhouse.
In early 1968, a new home was on the horizon. But first, it was a hole.
"They told us that was where the basketball arena was going to be. It was to be a companion to Memorial Stadium," McGlasson said.
Three years later, in September 1971, Assembly Hall opened, off 17th Street in between the football stadium and fieldhouse. And McGlasson was there for its first basketball season, having returned from a two-year stint in the Army.
"It was huge, bigger than anything I'd ever imagined," he said.
The wonder is still in his voice, after 50 seasons, an emotion shared and understood by other members of a small, exclusive IU basketball fraternity: season ticket holders who have been there since the first game on Dec. 1, 1971 – an 84-77 win over Ball State.
Here are a few of them, sharing their favorite memories from the past half-century.
'Seats I can't give away'
Before the second season at what is now Simon Skjodt Assembly Hall, the ticket office called Leland Butler's father to ask a favor that would be a no-brainer today.
Would he mind moving down from his seats around row 35 to the courtside bleachers?
One of the building's most distinctive features when it opened were its plush theater-style seats, appropriate for concerts and non-basketball events. Indeed, the first event at Assembly Hall was a "Homecoming Show" on Oct. 23, 1971. The show was held after the completion of IU football's game against Northwestern and  included some of the era's biggest names, including Bob Hope, Petula Clark and Al Cobine & His Orchestra. But even for basketball, they were so comfortable that fans didn't want to get up – or give them up.
"We've got these beautiful opera chairs that all the people want to sit in, and I've got bleacher seats I can't give away," IU ticket manager Bill King said to Butler's father. "Would you be willing to come down on the floor level?"
And that's how Butler's family ended up in court-level sideline seats, real estate that today is largely reserved for the most generous boosters and sponsors.
Butler took over those seats from his parents and, at 79, still has them today. He is so close to the action, he can remember seeing Isiah Thomas' bloodshot eyes after the future Hall of Famer got hit in the face during a game.
"With people on the sidelines and behind the basket, it feels like an Indiana high school gym almost," Butler said. "That's one of the things that make it so intimidating."
If you build it, they will come (winning helps)
For the 1971-72 season, more than just the Assembly Hall era of IU basketball began. Bob Knight, a former player at Ohio State and coach at Army, started his coaching career that season and would spend 29 years leading the program to some of its greatest heights.
If there were any concerns about filling all 17,000-plus seats in the new building, they weren't concerns for long.
"It pretty much filled up after we started winning," said Gene Hedrick, a 50-year season ticket holder and retired dentist from Salem, Indiana. "We were third in the Big Ten the first year, then won it four years in a row."
Hedrick marvels at how Knight's first team had none of his own recruits, yet finished 17-8. Then once Knight hit the recruiting trail – well, if you're reading this, then you know. IU won national titles in 1976, 1981 and 1987.
When he's not at his winter home in Florida, Hedrick can be found in courtside seats thanks to his decades-long close association with the Varsity Club, the development arm for IU Athletics founded in 1954.
He was the board president of the Varsity Club in 1980, when he and director Dave Martin visited Florida State University to study how they allocated football tickets via a priority points system. A couple of years later, IU launched its own points system to allocate seats in Simon Skjodt Assembly Hall – of which other schools would later study.
"You know it's going to happen …"
During timeouts this season, the most memorable moments in Simon Skjodt Assembly Hall history (read: great IU wins) have been shared on the video boards. At least one more will go into the books from the 2021-22 season: the thrilling 68-65, losing-streak-breaking win over Purdue on Jan. 20.
For that game, Tom McGlasson was in his usual seat in Row 1 of the east stands, just steps away from the television announcers' seats. The way the final minutes played out – high tension and the Hoosiers pulling ahead at the end – he had a sense from 50 years' experience of what would be coming next.
The crowd stormed the court – from all around the 78-year-old Bloomington lawyer.
"You don't see many like that, but when you know it's going to happen … we just stay in our seats and stay out of the crowd," McGlasson said with a laugh. "We let things clear away, then leave as the crowd is thinning out.
"As we were leaving, walking down by the floor, a security guard picked up a shoe and asked, 'Anybody belong to this shoe?'"
McGlasson was also in the building for the famous "Wat Shot" of 2011, when Christian Watford's buzzer-beating 3-pointer topped archrival Kentucky.
"I remember an official standing there, he didn't know what to do. He stood there, frozen, and the crowd just ran all around him."
Go to enough games over enough years, and hopefully you'll see those kinds of moments. The 50-year season ticket holders can say they've seen them all – and they'll keep coming back, hoping for more.
"Celebrating 50 Years at Simon Skjodt Assembly Hall" is a collection of stories resulting from a collaborative effort between IU Studios and IU Athletics to pay homage to one of college basketball's most iconic venues and its importance to Indiana basketball.