Not all relics from the early days of Simon Skjodt Assembly Hall have been lost to time.
Thanks for that goes in large part to individuals like longtime IU sports fan Chris Williams. A Bloomington native, Williams has amassed a house full of IU Athletics' memorabilia, including many pieces that date back to the days of the Chrysler New Yorker automobile, "The Flip Wilson Show" and the opening of Simon Skjodt Assembly Hall in 1971.
Following is a sampling of Williams' collection, along with item descriptions. To find more of Williams' items, follow @IUArtifacts on Twitter.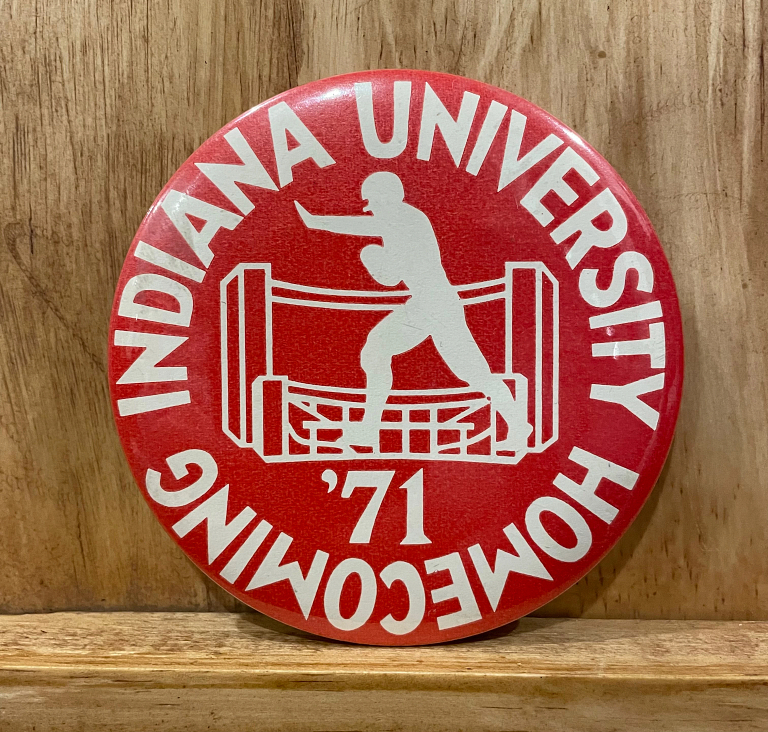 1971 homecoming button
The first event held at Assembly Hall wasn't a basketball game, but rather a "Homecoming Show" on Oct. 23, 1971. The show was held after the completion of IU football's game against Northwestern.
The event attracted approximately 18,000 spectators and included some of the era's biggest names, including Bob Hope, Petula Clark and Al Cobine & His Orchestra.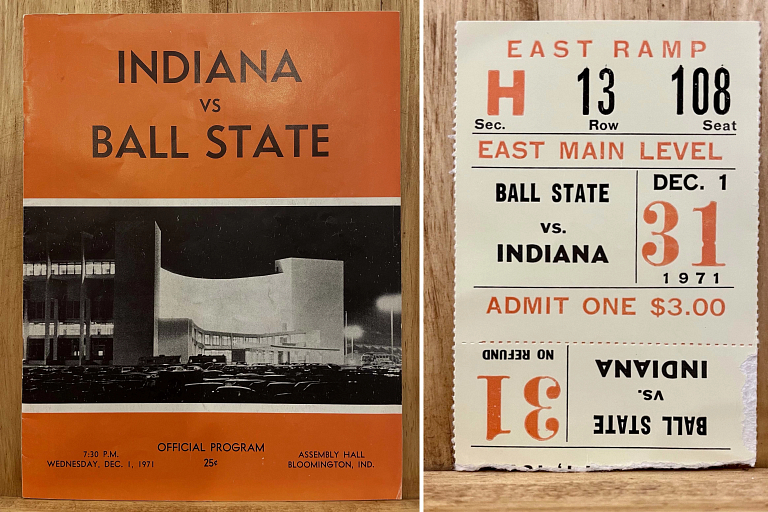 Items from first game
A game ticket and the game program mark the first game in Assembly Hall, which turned out to be an 84-77 Hoosier victory over Ball State that was played in front of 14,853 fans on Dec. 1, 1971.
The game was not only the first for the basketball program in its new venue but also the first in Bloomington for first-year Hoosier men's basketball coach Bob Knight, who was just 29 years old at the time.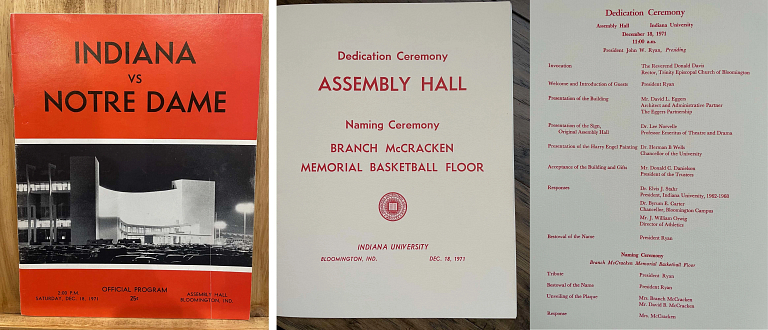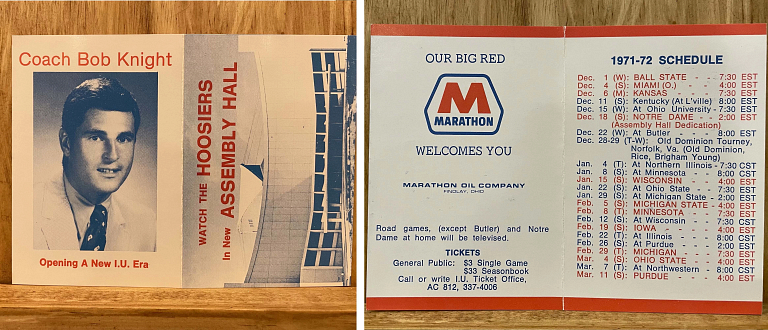 Assembly Hall/Branch McCracken Memorial Basketball Floor dedication
While the Ball State game was the official opener for the 1971-72 season and thus launched the era of IU men's basketball at Simon Skjodt Assembly Hall, the team's fourth home game that season was significant as well. The Dec. 18 match-up with Notre Dame was the official dedication game of the new facility as well as when the playing surface was officially named Branch McCracken Memorial Basketball Floor, in honor of the legendary IU coach that guided IU to NCAA titles in 1940 and 1953.
The game also proved to be a rout for the record books: IU blasted the Irish and first-year coach Digger Phelps, 94-29, in what remains the most lopsided win ever in the building.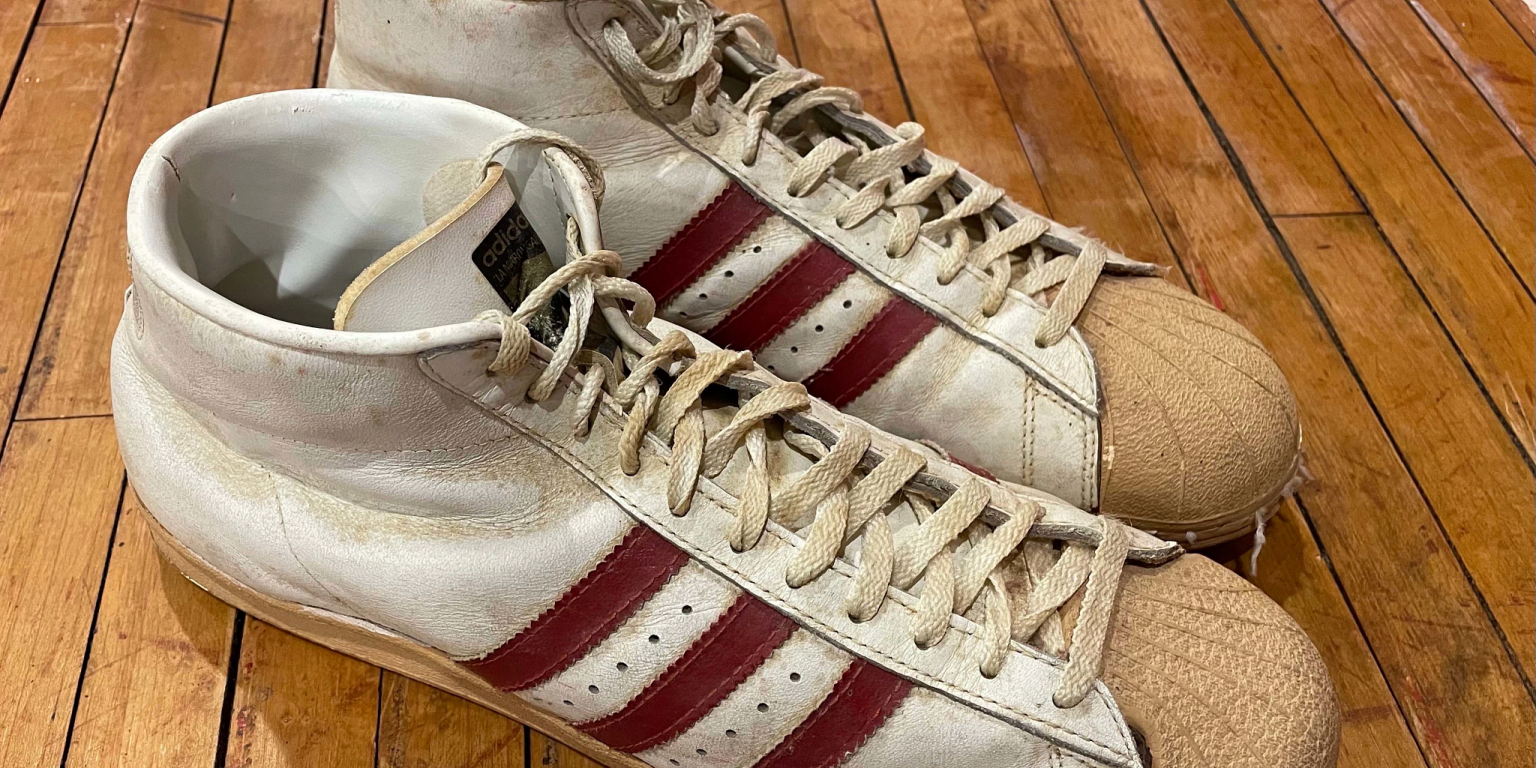 Steve Downing 1971-72 jersey
The Hoosiers' original star when Assembly Hall first opened was center Steve Downing, who wore this uniform during the 1971-72 season-opening win against Ball State. In that game, the junior from Indianapolis pulled down 26 rebounds, which remains a Simon Skjodt Assembly Hall record to this day.
Downing averaged 17.5 points and 15.1 rebounds during the season, and followed that up by earning Big Ten MVP honors after averaging 20.1 points and 10.6 rebounds on IU's 1972-73 team that advanced to the NCAA Final Four.
Bobby Wilkerson 1976 game shoes
The most famous of the 50 Indiana University men's basketball teams that have played at Simon Skjodt Assembly Hall is the 1975-76 team, which went 32-0 and captured the program's third national championship. The shoes above were worn by one of the team's most under-appreciated players, guard Bobby Wilkerson.
A 6-foot-7 senior from Anderson, Wilkerson averaged 7.8 points, 4.9 rebounds and a team-best 5.3 assists/game during the 1975-76 season. He was also one of IU's all-time great defenders, a long, athletic wing that could defend just about any position on the floor. IU won 34 straight games during Wilkerson's tenure,and was 36-1 overall during his era.
Press credential from the Kent Benson tip-in game
On Feb. 7, 1976, Indiana entered its match-up with No. 16 Michigan sitting at 18-0 overall, 9-0 in the Big Ten, and on top of the national polls. But the Hoosiers' unbeaten season was nearly derailed by the Wolverines.
Michigan opened a 10-point halftime lead, and then led by two late. But after Michigan's Steve Grote missed the front end of a one-and-one with 14 seconds left, IU tied the game at the buzzer when Kent Benson tipped in a Jim Crews miss to force overtime.
IU pulled away in overtime and won 72-67, preserving its chance to complete its unbeaten, national championship season.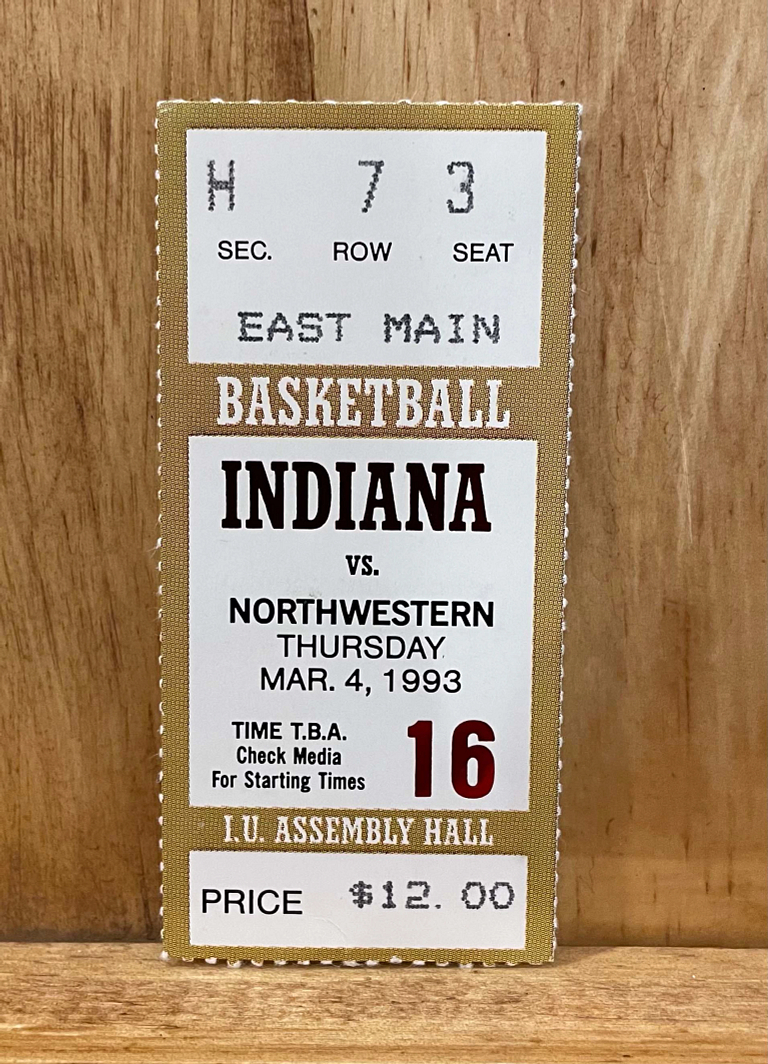 Game ticket from Calbert Cheaney's record-breaking Big Ten performance
History was made on March 4, 1993, in Indiana's game against Northwestern. IU senior forward Calbert Cheaney sank a baseline jumper to become IU's and the Big Ten's all-time career scoring leader.
Cheaney came up just one point shy of his career high as he finished the game with 35 points in a 98-69 win over Northwestern. He ultimately finished his IU career with 2,613 points, which remains the Big Ten standard.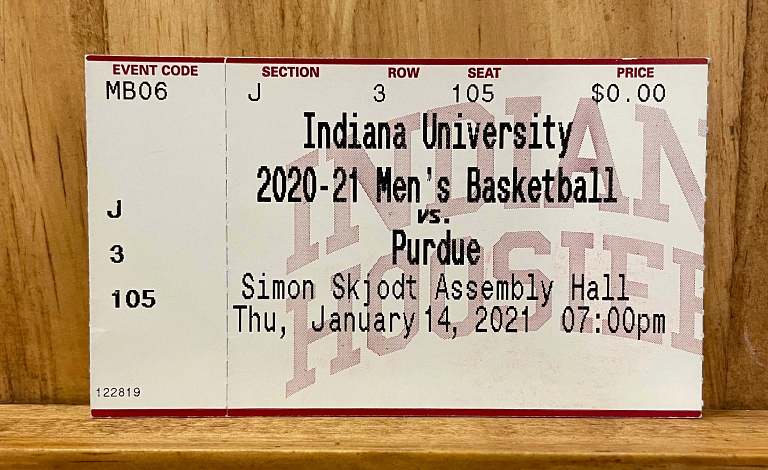 Game ticket from Jan. 14, 2021, COVID-19-restricted game against Purdue
On the surface, there's nothing particularly special about the Jan. 14, 2021, game against Purdue played at Simon Skjodt Assembly Hall. But this ticket stub is a rarity because the general public was not permitted to attend games throughout the season due to the COVID-19 pandemic. A limited number of tickets were made available, though, for immediate family members of the Hoosier players, producing crowds of less than 100 spectators.
"Celebrating 50 Years at Simon Skjodt Assembly Hall" is a collection of stories resulting from a collaborative effort between IU Studios and IU Athletics to pay homage to one of college basketball's most iconic venues and its importance to Indiana basketball.