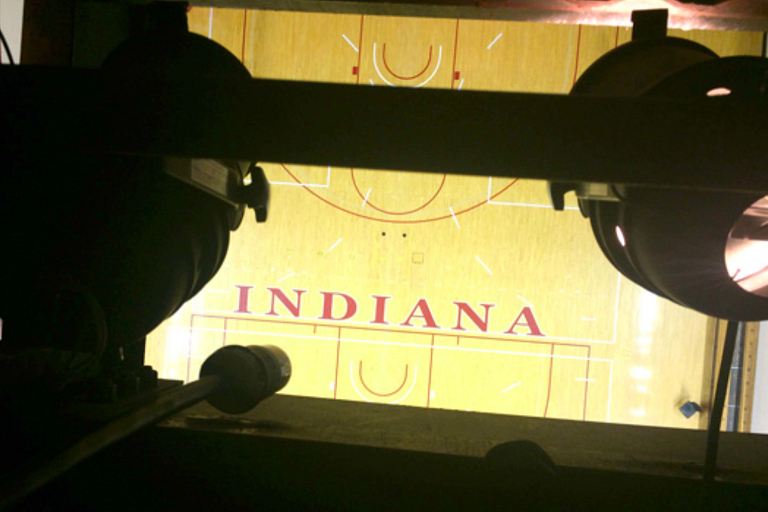 If you're scared of heights, this story might tie your stomach in knots like the end of a close game.
Visit the rafters of Simon Skjodt Assembly Hall in "Unknown, Untold, and Unbelievable Stories of IU Sports," a behind-the-scenes peek at IU Athletics.
John Decker, director of strategic communications for IU Athletics, takes you 130 feet above Branch McCracken Court.
The following chapter, "Don't Look Down at Assembly Hall," is an excerpt from the August 2019 book.
Purchase the book from IU Press with a 30% discount code of IUSPORTS.
—
Simon Skjodt Assembly Hall has struck fear in many a person since its doors opened in 1971.
The reasons are plentiful. One was long-time coach Bob Knight, one of college basketball's most intimidating and imposing figures. His presence for twenty-nine years brought a buzz and a level of drama to every Hoosier basketball game, no matter if IU was among the nation's elite any particular season or not.
Another is the seventeen thousand-plus fans that pack the arena for games religiously, bellowing at foes from courtside and seemingly hovering overhead from the balcony seats.
A third reason is a series of Hoosier players that have been among the nation's best. Since the building opened its doors during the 1971-72 season, it has been the home to twelve Big Ten MVPs, and twenty-five All-Americans have helped IU to three national championships and fourteen Big Ten titles.
But did you know the building can be every bit as frightening when there are no coaches on the sidelines, no players on the court, and no fans in the stands?
One can tap into that fear by venturing behind the door no. 199 in the southwest corner of the building, next to the stairs that lead down to court level.
Only a special key, held by only a handful of special people, can get you through that door. What waits isn't a room, but rather sets of stairs, ladders, and handrails that will take you to the upper reaches of Assembly Hall, some 130 feet above the court. Your trip overhead will include journeys across metal grate walkways that provide unsettling views of the court below, leaving you doubting the stability of every step and your own ability to put one foot in front of the other.
It's a trek that will leave the bravest uneasy.
And for those with anything less? White knuckled and crippled with fear.
Few have been up there as many times as IU Assistant Athletic Director for Facilities Chuck Crabb. A forty-one-year employee of IU athletics, Crabb has spent the last twenty-seven years overseeing IU Athletics facilities, and he can still remember his first trip to the top of Assembly Hall.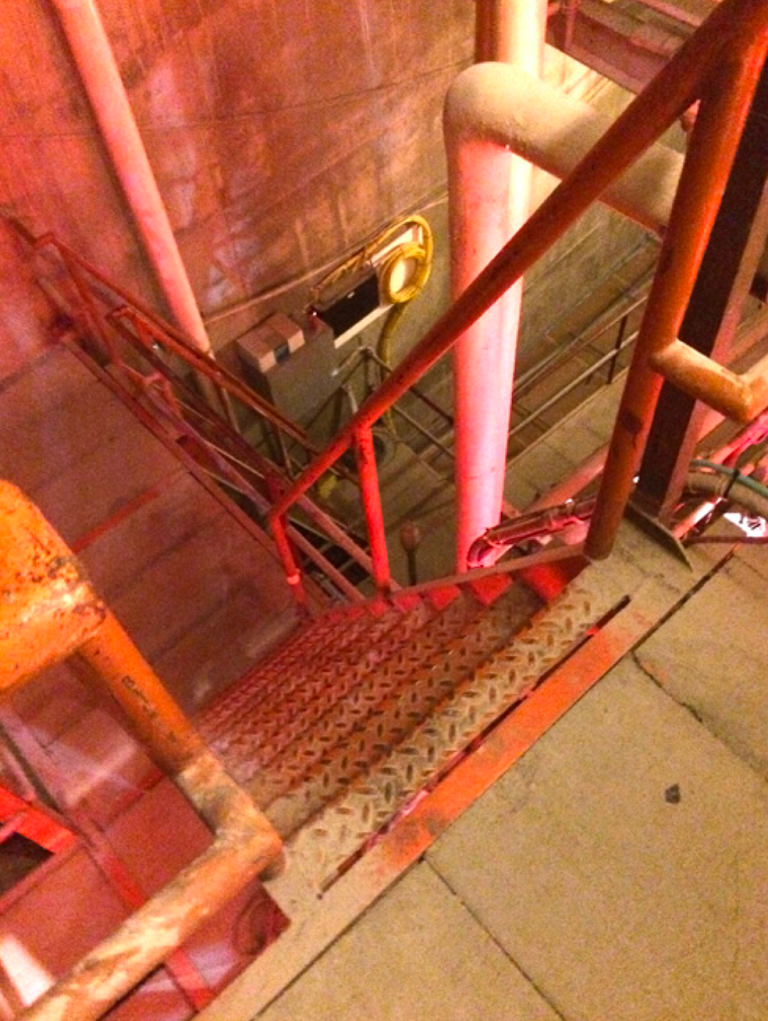 Crabb received a phone call from the house electrician, who needed Crabb to accompany him to "the grid."
The grid is the three-story structure that descends from the copula of Assembly Hall and is directly over the court. Inside the grid, among other things, are the building's air-handling equipment, a large hoist system that holds the 40,000-pound video scoreboard, and a number of abandoned electric motors that were installed when the building was first built to maneuver battens for any theatrical productions held at Assembly Hall.
While Crabb hadn't been up into the grid before this early 1990s trip, he knew very well that it was some 100 feet above the court, and he wasn't enthusiastic about the prospects of the adventure. "I said, 'I don't like heights much,'" Crabb says. "And [the electrician] said, 'Don't worry about it. You'll be fine.'"
So they met outside door no. 199 in Assembly Hall's southwest corner and began their journey.
The first portion was relatively easy. First came two sets of stairs, followed by three fireman's ladders. All of this occurs behind the grey Tectum wall that spectators see on the south end of the arena. A fourth fireman's ladder took the electrician and Crabb to a level that was some 90 feet above the court. They then walked straight ahead into the bottom floor of the grid.
The electrician then flipped a couple of breakers to illuminate the arena while also enlightening Crabb about how high he was as they were able to look directly down over center court. "The visual trick he played on my mind was he had a dark room, so I had no sense of depth perception," Crabb said. "So I didn't know exactly where I was, or that I was 90 feet over the Assembly Hall court. I really liked it."
Crabb didn't like the next suggestion, though.
While standing in the grid is unsettling in that it is approximately 100 feet directly over the court with views down through the metal grating underfoot, it does provide some level of security. You're relatively enclosed within the three-story structure, and you're not subjected to perilous views unless you seek them out.
That isn't the case, though, for the "catwalk."
Extending from the grid above the 10-second half-court line are two cement-pathed, open walkways that lead to sets of arena lights that run parallel to the court on the east and west sides. These walkways are anchored into the cable system that supports the roof, and a trip down the H-pattern path leaves you with an unavoidable, unobstructed, and unnerving view to the court below in every direction.
For the few who have gone to the top of Assembly Hall, this is often where fear foils the final stage of the journey.
"The electrician said, 'Come on Chuckie! We're going out on the catwalk!'" Crabb says. "I was holding on for dear life."
That's the case for most everyone who ventures to the top of Assembly Hall, particularly during their first handful of trips. When most return to the comfort of solid footing on one of the building's main concourses, they'll reemerge not only with a great story to tell but also covered in perspiration.
That sweat is the result of not only the frightening trip but a hefty dose of heat emitted from the arena lights. "If you go up even in the winter, you're probably going to be in Bermudas and a T-shirt," Crabb says. "Those lights put out a lot of heat."
Those lights are a relatively new set of Musco arena lights that were installed in 2010. In all, there are ninety-six metal halide lights affixed to the catwalk and directed at the court. When those lights were installed in 2010 for approximately $750,000, they represented a marked improvement over the previous lighting system, which included nearly two-and-a-half times as many lights – 248 of them. "When they sold us on the lights [in 2010], they were the best metal halides that they had," Crabb says.
While the new lighting system was a big improvement, like the previous unit, it emits a generous amount of heat. While it might not cause a rise in temperature on the court, it certainly can be felt on the grid – and even more so when venturing onto the catwalk, where sweaty palms aren't welcome.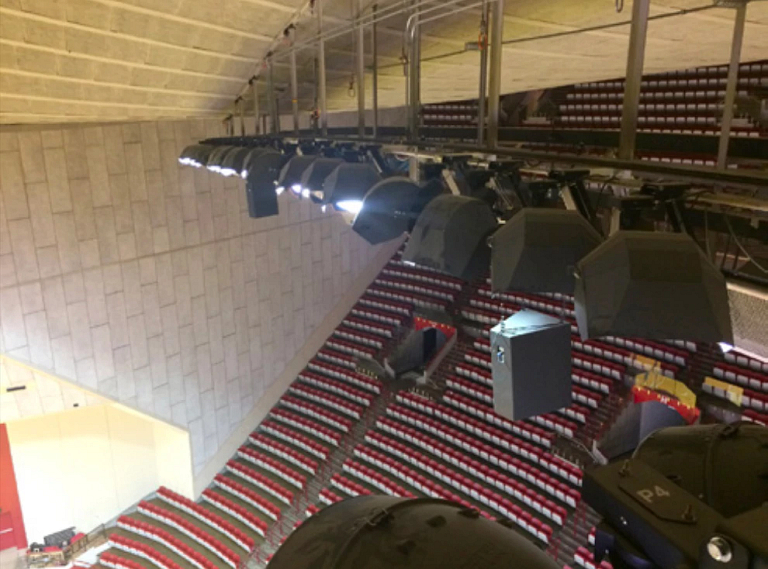 That extra heat would have likely been avoided if IU had waited even one more year before upgrading the building's lighting system. Shortly after the new lights were installed, a trend began where colleges started installing Musco's LED lighting systems instead of the traditional metal halides. These LED systems – which produce little or no heat from the lighting fixtures – have become the norm thanks to the savings they can offer cost-conscious college athletics departments. According to Crabb, other athletics departments say they have seen a 70 percent savings on their electric bills with the LED systems compared to what they had been paying. That, coupled with LED rebates from electric providers that can get into the low six figures, enables those with new LED lighting systems to pay off their initial investment in less than five years.
"We got in one year too soon," Crabb says.
So for the foreseeable future, the metal halide lights will remain, and sweating high above will continue.
In addition to those metal halide lights, there are a handful of other lights that reside in the upper reaches of Assembly Hall. These lights provide a reason for another group of people to journey above regularly.
Sports photographers have long installed their own temporary lights – or strobes – to provide additional lighting and to improve their ability to capture fast-moving action images at basketball games. These temporary lighting systems are synched to the photographer's camera, illuminating the subject as an image is captured.
Before IU upgraded its lighting system, strobes were almost a must for anyone trying to get high-quality color images. While the original lighting system did include nearly 250 lights, it was from the late 1960s and produced a yellowish hue, which was particularly apparent when shooting color images (instead of black and white, which was much more prevalent in the 1970s and 1980s). In addition to the color issue, the system just didn't produce enough light to allow photographers to shoot at the higher shutter speeds that are best suited for action photography.
For those media outlets that could afford it, temporary strobes were the solution. Sports Illustrated was the first to utilize them in Assembly Hall in the late 1980s. Soon afterward, local newspapers that covered Indiana University basketball on a regular basis, such as the Bloomington Herald Times and the Indianapolis Star, followed suit.
To adequately light the playing surface, media outlets needed four strobe heads directed at the top of the key on each end of the court. The pursuit of these high-quality color sports photos wasn't cheap; according to Herald Times photographer Chris Howell, the set of strobes his newspaper still uses – which was originally bought in the early 1990s – cost approximately $25,000 when it was originally purchased. The price of strobe lights has dropped significantly, but a new set would still cost around $8,000 today, Howell says.
The set-up of those temporary lights, meanwhile, is also taxing. Placement of the strobe heads in each of the court's four corners requires installation at each of the four extremities – or corners – of the catwalk system.
Technically, the only people who are supposed to be doing work above the court are members of the International Alliance of Theatrical Stage Employees, Local 618, since it is a union-controlled area. While the IATSE, better known as the Stagehands, do handle the Assembly Hall set-up for events such as graduation, arrangements have been made to allow the photographers to affix their own equipment.
For the handful of photographers using strobes on a regular basis at IU home games, that means not only venturing to the top of the building for the initial installation before the season starts but also return trips before each and every game to turn them back on.
Considering those requirements, there is probably no one who has gone to the top of Assembly Hall more than Howell. Now the director of photography for the Bloomington Herald Times, Howell has been photographing Indiana University sports for nineteen years. His first trip to the top of Assembly Hall came when he was interning for the newspaper in 1993, and he's returned hundreds of times since. In the late 1990s, he was entrusted with a key to door no. 199, but the stricter facility security measures that were put in place following 9/11 now require him to get access from IU Athletics staff.
He says if he ever did have a fear of heights, his trips to the top of the building have ended them, but he still realizes it's a journey that will distress most. "My advice for anyone going up there" Howell says, "is to have the respect for it that it deserves. Gravity is not something to be messed with."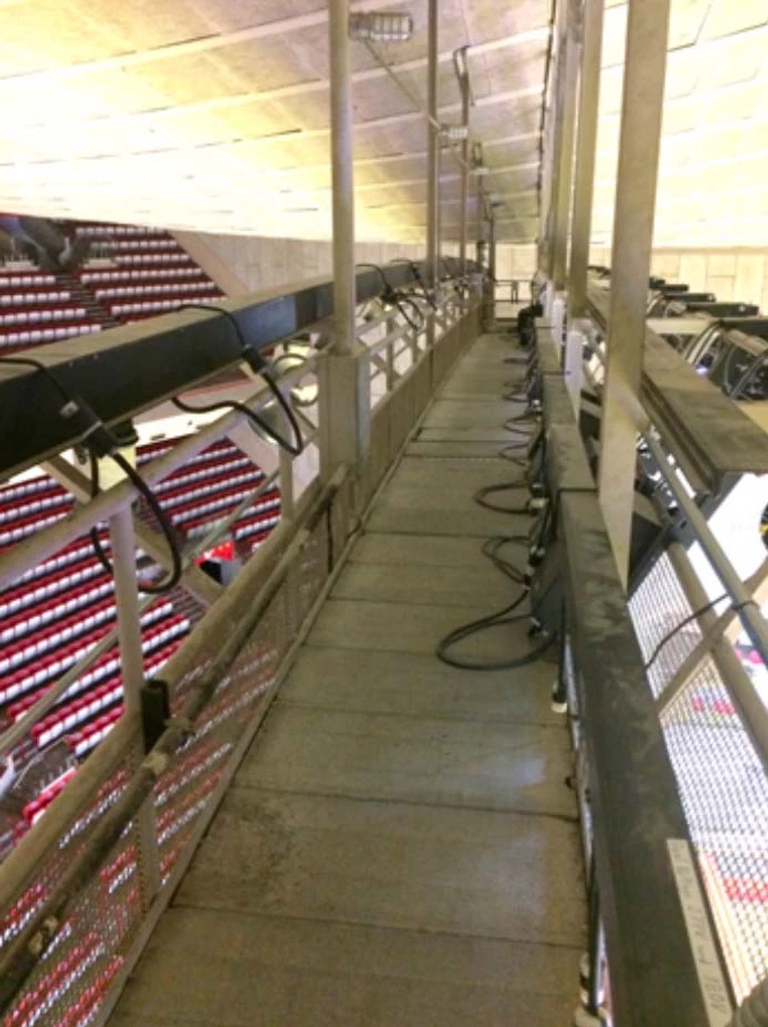 For Howell, the impact that gravity can have isn't only about making sure he returns to the main concourse the same way he left it. It's also guaranteeing he doesn't accidentally drop a piece of equipment or personal item from above. That could do damage not only to the item dropped but also the court or anyone below. "Whenever I go up, I'm stuffing everything in my pockets – nothing is in my hands or in a shirt pocket," Howells says. "Ideally when we're up there it's at times when no one is below us, but that isn't always the case. So you're doing everything you can to make sure you're not endangering anybody below you or yourself."
That approach has served him well, as he says he's never accidentally dropped anything onto the court. He says he vaguely remembers another photographer once dropping something, although the name and the item escapes him – either due to a lapse in memory or professional loyalty. "It was something like a lens cap, something minor," Howell says. "I can't remember who it was. I'm sure a lot of people, if it was them, wouldn't admit to it."
Even from 100-130 feet, a plastic lens cap isn't going to damage anything below. But there are items that Howell and other photographers place above the court that could. In addition to the strobe heads and shells, Howell and other photographers, on occasion, mount remote cameras that they can operate from court level.
Since there's nothing to catch the photographers' equipment should it fall, they provide multiple levels of protection.
"The strobe head itself is secured with a professional clamp, and there are metal cables that we run through the strobe head so that, God forbid, the clamp breaks or gave way, we have the redundancy of the cable to hold the strobe head and shell so they don't fall," Howell says.
The same goes for the remote cameras. A relatively small camera weighing approximately 5 pounds would hit the floor at nearly 55 miles per hour with 6,000 pounds of force if dropped from
100 feet. According to Crabb, that's why the rule of thumb is that any rigging that needs to be done before a sporting event must be done in the morning before the game, long before players and spectators fill the arena.
"There's definitely some liability involved," Crabb says. "It's just too easy for a screwdriver to be dropped, or a wrench, a camera, and suddenly you have a projectile that could easily penetrate the hardwood floor, could penetrate a skull, very, very easily."
Another less-strictly-enforced rule is that no one is above the court when a game is being played and fans are in the stands. But occasional exceptions are made – Howell says an equipment malfunction can require a trip up to reset a unit during a game.
On at least one occasion, he also found himself up top before a game, and saw a picture that he couldn't resist taking. Howell was on the northwest corner of the catwalk, directly above the IU bench, and captured an image of former IU All-American Victor Oladipo as he was introduced – by Crabb – shortly before a game's opening tip. "I probably wasn't supposed to be up there taking that picture, and they certainly knew I did it after they saw it [in the paper]," Howell says. "Maybe they thought I did it with a remote camera, which is ideally the way we'd do it. But I had to go up late, and I wanted to make the picture. So I shot it."
With so many trips to the grid and the catwalk under his belt, Howell said he's not rattled about going up. But he's been up enough times with other people who haven't shared his confidence that he's well aware of the trepidation that the trip can produce.
In his early days with The Herald Times, Howell took a photographer from the Evansville Courier up when he was doing his pregame routine of turning on the strobes and the receiver along with dropping a cord from the receiver to the floor to connect to his camera. Unaware of his friend's hesitation, Howell led him on a journey up the stairs and ladders and onto the grid. When it was time to venture onto the catwalk to turn everything on, the fellow photographer stopped.
"He put his hands on the wall as I'm talking to him from about five or six feet away," Howell says. "I told him to follow me out and he looked at me and said, 'No, no, no. You go ahead.' I had no idea he was afraid of heights. I've taken a couple of other people up there that have been intrigued by it, and they've ended up frightened by it. It's intimidating up there. I've been up there so many times, but I still realize that."
Like Crabb, it's the catwalk that Howell says is most unsettling. "You'd think the walkway would be metal or something really sturdy," Howells says. "But it's these concrete slabs, laid side by side, with some cracks in them, and really nothing underneath. You start walking around fast up there and you can start feeling the catwalk move a little bit, so that freaks people out."
One reason the catwalk isn't constructed in a more substantive way is the fact it isn't designed to hold a great deal of weight. Since this isn't an area that's accessible to the general public, you won't find any weight limit signs posted before you venture down one of the two paths. But it's safe to say that there won't be any tour groups making their way up there anytime soon.
"The amount of weight is something we've always had to be careful about," Crabb says. "But those are the type of computations that engineers and architects had worked on once upon a time as they put the building together back in 1955 when it was originally designed."
There's little doubt that the appearance of the grid adds an additional level of queasiness for those who venture above the court. Wander around the three-story building and you'll find a random broom that clearly isn't being used, and a stray soda can that has been left behind. There is a miscellaneous folding chair on the lowest level of the grid, as if there's ever a reason for anyone to do anything other than complete the task at hand and retreat to safer surroundings as quickly as possible.
Up until six years ago, Crabb says, you would have also found garden hoses and clear plastic tarps in the grid.
Why?
"From the day Assembly Hall opened in October 1971 until when we put a totally new roof on the building [in 2011], that stupid roof leaked, and it was a royal pain," Crabb says.
The rather rudimentary fix that IU used for nearly forty years to address the issue? IU removed standing water from the building's roof by running garden hoses from it down into the grid and onto the clear plastic tarp placed along on the bottom floor of the grid. Aided by the heat generated by the lights, the water would evaporate. That forty-year fix was no longer needed after the $2 million roof project was completed in 2011, so the hoses and layer of tarp are now things of the past.
With even less need for staff to go up to the grid since the completion of the roof project, the area has become dusty and disheveled. The railings would be things to avoid for cleanliness-conscious visitors if it wasn't for the fact that they're the only things available for those who are looking for something to hold onto for dear life.
While nearly all of the IU Athletics staff works in either Assembly Hall or across the parking lot in Memorial Stadium, very few of those staff members have ever been up to the grid or out onto the catwalk system. They don't necessarily have a reason to be up there, even if it does offer a unique view of the court that won't come from anywhere else in the building. "I'd say that easily 95 percent of the people [who worked in athletics] haven't been up there," Crabb says. "At least."
The same goes for other campus entities who might have work-related concerns with the building, according to Crabb. "Those who work in facilities operations, any of the engineers on staff that work plans and create pathways and know how things need to go, most of them will go up there," Crabb says. "But any of the actual architects? Or any of the bosses, if you will? Ain't going to be any way they're going up there. No way at all."
In addition to the entryway in the southwest corner of the main concourse, there's also a virtually identical route from the northeast corner that will take you behind the Tectum wall on the north end of the court. For the less adventurous, one can also take the arena's north lobby elevator to the top floor and then ascend two more sets of stairs. The right person can then get you through a locked door that will have you at roof level.
However you get there, if you can muster up the courage, and find the right person, a trip to the top is breathtaking and, for most, heart stopping.
"It will scare the be-jimmies out of you," Crabb says. "But wow – what a view."
"Celebrating 50 Years at Simon Skjodt Assembly Hall" is a collection of stories resulting from a collaborative effort between IU Studios and IU Athletics to pay homage to one of college basketball's most iconic venues and its importance to Indiana basketball.