A camel marionette named Zack is the talisman that reminds freshman Mehran Fanoos of the long journey that led him to the Indiana University Jacobs School of Music, and the IU alumnus who helped him get to Bloomington.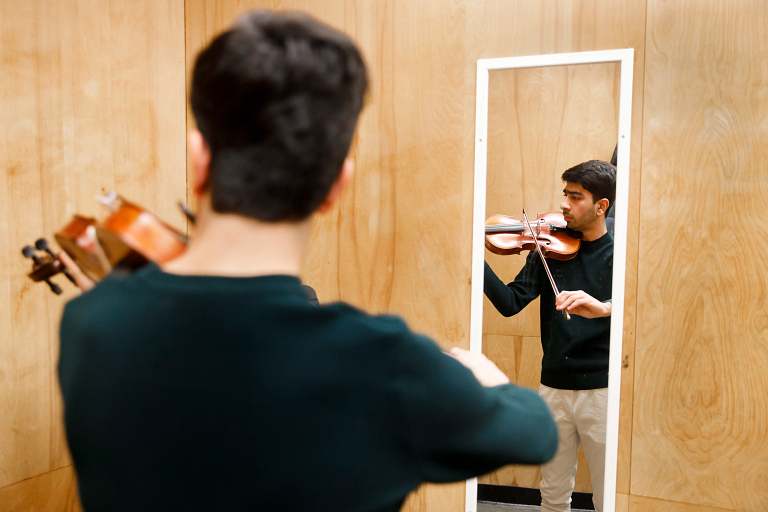 Fanoos is an Afghan refugee who grew up in a musical family; his father, Ahmad, is a well-known singer in Afghanistan, and his brother Elham is an accomplished pianist. Their passions have been challenging and, during times of Taliban rule, dangerous to pursue in their home country.
Fanoos was born following the 2001 collapse of the militant group, allowing him to more freely explore his musical interests as a young child. He started playing percussion instruments at age 3, then quickly took to the violin.
At just 7 years old, he enrolled at the Afghanistan National Institute of Music and started violin lessons with Jacobs School alumnus William Harvey.
"He was extremely talented," Harvey said. "I consider him one of two or three best students I've had anywhere in the world. He learned very quickly."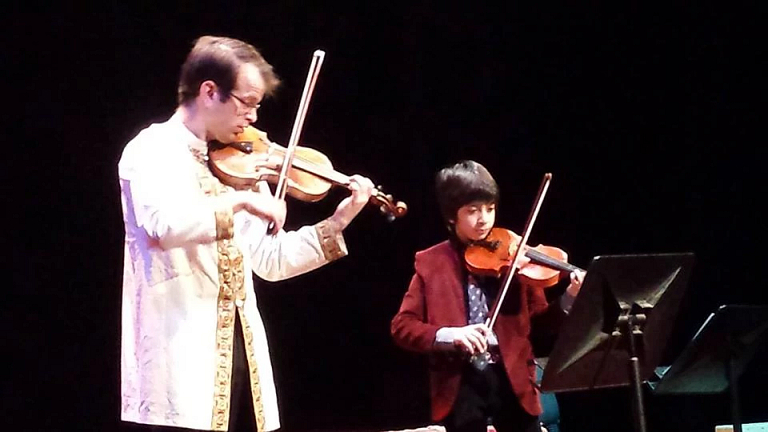 Their time training together in Afghanistan was brief, but it created a lasting impact. Harvey left Afghanistan in 2014 and, on his last day, gave Fanoos the stuffed camel that he had brought along when he first came to Afghanistan as a way to help bridge cultural differences between himself and his students.
The two would remain in touch and see each other twice over the next few years.
At the same time, the Taliban's influence in Afghanistan began to strengthen again. Amid growing danger and limited professional paths for musicians, Fanoos and his mother sought refuge in India, where he would continue studying violin for four years.
Harvey, who by then was working as the concertmaster of the National Symphony Orchestra of Mexico, would give Fanoos online lessons whenever the two could meet.
When the Afghan government collapsed and the Taliban took Kabul in 2021, Harvey was inundated with messages about former students and their families wanting to get out of the country.
He had founded a not-for-profit called Cultures in Harmony in 2005, with the goal of connecting people through music. Harvey immediately started to think of ways he could use the organization to help Afghan musicians long-term, including connecting them with educational opportunities in other countries.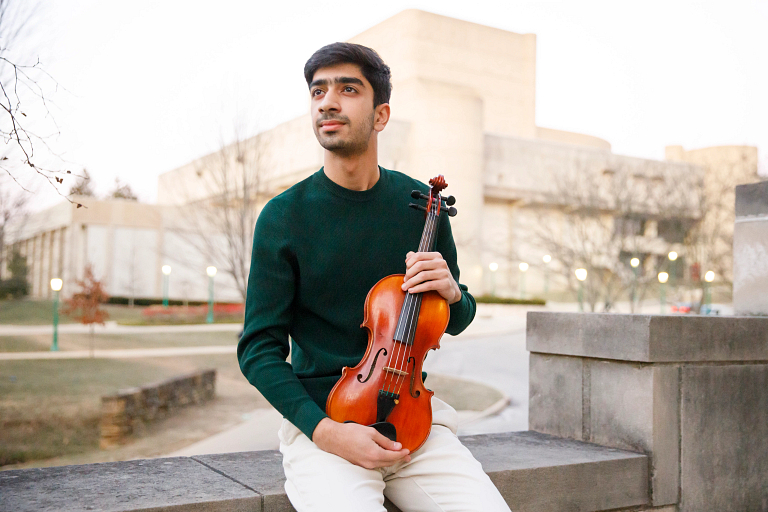 He also thought of Fanoos, who was safe in India but whose dream of becoming a well-known violinist would require further study. Harvey reached out to his former violin teacher at the Jacobs School, Mimi Zweig. With her help, Fanoos was admitted to the Jacobs School on a full scholarship.
"We know we can't educate 500 Afghan kids, but if we can reach one person at a time and educate them to the highest possible level, then we have fulfilled part of our mission," Zweig said. "These kids are having to overcome many obstacles, and I feel if we can be there for them, if we can help them to get on their feet, then they will in turn do the same thing."
Fanoos is now halfway through his first semester at IU Bloomington. When he arrived on campus earlier this year, he sent Harvey a text message saying, "Look who came with me to Bloomington." It was a picture of Zack, the stuffed camel Harvey had given him eight years before.
"It means a lot to me to be studying at the same place and with the same teacher Harvey had," Fanoos said. "I want to pursue my music education as far as I can."