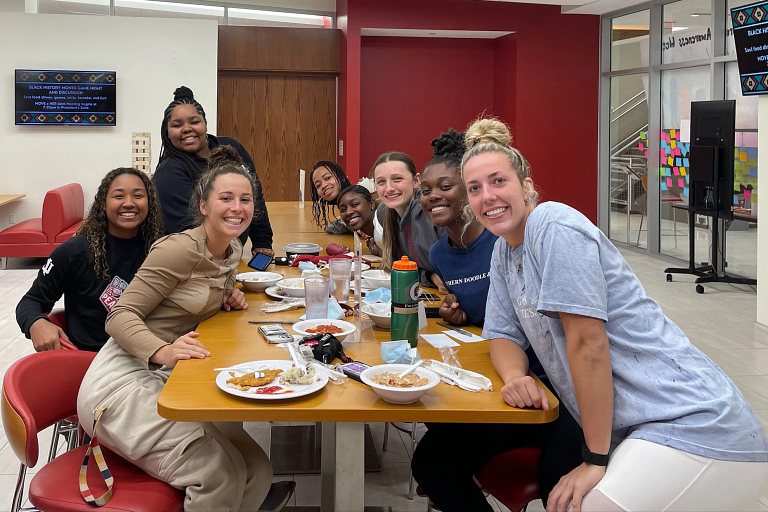 About every two weeks, Desiree Dufek participates in a group that she said has been a pleasant culture shock and affords her a safe space and time with other Black women.
Dufek, a junior on the Indiana University softball team, is president of HER, a student-athlete affinity group for Black women. Dufek grew up in a predominantly white neighborhood and said she has always been one of the few Black students in her classes, even at IU. She said the HER meetings have helped her understand the diversity of experiences among her fellow Black female student-athletes.
"We try to get what it's like to be a Black woman on campus as a student-athlete and a Black woman on campus in general," Dufek said. "I believe the conversations allow me and others to see each other's sides and allow us to support any way we can."
However, HER encourages female student-athletes of all races and ethnicities to participate, which has fostered learning, understanding and fellowship. It's also one of two affinity groups for Black student-athletes; the other is Men of Valor Excelling, also known as MOVE.
Micah Camble, MOVE's president and a junior on the track and field squad, said participating in the group has been a great experience.
"It's being around people who are like me, who've gone through some of the same experiences," Camble said. "You can have fun and relax. You could say whatever you want to say and nobody would judge you."
IU Athletics strives to create a culture that is not only diverse and inclusive, but one that also is equitable and provides a sense of community, said Lisa Winters, the department's director of leadership and life skills. The affinity groups help student-athletes come together and build on their experiences, she said.

MOVE started in 2015 and HER in early 2019. Other student-athlete affinity groups have also formed for the LGBTQ community, women and international students: Hoosiers Out Loud, Women Impacting Others and Global Hoosiers.

The affinity groups are introduced during an orientation for new student-athletes, and the groups host information booths during Welcome Week, Winters said. But for some student-athletes, it's the encouragement of teammates that lead to their involvement.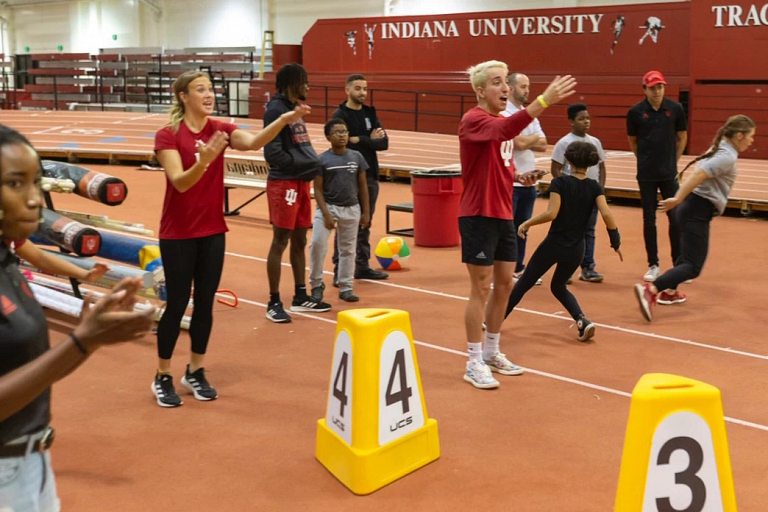 Four track-and-field teammates started HER during Nichole Flowers' freshman year and invited her to the meetings. Flowers said it was a place where she could express her opinions about being a minority at IU.
Flowers was HER's president her sophomore year. Now a senior, she serves on the executive board of the Student-Athlete Advisory Committee, which addresses student-athletes' concerns and oversees the affinity groups, and is head of SAAC's committee on diversity and inclusion. Flowers said affinity groups can attract recruits who are considering IU.
"You can see the different groups you can belong to, and they can feel safe about coming to IU," she said.
MOVE meetings now are open discussions rather than presentations, and topics sometimes are picked out of a hat. The meetings also include mental health check-ins, said Kynton Grays, MOVE's vice president and a junior on the men's track and field team. One of the meetings included a discussion about confidence, and how others may believe in you while you don't believe in yourself. Another discussion centered on the double standards that exist between men and women, particularly with regard to appearance and sexual activity, Grays added.

Camble said that one of MOVE's goals this year has been to increase participation, and have a mix of races, ethnicities and sports.

"It's been pretty good," Camble said. "Everyone comes, and everyone is welcome."

The leaders of HER and MOVE said their goals this year include collaborations between the groups, including discussion events and community involvement. Dufek said she'd like to work with children in the community, such as teaching them to be open-minded and open-hearted, and to not jump to judgments about someone because of the way they dress or look. Grays said that getting involved with the Bloomington community could involve beautification projects, picking up trash, feeding the homeless and conducting food drives.

Most importantly, the HER and MOVE leaders want student-athletes to get involved with affinity groups – theirs and the others.

"It was great to get out and meet more people," Grays said. "It helped me expand my horizons."

For more information about getting involved, email rogerkem@iu.edu.