BLOOMINGTON, Ind. – Granfalloon, a celebration of regional art, culture and ideas inspired by Hoosier author Kurt Vonnegut Jr., is back after a two-year hiatus due to COVID-19. The festival returns with an eclectic lineup featuring musical performances by Car Seat Headrest and Grammy-nominated indie pop artist Japanese Breakfast, and keynote readings by authors Ashley C. Ford and Michelle Zauner. Granfalloon will be held concurrently with the Indiana University Writers Conference and the Bloomington Handmade Market.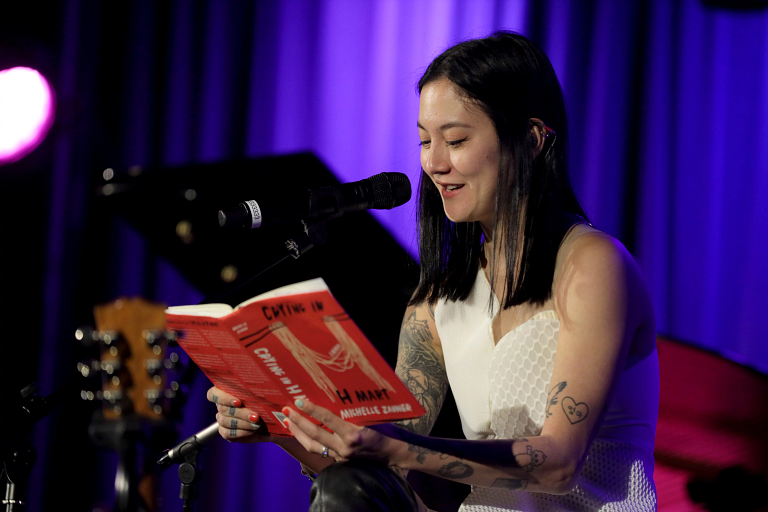 Presented by the Indiana University Arts and Humanities Council, Granfalloon 2022 will take place June 1 to 5 at the Gayle Karch Cook Center for Public Arts and Humanities on the IU Bloomington campus and at venues throughout Bloomington. Headline performances will be free and open to the public and take place outdoors on Kirkwood Avenue. Special VIP and pit tickets, as well as all venue tickets, will be available March 1.
"The Granfalloon is a celebration of Midwestern creativity and ideas in all their diversity and a kickoff to the stellar summer arts scene in Bloomington," said Ed Comentale, director of the IU Arts and Humanities Council. "We're especially excited to showcase the IU Writers Conference and the Bloomington Handmade Market as anchoring events for this year's festival."
The IU Writers Conference is the second-oldest continually operating conference of its kind in the country. The conference invites gifted writers of fiction, poetry, memoir writing and nonfiction to teach workshops and craft classes over the course of four days. Most workshops and classes will be held in the Cook Center from June 2 to 5. The 2022 workshop faculty includes Melissa Febos and IU alumnus Peter Kispert among several other notable authors.
Car Seat Headrest and Japanese Breakfast will co-headline an outdoor show in downtown Bloomington on June 4. An afterparty co-presented with Bloomington PRIDE will take place later that night. Other highlights during the festival include musical events at the Bluebird Nightclub and the Bishop Bar.
This year's festival arrives 100 years after Kurt Vonnegut Jr.'s birth. To honor the Indiana author, Indianapolis' Kurt Vonnegut Library and Museum will present "Vonnegut @ 100: A Century of Stories" in the Cook Center Process Gallery. The exhibition highlights rare manuscripts and other Vonnegut memorabilia from the museum's Indianapolis-based collection.
Visit the Granfalloon website for a full list of scheduled events and programs.
Granfalloon is supported in part by corporate and foundation supporters, including Community Foundation of Bloomington and Monroe County Inc.; Graduate Bloomington; City of Bloomington; and Indiana Humanities. Granfalloon is also supported in part by a number of IU offices, including the Office of the Provost and Executive Vice President; the Office of the Vice Provost for Research; IU Libraries; and Platform: An Arts and Humanities Laboratory.
Additional programming partners from campus include IU Libraries; Eskenazi School of Art, Architecture + Design; Lilly Library; Political and Civic Engagement; and WIUX. Additional programming partners from the community include the City of Bloomington, Visit Bloomington, Spirit of '68 Promotions, Morgenstern's Books, Gallery Walk Bloomington, Secretly Group, Upland Brewing Co., Landlocked Music, Downtown Bloomington Inc., and WonderLab Museum of Science, Health and Technology.