EDITOR'S NOTE: This release has been updated to include faculty recipients of the 2021-22 Fulbright U.S. Scholars award from IUPUI, as well as a 2022 recipient of the Fulbright Distinguished Chair award.
BLOOMINGTON, Ind. – The 2021-22 academic year is the seventh in a row that Indiana University Bloomington has been named a top producer for the Fulbright U.S. Student Program, as announced by the U.S. Department of State's Bureau of Educational and Cultural Affairs.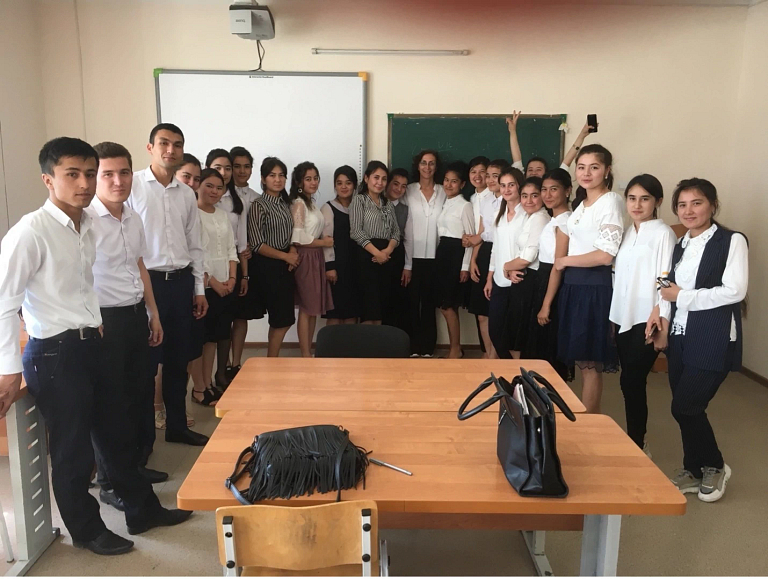 The Fulbright Program is the U.S. government's flagship international educational exchange program. Under this year's awards, IU students and faculty will conduct research and advance their education at host institutions in Austria, Germany, Hungary, Japan, Portugal, Romania, Switzerland, the United Kingdom and Uzbekistan.
Several students named 2020-21 Student Fulbright recipients will also conduct their study abroad this academic year due to delays and travel restrictions related to the COVID-19 pandemic.
The lists of top-producing institutions appeared in the latest issue of The Chronicle of Higher Education.
"Congratulations to each of these Indiana University students and scholars who will advance their education and research under the U.S. State Department's highly prestigious and competitive program," IU President Pamela Whitten said. "We are proud to be among the top producers for the Fulbright U.S. Student Program, a distinction that reminds us of what makes IU a truly exceptional university."
Among the 2021-22 recipients are Erin Hennessey, a Ph.D. candidate in the IU Bloomington College of Arts and Sciences' Department of Art History, who is studying the circulation and reception of engravings in the late 15th and early 16th centuries at the University of Basel and the Fine Arts Museum Basel in Switzerland as part of her research on artist Martin Schongauer.
Recipient George Andrei, a Ph.D. candidate in the College's Department of History, is studying the intersection of forestry, citizenship and rural forest environments in interwar Romania at the Institute for South-East European Studies of the Romanian Academy. This work will advance knowledge on the role that forests play in shaping ideas of modern citizenship and state-building.
Cathy Raymond, an IU alum who earned a doctorate in literacy, culture and language education from the School of Education in June 2021, recently returned from her experience abroad. She spent September to October in Fergana, Uzbekistan, working with English teachers at Fergana State University.
IU's 2021-22 faculty Fulbright U.S. Scholars include:
William Helling, a lecturer and associate program director for Library and Information Science at School of Informatics and Computing at IUPUI, studying at Haaga-Helia University of Applied Sciences, Finland.
David King, a professor of philanthropic studies at the Lilly Family School of Philanthropy at IUPUI, studying at the University of Edinburgh, United Kingdom.
Elizabeth Kryder-Reid, a Chancellor's Professor of Anthropology and Museum Studies at the School of Liberal Arts at IUPUI, studying at CY Cergy Paris University, France.
Luciana Namorato, professor of Spanish and Portuguese in the IU Bloomington College of Arts and Sciences, studying at Universidad de Coimbra, Portugal.
Adam Ward, associate professor in the Paul H. O'Neill School of Public and Environmental Affairs at IU Bloomington, studying at Birmingham University in the United Kingdom.
In addition, Gabriel Filippelli, Chancellor's Professor of Earth Sciences at the School of Science at IUPUI and executive director of IU's Environmental Resilience Institute, was named a 2022 Fulbright Distinguished Chair in the Global Centre for Environmental Remediation at University of Newcastle.
"We congratulate the colleges and universities we are honoring as 2021-2022 Fulbright Top Producing Institutions," said Ethan Rosenzweig, deputy assistant secretary of state for academic programs in the U.S. Department of State's Bureau of Educational and Cultural Affairs. "We thank the leadership of these institutions for supporting their faculty advisors and administrators, who are instrumental in guiding their students through the Fulbright application process. We know that U.S. institutions benefit from having their students represent their campus overseas, which often fosters reciprocal exchanges that in turn help further internationalize U.S. campuses."
The Fulbright Program is the U.S. government's flagship international educational exchange program. Established over 75 years ago, it was created to increase mutual understanding between the people of the United States and the people of other countries. Over 400,000 people from all backgrounds – including recent university graduates, teachers, scientists, researchers and artists – have participated in the Fulbright Program since 1946.
The Fulbright U.S. Student Program is a program of the Department of State. It is funded by an annual appropriation from Congress to the Bureau of Educational and Cultural Affairs.