The ninth annual Summit on Women & Technology continues its monthlong series of events through the end of March at Indiana University Bloomington. The event, which features both in-person and virtual sessions, is free and open to all IU students, faculty, staff, alumnae, employers and the public, regardless of gender.
The summit is organized by the Center of Excellence for Women & Technology, which is the only large-scale, interdisciplinary initiative of its kind at a university. The center provides resources and mentorship to prepare women and allies for success in technological fields after graduation.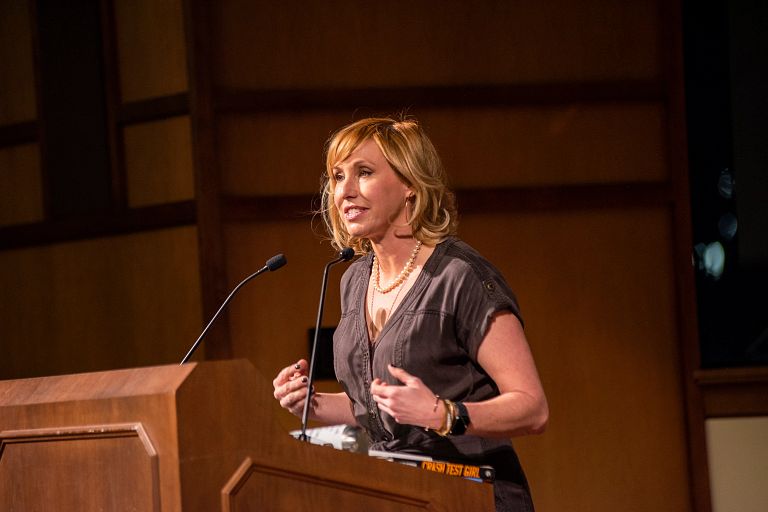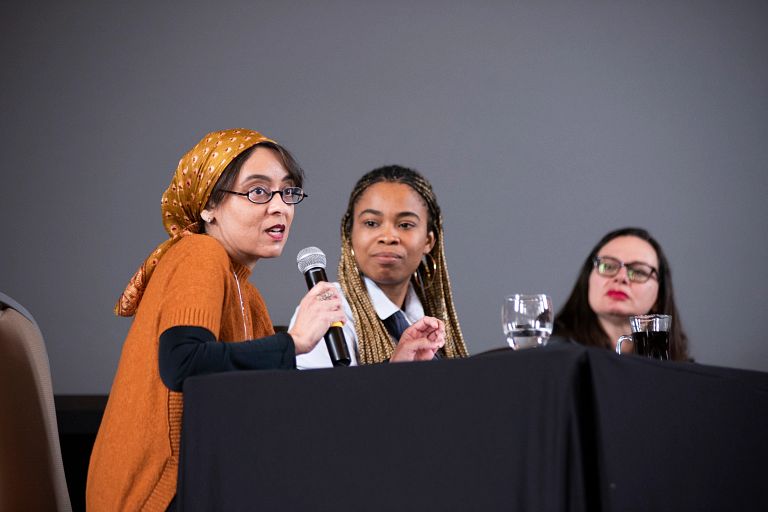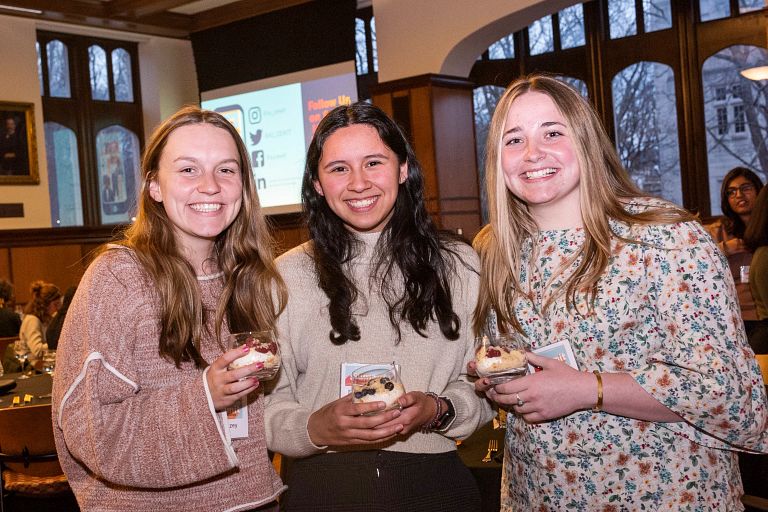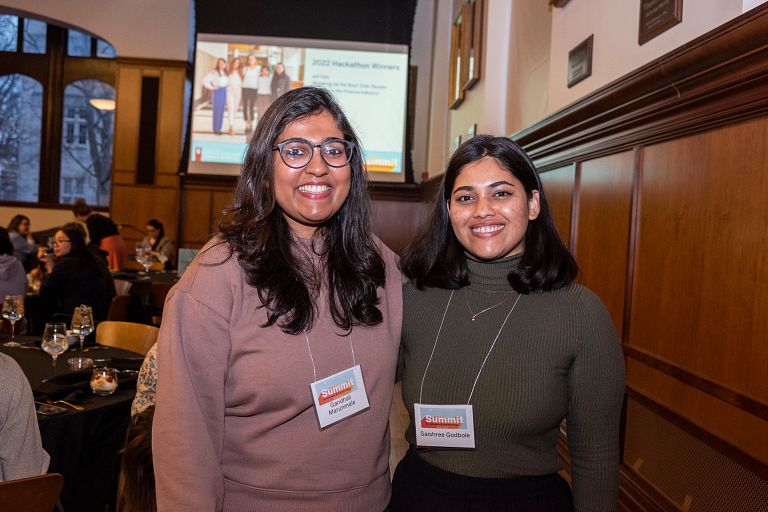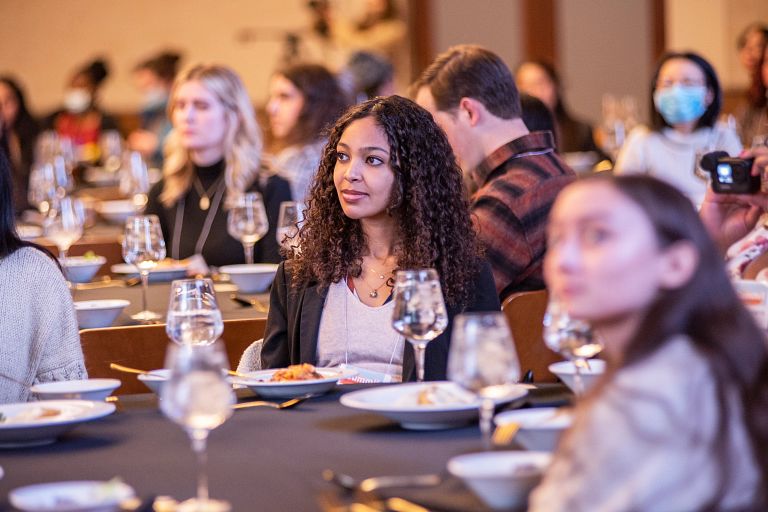 "CEW&T has helped me in the way that they support my growth as a professional, as a leader, and a person," said Shauntell Harris, a senior studying elementary education with a concentration in science at the IU School of Education. "The center provides resources, workshops and opportunities to make connections that I don't know if I could get anywhere else on campus. I have the opportunity to work with such passionate and powerful women who inspire me to be my best."
Since its establishment in 2013, the center has provided resources to more than 6,000 students representing more than 250 majors from a variety of disciplines across the Bloomington campus. Spandita Sahoo, a junior studying finance in the Kelley School of Business with an art history minor in the College of Arts and Sciences, is an intern with the center's outreach team.
"I have been empowered to not view tech as something out of my reach as a non-STEM major, but something that I can learn and harness in so many ways," Sahoo said. "More importantly, it's helped me find a group of people that have become my mentors and friends. Being an intern with the outreach team has allowed me to grow and to explore things like digital marketing or developing community outreach."
Sahoo attended the kickoff event, which included a meet and greet with STEAM advocate Kari Byron, best known for her role on the Discovery Channel's show "MythBusters." The kickoff also featured a keynote address from Dr. Safiyah U. Noble, an internet studies scholar and professor of gender studies and African American studies at UCLA. Noble authored the bestselling book "Algorithms of Oppression," which documents her research on racist and sexist algorithmic bias in commercial search engines. In her address, Noble spoke about gender and race bias in coding and emphasized how critical diverse perspectives are in tech development and software design.
Several of the summit sessions focus on how to build ethical artificial intelligence, something Sahoo agrees is critical as human reliance on technology continues to increase.
"AI is such a big part of the world we live in," Sahoo said. "It's not just the future of tech; it is very much the present, and we need to make sure that we don't build human biases into these models."
The summit sessions offer a wide range of interdisciplinary topics, including academic concepts and practical application. Many of the sessions and workshops are led by women who work in the fields being discussed.
"I am really excited about the luncheon with Ruchika Tulshyan talking about imposter syndrome," Sahoo said. "Imposter syndrome is widely experienced among women in the workforce, particularly tech and finance. Tackling that struggle and putting it in context would be a strong lesson for me."
Senior Tara Aggarwal is the lead intern for the Center of Excellence for Women & Technology's ethical AI student alliance team, which builds curriculums that it then teaches and workshops with fellow students.
Aggarwal grew up in the Chicago suburbs, and her interest in technology began at a young age thanks to a STEM program at school.
"I still remember I was placed in a pilot program that had me continuously exposed to software, whether it was Scratch or PowerPoint, each year," Aggarwal said. "I think this exposure helped me avoid what happens to many young girls who are less exposed to technology as they grow older."
Aggarwal's interest in tech and business eventually led her to choose a dual-degree program, pursuing degrees in computer science from the Luddy School of Informatics, Computing and Engineering and in marketing from the Kelley School of Business. She said she has found mentorship from other women and allies pursuing technical fields through the center – something she felt had been missing in her life before getting involved.
"I realized I had no women mentors to help me through this exact path, and I wanted to be a mentor for others who had the same ambitions," Aggarwal said. "The center has been the big not-so-secret to my success. I got involved as a freshman as a Women Who Code intern. Even when I did not have any real coding experience under my belt, I was embraced as a part of a community of supportive and inspiring women and allies."
The knowledge and confidence she has gained at IU led Aggarwal to an internship with Microsoft's Outlook team during her junior year. That opportunity inspired her to pursue a career in responsible AI after she graduates.
"I was ecstatic and grateful for the opportunity to work as a program manager at Microsoft," Aggarwal said. "Having interned with them the past two summers, I realized that I had a passion for the AI used in email, like natural language processing and search, and wanted to dive deeper into responsible AI. I am planning to explore what Microsoft has to offer in this realm."
Several sessions are still available to register for now through the end of March.