EDITOR'S NOTE: This story was updated April 18, 2022, to include the official name of the simulation center.
The Indiana University Board of Trustees has approved a renovation project to create a new Nursing Simulation and Health Sciences Education Center on the IU South Bend campus. The trustees also learned about newly established space planning committees, as well as climate action planning, during their April meeting. All items were presented by Thomas A. Morrison, IU vice president for capital planning and facilities.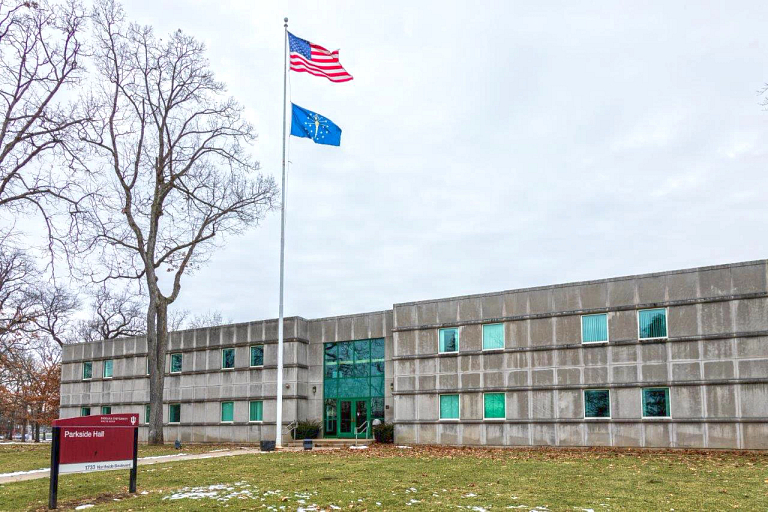 The first and second floors of Parkside Hall on the IU South Bend campus, totaling approximately 20,400 gross square feet, will be renovated to house the Dwyer Healthcare Simulation Center. This center will provide consolidated and cohesive health sciences education in nursing and radiography while also accommodating future growth to meet regional demand for highly trained health care professionals.
The project includes replacing the building's aging mechanical system and roof; refurbishing the elevator; installing fire suppression systems;, modernizing the electrical system to accommodate instructional equipment; providing new flooring, walls, lighting and ceilings as needed; and updating restroom fixtures and finishes. New classrooms will be created, along with a career center and an informal learning area to serve the nursing and radiography programs.
Additional planned spaces consist of a nursing skills lab, simulation rooms, energized X-ray labs, a non-energized lab, a sonography room and support areas. Instructional equipment for these spaces, including a 3D virtual dissection table, is part of the project. As a result of the renovations, the campus will be able to better recruit and train more students with the latest technology and instructional support.
"This new facility will enable IU South Bend to provide health sciences students with cutting-edge, high-tech learning experiences by expanding simulation and skills training capacity for our nursing program," said Susan Elrod, IU South Bend chancellor. "Our radiography students also will benefit from new labs that will simulate real-world X-ray practice, a capacity currently unavailable on campus.
"Additionally, the renovation will attract more students to our health sciences programs and assist the campus in meeting program accreditation requirements for expanded simulation space and energized labs."
Morrison also provided the trustees with an update on space planning improvements and trends, including space distribution and utilization, standards used to determine space assignments, and the creation of two new space planning committees.
Space planning committees for the Bloomington and IUPUI campuses, consisting of representatives from university academic, research and financial leadership, have been established by President Pamela Whitten to create a clear mechanism to assess the physical space needs of students, faculty and staff. Requests related to space needs at IU regional campuses should be directed to each campus's Office of the Chancellor for review.
The committees' main function is to evaluate space requests and provide recommendations to the university president for final approval. The committee members' diverse perspectives ensure that requests by academic and administrative units for modified or additional space are evaluated in the context of continued efficient, effective and resourceful space utilization for the unit and the campus.
Following rigorous unit-level review, executive leaders for campus units submit their requests to their campus committee. Executive leaders will be notified at regular intervals of the status of their request.
Along with the space planning committees update, Morrison shared with the trustees the creation of a new university-wide Climate Action Planning Committee composed of students, faculty and staff. The committee will develop comprehensive recommendations to continue IU's steady progress of reducing the impact of greenhouse gas emissions.
Beth Feickert is a capital planning project specialist for the IU Office of the Vice President for Capital Planning and Facilities.