BLOOMINGTON, Ind. – Thousands of Indiana University students will become IU alumni in early May as the university confers degrees during seven commencement ceremonies across the state. Ceremonies in Bloomington and Indianapolis will welcome guest speakers, and honorary degrees will be awarded at IU Bloomington and IU South Bend.
"Our Indiana University graduates are exceptional, and we are thrilled to celebrate their remarkable academic achievements during our commencement ceremonies throughout the state," IU President Pamela Whitten said. "We are also honored to welcome our distinguished guests to our IU campuses to mark this significant milestone in the lives of our graduates and their family and friends."
All of the ceremonies will be conducted in the same manner as 2019, the last time a fully in-person commencement with spectators occurred. No testing, ticketing, or other requirements for graduates or guests are required. Anyone who wants to wear a mask can, but masks are also not required.
IU Bloomington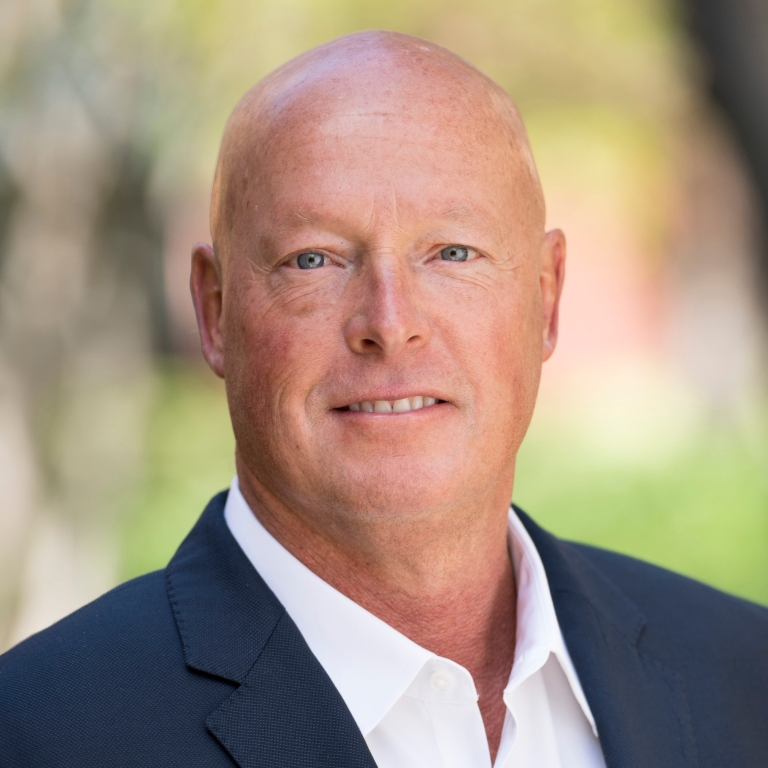 Bob Chapek, IU alumnus and CEO of The Walt Disney Company, will speak during the Bloomington undergraduate ceremony May 7. Disney is the world's premier entertainment company and home to recognizable and beloved brands such as Disney, Pixar, Marvel, Star Wars, ESPN and National Geographic.
Chapek assumed the role of CEO on Feb. 25, 2020, and has led the company through the COVID-19 pandemic and the ongoing recovery. Under his leadership, the company has continued to expand the scale and global reach of its streaming services, Disney+, ESPN+, Hulu and Hotstar; improved the overall guest experience in its parks and resorts, with new tools to customize and personalize visits; and continued to leverage innovative technologies to bring stories to life in immersive ways.
Before becoming Disney's seventh CEO, Chapek's roles included chairman of Disney Parks, Experiences and Products, chairman of Walt Disney Parks and Resorts, head of Disney Consumer Products, president of distribution for The Walt Disney Studios and president of Walt Disney Studios Home Entertainment. During his tenure, Disney Parks saw the largest investment and expansion in its 60-year history. He holds a degree in microbiology from IU Bloomington and received his MBA from Michigan State University.
The university will also award Chapek with an honorary Doctor of Humane Letters degree during the undergraduate ceremony.
IUPUI
Jori Mundy, award-winning motivational speaker and author, will be the guest speaker for IUPUI's undergraduate commencement ceremony May 14. Mundy is also an IUPUI alumna, earning a Master of Public Affairs degree from the O'Neill School of Public and Environmental Affairs in 2015.
Mundy began her career as a caseworker delivering public service programs to needy families, ascending into executive roles in change-making organizations. Through her work serving people in need, Mundy said she discovered her unique ability to inspire others through motivational speaking and career coaching.
She is a 2019 graduate of the prestigious National Leadership America program and is a four-time first-place winner of the International Speech Contest.
IU South Bend
B. Patrick Bauer, former speaker of the Indiana House of Representatives, will receive an honorary Doctor of Humane Letters during the IU South Bend commencement ceremony May 10.
Bauer was elected to the Indiana House of Representatives in 1970. He became the longest-serving member of the House and the first member of the Indiana General Assembly to serve for 50 years when he retired in 2020. During his terms as speaker from 2002 to 2004 and 2006 to 2010, Bauer achieved consensus on many of the most important and controversial issues facing Indiana residents.
He was a member of the IU South Bend Advisory Board for 25 years and continues to lend his counsel as an emeritus member of the board. Bauer also holds a master's degree from IU Bloomington.
Other campuses
Additional commencement ceremonies include the IU Bloomington graduate ceremony on May 6, IU Southeast on May 9, IU Kokomo on May 11, IU Northwest on May 12 and IU East on May 13. Full details for each campus's commencement ceremony can be found on IU's University Events website.