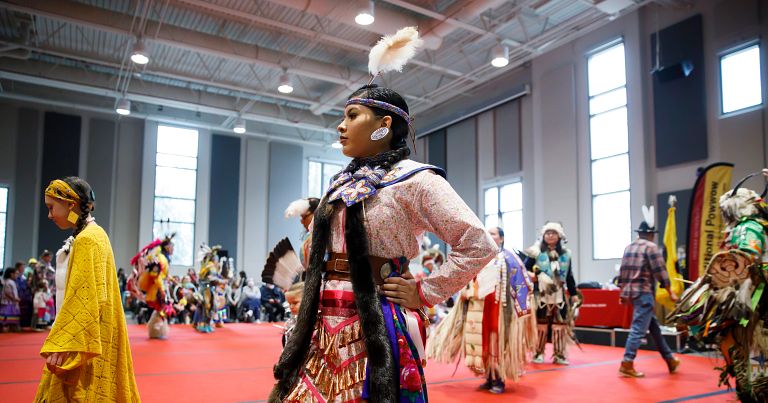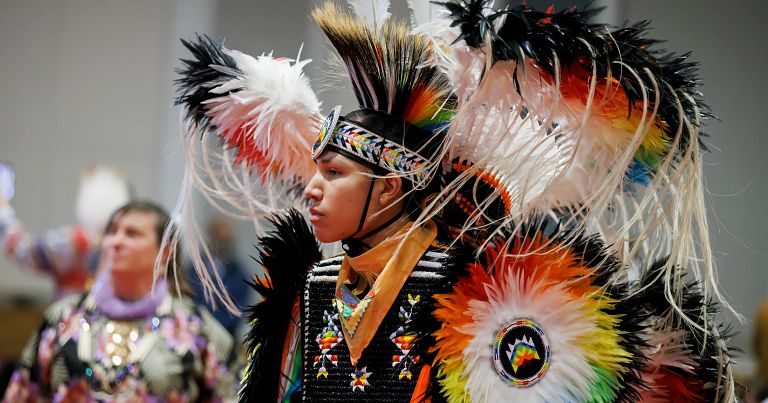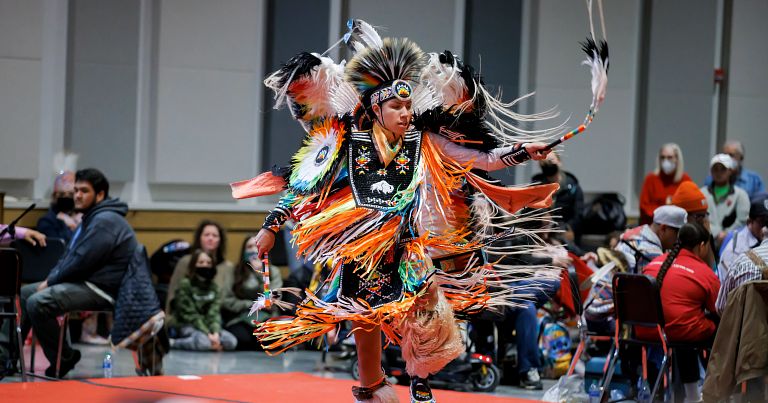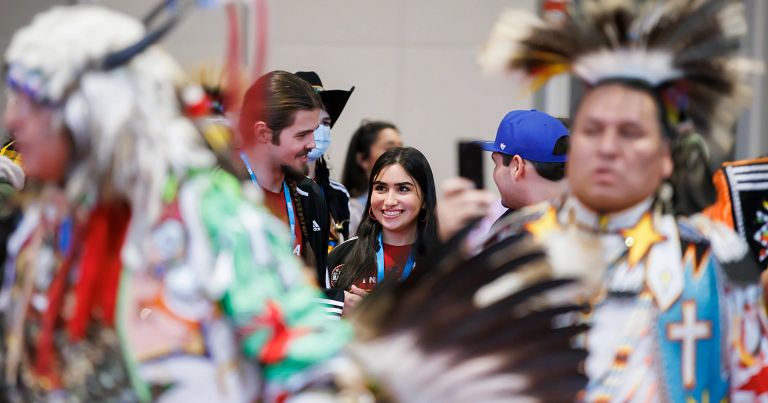 The rhythm of drums reverberated throughout IU Bloomington's Cramer Marching Hundred Hall on a chilly day in April as groups representing various Indigenous communities sang alongside dancers in colorful regalia.
The 2022 Indiana University Traditional Powwow marked its 10th annual celebration on April 9 – the first time the event was held in person since 2019. The event attracts hundreds of multigenerational visitors and performers from far and wide who gather to revel in cultural dance, music, crafts and food.
Planning for the annual powwow takes place each year at the First Nations Educational & Cultural Center. Nestled among the historic homes and brick roads along Eighth Street on the Bloomington campus, the center is a cozy space for students to gather, grab a coffee and a bite to eat, and make friends. The powwow is a celebration of everything that connects students at the center.
"The First Nations Center is a place for Native and Indigenous students to come and be themselves: to relax, to learn from one another, to share in each other's cultural traditions and to find community," said Nicky Belle, director of the First Nations Educational and Cultural Center. "Our primary goal at the FNECC is to help make sure Native students are able to experience IU through a Native lens, while still being able to stay connected to their home communities. Knowing that they have that support and that those connections are still there gives students the extra oomph they often need to be successful at IU."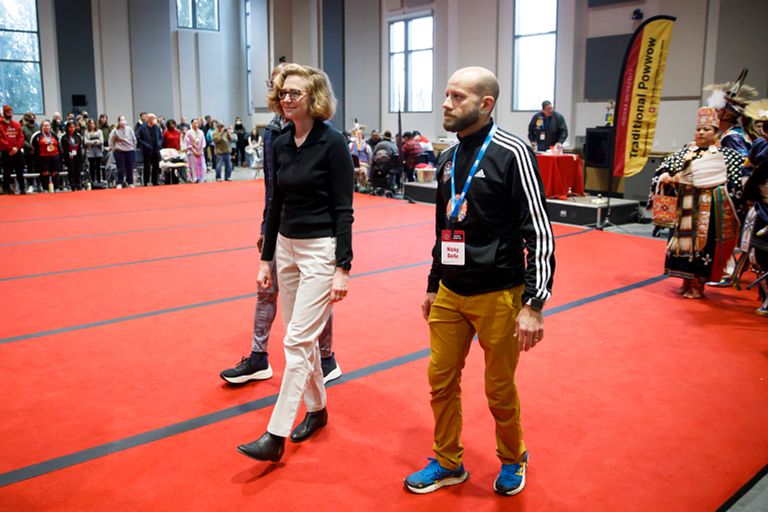 The students who congregate at the center say it provides a meaningful sense of belonging for them.
Kain Eller, a member of the Powwow Committee, is vice president of the Native American Student Association and a self-proclaimed fixture at the First Nations Center.
"I'm described as a part of the furniture around here," said Eller, a freshman studying public management in the O'Neill School of Public and Environmental Affairs. "Like if it weren't for me, the couch here would fly away."
Eller is part of the Lummi Nation, the third largest tribe in Washington state. Located along the shores of the Puget Sound, the Lummi comprise a self-governing nation within the United States. Eller grew up splitting his time between his family in that region and the west side of Indianapolis. He made a beeline for the First Nations Center when he first arrived at IU, and he has taken advantage of many opportunities. IU offers students the largest selection of language studies in the country, including Native languages like Lakota, which Eller is studying. He also plans to minor in Native American studies.
"On my own time I study my own language to help in revitalization," he said. "My great-grandmother was the last fluent speaker in my family, and she just passed away over the summer. She was supposed to teach me, but it just didn't work out that way. Now there are people back home at Lummi who are helping me learn it over the phone. I'm learning one piece at a time, and to be able to study my own language and then compare that with Lakota is very fun."
Eller's Lummi Nation language is Xwlemi'chosen. He said his family works hard to preserve their culture, and he credits them for cultivating that passion within him. Eller is using that passion to be an advocate for Native and Indigenous people, and he will put it into practice next semester as he serves on the IU Student Government Supreme Court.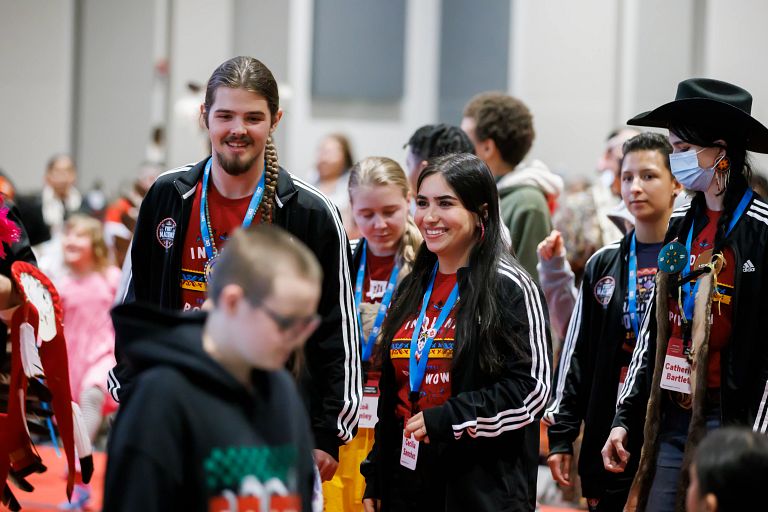 Cecilia Sanchez, a fellow Powwow Committee member and treasurer of the Native American Student Association, has had a different experience connecting to her Apache ancestry and culture.
"I'm more so trying to reconnect," said Sanchez, a junior studying exercise science in the School of Public Health-Bloomington. "It's hard because there's a lot of separation in my family and a lot of Native families in general. I think just having a space like (the First Nations Center) really does help with resources or support or just to have a common ground."
Much like Sanchez, a large portion of Native families have faced separation. Research conducted in the 1970s showed that 25% to 35% of all Native children in the United States were being removed from their families and communities. In approximately 85% of those situations, even though relatives were willing and able to care for children, they were separated from their families and placed in state child welfare systems or adoption agencies. The enactment of the Indian Child Welfare Act in 1978 led to improvements, but the effects of generations of family separation are still prevalent.
"My cousin looked for her family her entire life," Eller said. "My uncle was looking for her at the same time. It took her 26 years to find home."
Sanchez said that connecting with her culture has been difficult since her father was separated from his family, and records are scarce.
"There's nowhere for me to look, so I can only look in others, or look in history, or look in my own research," Sanchez said. "It's very important because I always knew I was Native, but it's kind of hard when you don't have that growing up of it because you're like 'Where do I fit in?' There was always a sense of longing."
Eller described that sense of longing in his great-grandmother's words.
"My great-grandmother would always say that that's your ancestors calling you home," Eller said. "They want you home with the family. Listen to them."
The First Nations Center was the first place Sanchez said she could find the connections to her ancestry that she longed for.
"Now I feel like I have a place here," she said. "It feels nice. I'm sad to let it go. I only have a year left at IU."
Sanchez said she will stay in contact with the friends she has made at the First Nations Center after she graduates, and she also plans to attend future powwow events to maintain those connections.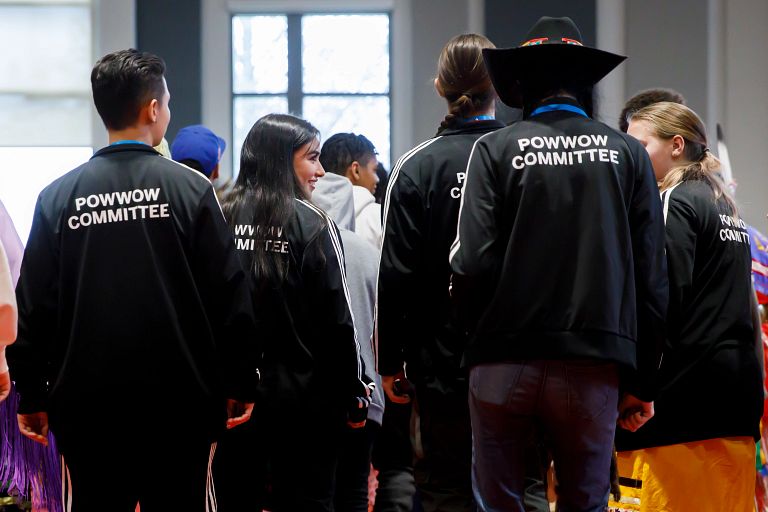 Planning the IU Traditional Powwow was a first for both Eller and Sanchez since the 2020 event was canceled, and it was celebrated remotely in 2021. They said working on the Powwow Committee taught them how to plan a large-scale event, with Sanchez heading up the marketing committee and Eller managing the catering.
After months of planning, the First Nations Center leadership made sure the students from the committee were able to relax and enjoy the powwow while also managing their duties. Students in matching track suits with "Powwow Committee" written on the back maneuvered through crowds, cleaning up plates after people enjoyed their food, finding seats for elderly visitors and checking in with leadership. It was a busy scene, but the students also found time to sit and enjoy the traditional dances and songs.
Eller and Sanchez said the drums and songs evoke emotional responses. Belle sometimes sings for students at the First Nations Center, and they looked forward to hearing the songs performed by larger groups at the powwow.
"Drums really hit me hard for some reason," Sanchez said. "Anytime Nicky plays a drum I want to bawl my eyes out."
Eller said his family plays the drums and strives to preserve their traditional songs – a deeply important part of his culture that the powwow honors.
"I was taught that the drum is supposed to mimic the heartbeat of your mother, the heartbeat of the earth," Eller said. "I feel like I'm connected to that. There's a certain spirit in the drum that is home, and that connection to the drums and to music and Indigenous culture is important to me."
Whether students are searching for a community that feels like home or searching for connection to their ancestors, the annual powwow and the First Nations Center offer them a space to preserve their traditions, honor their ancestors, learn and commune together while forming relationships that enrich their college experience.