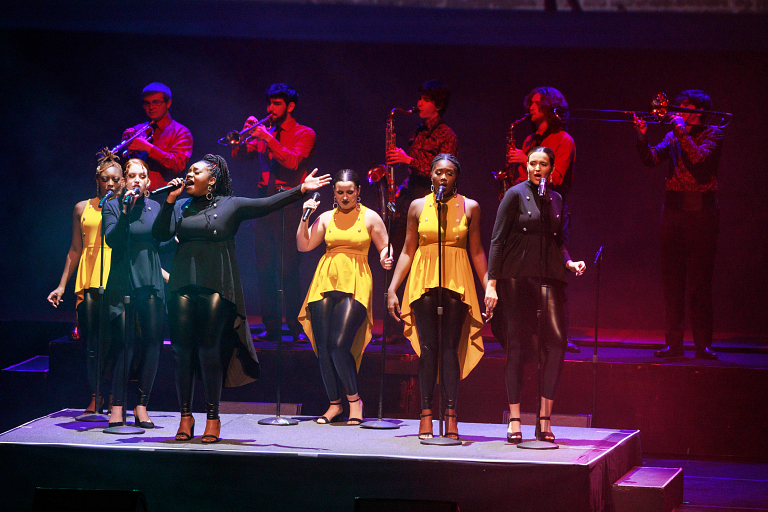 For a half-century, Indiana University Bloomington has been home to an incredible opportunity for students that offers a space for celebrating and valuing Black culture and music in an academic setting.
The legacy of IU Soul Revue will be honored with a public 50th anniversary celebration in Indianapolis that features a banquet April 22 at the JW Marriott, and alumni and current members performing together at the Soul Revue's annual spring concert April 23 at the Madam Walker Legacy Center. The performance will be the culmination of a yearlong celebration of the ensemble.
"The IU Soul Revue offered a space and an environment for students to hone their skills, affirm their cultural identity, develop discipline and confidence, and move beyond their comfort zones in a predominantly white university," said Portia Maultsby, IU Soul Revue's founding director, who joined IU in the fall of 1971 as a visiting assistant professor.
"We traveled by bus and plane to performances across the Midwest to the East Coast and through the South," she said. "Most students had never journeyed beyond the borders of Indiana, and only two or three had flown on an airplane. Our travels exposed this mostly first generation of college students to different lifestyles and traditions, which contributed to their personal and intellectual development. Their world became larger, as did possibilities for life after IU as evidenced by their post-IU professional and personal achievements.
"The founding members and subsequent '70s alumni established a solid foundation and a legacy of excellence for performance on the stage, in the classroom and beyond that has been preserved over the years to the present under the direction of James Strong."
Maultsby was a budding ethnomusicologist completing her doctorate at the University of Wisconsin when Herman C. Hudson, the founder of IU's Department of African American and African Diaspora Studies, recruited her on behalf of the Jacobs School of Music to be a part of David Baker's jazz program. Then-vice chancellor Hudson, who helped schools and departments recruit Black faculty, learned that Maultsby had founded a band specializing in Black popular music and wanted her to establish a similar ensemble at IU.
She named the ensemble IU Soul Revue and created the companion class, initially called The Performance of Soul Music, in fall 1972 after successful performances by the ensemble in December '71 and throughout spring '72.
IU Soul Revue is one of three performance ensembles managed by the African American Arts Institute and offered through the Department of African American and African Diaspora Studies in the College of Arts and Sciences. Its legacy includes performances with artists such as James Brown and Bootsy Collins, and a number of alumni who have had successful professional music careers.
Here are the stories and experiences of some Soul Revue alumni and current members who will be performing at the spring concert:
IU Soul Revue's 'Paul Revere'
Richard Jackson started at the Jacobs School of Music in 1969 as a voice major. In 1971, Hudson asked Jackson for help spreading the word about the IU Soul Revue's pending formation and recruiting students.
"I became like the Paul Revere of Indiana University, saying 'IU Soul Revue is coming! You need to sign up,'" Jackson said. "We got enough to sign up and get it rolling."
Jackson was Soul Revue's first male vocalist in the fall of 1971, and in the fall of '72 Maultsby paired two male vocalists with Jackson to form The Lovemen, the ensemble's first male vocal group.
"We were just kids having a lot of fun," said Jackson, now a resident of Indianapolis.
Soul Revue offered Jackson a chance to perform songs by artists of his generation, such as Stevie Wonder, Marvin Gaye and Al Green, which expanded his creativity beyond the opera and theater songs he had been performing.
While Jackson said he enjoyed the performances, he also appreciated that part of the class dealt with the business side of music, such as how royalties worked for artists. He said that was helpful when he pursued a professional music career for a decade – before going into education and teaching – and shared the stage with legends such as Gaye, The Commodores, and Chaka Khan and Rufus.
Jackson also said IU Soul Revue taught him the importance of patience.
"To do anything well you have got to have patience; you have to take things a step at a time," Jackson said. "Teaching is like that. Some kids present challenges for you, just like songs present problems, and you have to have patience to work things out."
'An amazing opportunity'
Music has been part of Hannah Johnson's life for as long as she can remember. The Soul Revue vocalist and junior grew up in a musical family, with her parents, siblings, aunts and uncles singing either professionally or in church. Johnson started singing at age 3, and she seemed destined to perform with IU Soul Revue.
Her brother Hezekiah Johnson performed with the ensemble, and, like her brother, she participated in Camp SOUL, which she described as a mini version of IU Soul Revue for high school students.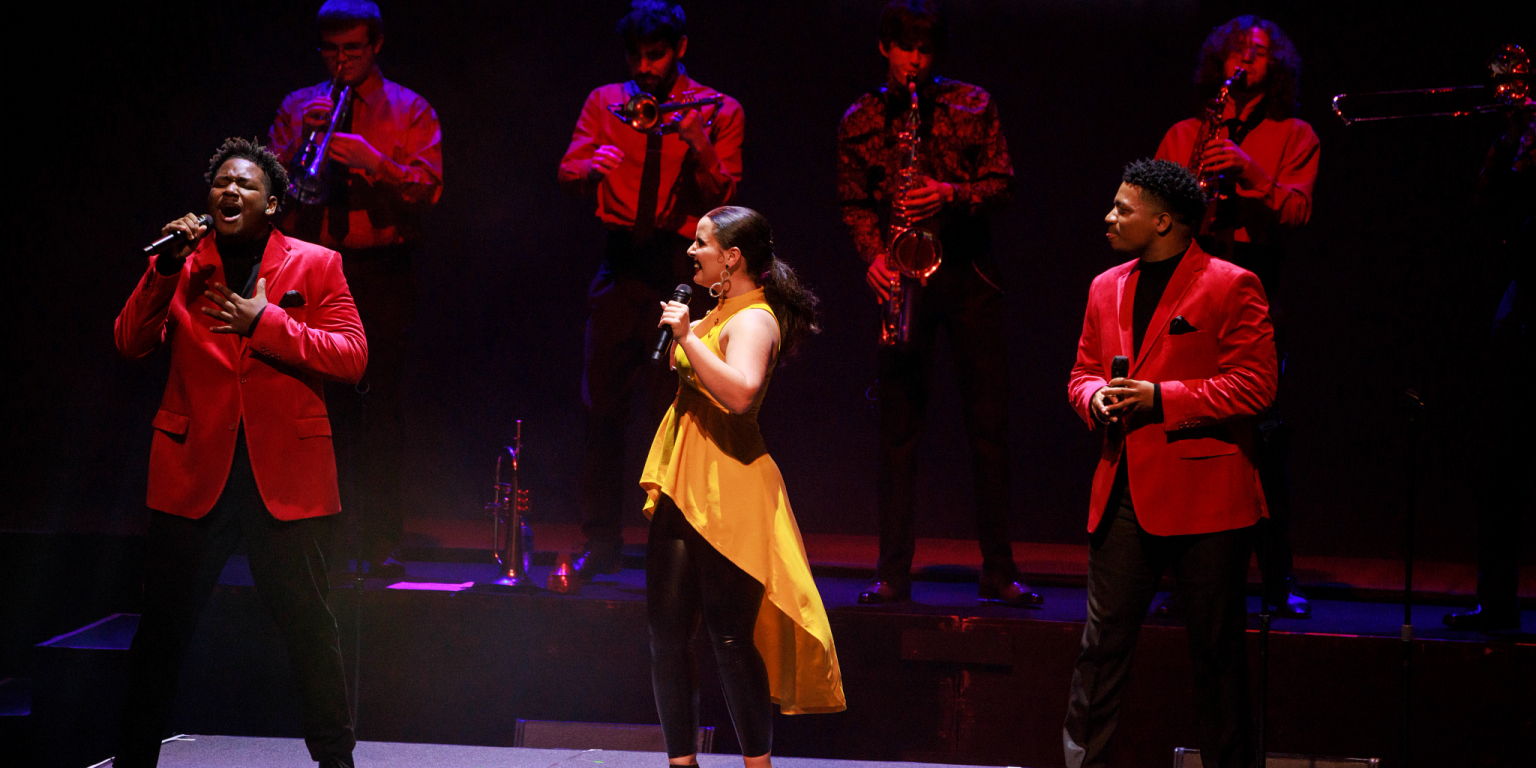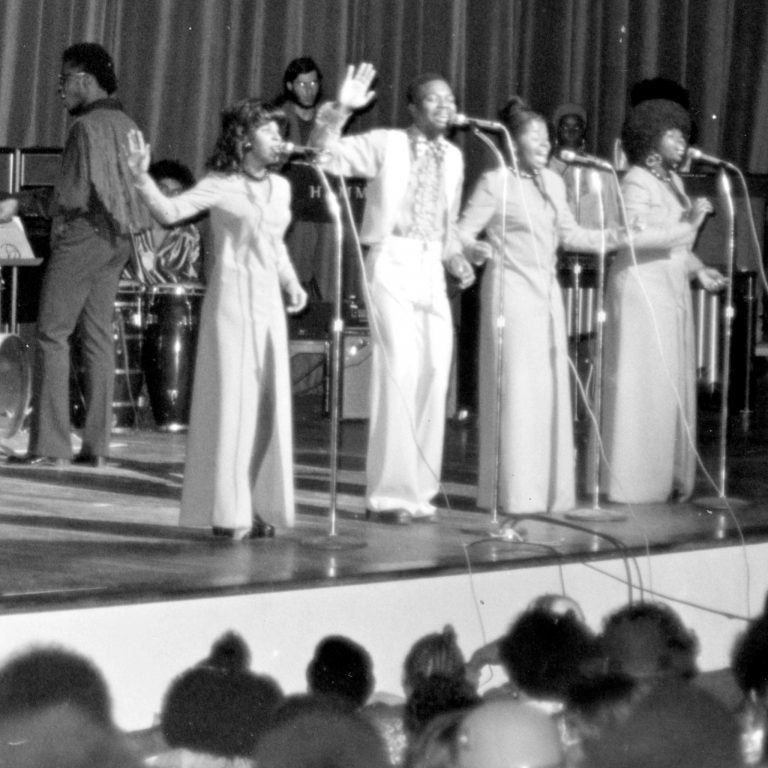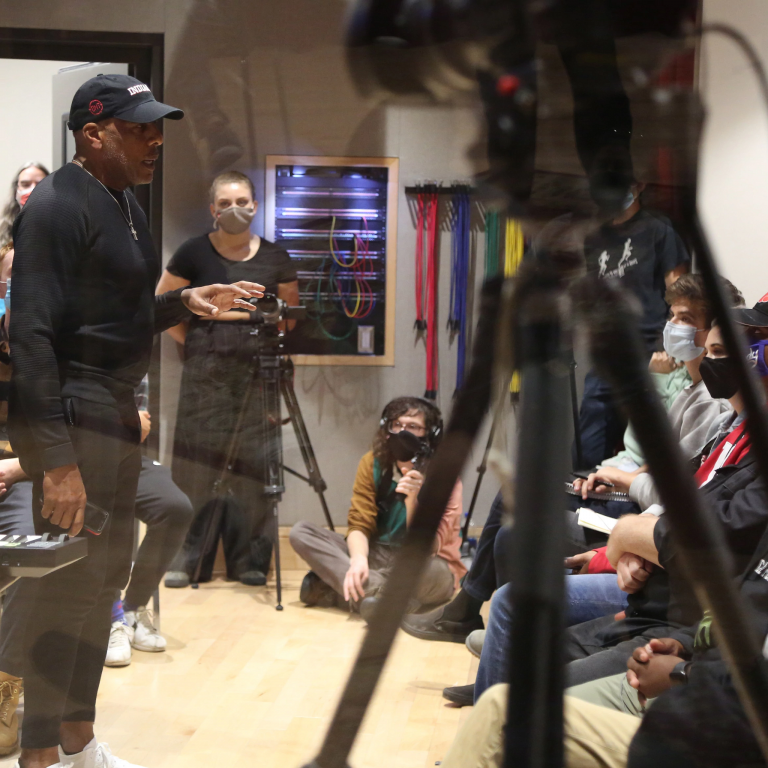 Photos courtesy of the African American Arts Institute and by Jeremy Hogan.
In fact, Johnson was so eager to sing with Soul Revue that she commuted from Indianapolis to Bloomington for one semester while she was a student at IUPUI.
"I knew Soul Revue would challenge my voice and make me step out of my comfort zone. I knew I would grow, and that's important," said Johnson, originally from Saginaw, Michigan, but more recently Franklin, Indiana.
She transferred to IU Bloomington in the fall and rejoined IU Soul Revue after a one-semester break. Practices and rehearsals require at least eight hours of her time per week.
"The experience has been everything I expected it to be," Johnson said. "I've learned a lot about my voice and how to use it in different ways. And I've learned a lot about stage technique and how to deal with problems on stage."
Johnson, who is studying for a career in social work, has performed this academic year with Soul Revue at the First Thursdays Festival, the Potpourri of the Arts in the African American Tradition and IU East. She's excited to perform in the spring concert to honor the ensemble's 50 years.
"I think it's an amazing opportunity," Johnson said. "It says a lot about the African American Arts Institute and Soul Revue celebrating 50 years. It shows the hard work that has gone on through the years, and there's nothing else like Soul Revue on any other predominantly white institution campus. It says a lot about the community in Bloomington and the support we have."
If you build it, they will come
The road to an appointment by President Barack Obama as a judge for the U.S. District Court for the Southern District of California began at IU Bloomington for Gonzalo P. Curiel, and IU Soul Revue played a significant role, he said.
Curiel played the guitar and congas, and he had visions of being in the Jacobs School of Music and performing in a jazz ensemble created by David Baker, founder of the Jazz Studies Program. He said the tryout didn't go well, as the John Coltrane piece he had to perform proved difficult. However, Curiel said Baker suggested that he participate in the new IU Soul Revue, gain some experience and try out for the jazz ensemble again.
He was one of IU Soul Revue's original musicians, playing in its rhythm section from 1971 to 1976.
"IU ended up kind of like this 'Field of Dreams': If you build it, they will come," Curiel said. "The builders at Indiana University have been people like Baker and Herman Hudson. Hudson recognized the importance of honoring African American music, of memorializing it, of providing studies that could allow students to seize on opportunities in the arts and music industry."
Curiel grew up in East Chicago, Indiana, where the population was a healthy mix of Black, white, Mexican American and Puerto Rican communities.
"It was an area where Black music was pretty much the pulse of the community among young people," Curiel said.
When he joined IU Soul Revue, he knew well and loved the songs it performed because he'd played in a multi-ethnic band back at home.
Curiel said the experience was incredible, as the rhythm and horn sections performed with the ensemble's male and female vocal groups during shows. He fondly remembered performances at Big Ten Conference schools such as Wisconsin, Illinois and Ohio State, southern trips to historically Black schools such as Spelman College and Bethune-Cookman University, and even performances at prisons.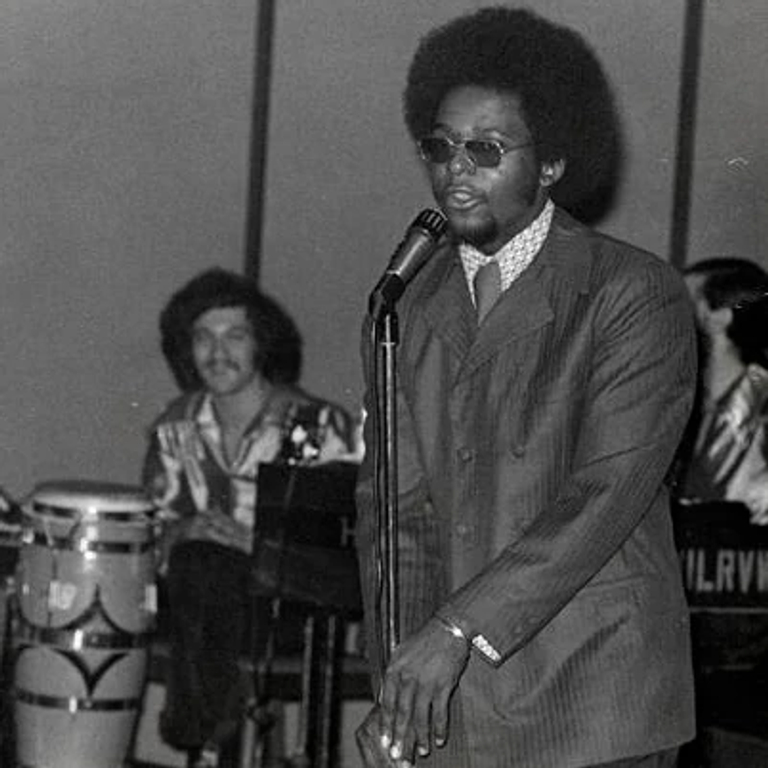 Curiel graduated from the Indiana University Maurer School of Law in 1979, but for a while he harbored dreams of a professional music career before settling on the law full time as the best use of his talents.
He said IU Soul Revue taught him to be audacious and dream big – lessons that carried over to his legal career. For example, he's introduced the San Diego community to a program for fifth-graders that teaches young people about legal careers and sound decision-making, to help them avoid pitfalls such as truancy, gangs and drugs.
Curiel said he is eager for the 50th anniversary celebration and to see friends he made during his time with IU Soul Revue.
"It was a family, and this will be a family reunion," Curiel said. "I will see people I worked with on a daily basis and traveled a good part of the U.S. with, and built so many memories and friendships. It's something I'm looking forward to."
'Something really great'
Corrine Givens-Rolling said she loved singing from the time she was in elementary school, initially in a youth center choir and at church, then later in a pop band during high school.
One of the students in her dorm at IU, Grace (Davis) Williams, heard her sing and encouraged Givens-Rolling to join her in the new IU Soul Revue. The two became part of the quartet known as Expressions in Ebony, IU Soul Revue's second female group, formed in the fall of 1971.
"I remember it being a great experience overall," said Givens-Rolling, who was in IU Soul Revue until 1975. "I made a lot of close connections. We had support with our academics. If you couldn't keep your grades up, you couldn't be in it."

Givens-Rolling particularly remembers a Soul Revue performance at the University of Wisconsin where the ensemble was double-billed with and opened the show for the popular girl group The Emotions, then known for the single "Heart Association" – the name of the Soul Revue's first female group – and later smash hits "Best of My Love" and the Earth, Wind & Fire collaboration "Boogie Wonderland."

"They came backstage and talked with us, and we got their autographs," Givens-Rolling said. "For me, the leader on a lot of their songs told me I had a wonderful voice, and she wanted me to continue to sing."

Givens-Rolling had dreamed of becoming a professional singer since she was young, but she learned that the spotlight that shines on a performer didn't suit her personality. Eventually she turned to teaching and had a long career in special education in Anderson, Indiana.

She said the lessons learned while performing with IU Soul Revue have stayed with her.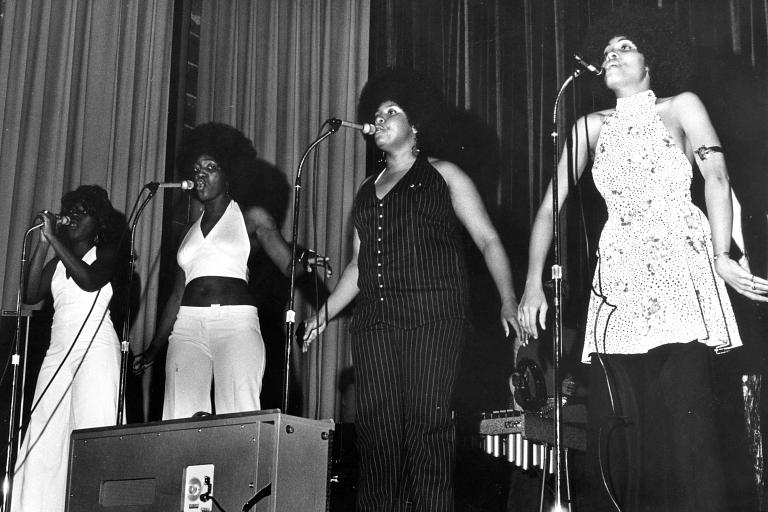 "The thing I got from the experience is if there is something you like doing, you have to be persistent at it and not let anyone deter you," Givens-Rolling said. "Whatever you do, you have to do your best at it."
Givens-Rolling said she'll perform solos for two Aretha Franklin songs in the anniversary show, and is thrilled to honor IU Soul Revue's lasting legacy.
"It means in the beginning we had something really great, but we didn't know just how special it would be for other people in it," she said. "I'm really happy and overwhelmed to celebrate the 50th anniversary of IU Soul Revue."
Turning dreams and visions into reality
Jadon Perkins said he envisions a career in music after he leaves IU. He's been around music all of his life, and it's what he loves.
The sophomore vocalist and liberal studies major from Indianapolis grew up in a family of musicians, and performed on stage with his family at Lucas Oil Stadium at a Colts game when he was 8. Perkins sang in his high school show choir, and he's crafted dozens of songs by himself, singing and rapping, and using his own equipment to produce and engineer the pieces.
Perkins said that when he was growing up, many people told him to go to IU to study and perform in IU Soul Revue. For example, his godfather and mentor, James E. Mumford, was a big influence on his decision to attend IU, Perkins said.
"Now that I am in it, and have learned a lot of its history, I absolutely love it," he said.
Like Johnson, Perkins has been a part of three performances this year. For Perkins, the in-person performances have been much more enjoyable than when IU Soul Revue had to perform without audiences during the COVID-19 pandemic.
"I just love spending time with the performers and the musicians; it's unmatched," he said.
Perkins said he appreciates the mentorship of Soul Revue director James Strong, and has learned a lot about music direction, the ways shows are formatted and how to prepare for shows. He also said Soul Revue has made him become a more versatile artist.
He's said he's eager to perform in the upcoming anniversary show.
"I can't wait to meet the alumni because they are the foundation of what we are doing. If they weren't there then, we would not be here today," Perkins said. "I grew up in Indy, but I've never been to the Madam Walker Legacy Center, so this is a big deal."
After IU, Perkins wants to be a music artist, but also produce and engineer music for other artists.
"I want to be able to take their dreams and visions and turn them into reality," he said.
Like what IU Soul Revue has done for many students for 50 years.