BLOOMINGTON, Ind. – An Indiana University Kelley School of Business center that prepares students for successful careers in life sciences and health-related firms has received a $1 million gift from alumnus Jeff Albers and his wife, Alison.
The Albers Family Life Sciences Endowment will support programs within the Center for the Business of Life Sciences, with preference given to programs tied to biotechnology and pharma, medical devices, and health care ecosystems.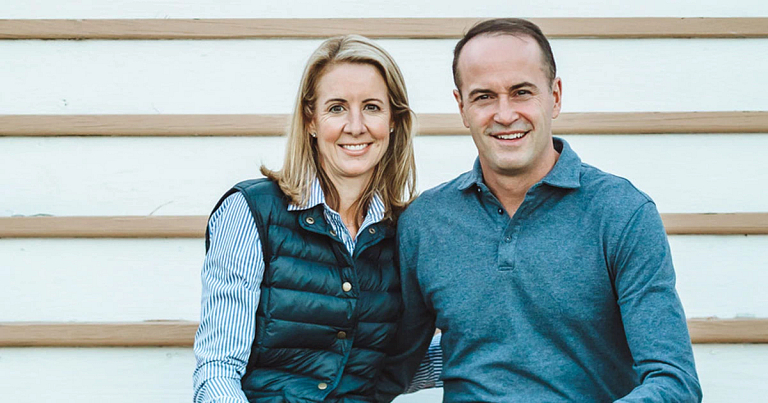 "So much of how I developed and how I think about issues and opportunities was first honed at the Kelley School; it's where I started to recognize areas of interest that were both challenging and rewarding," said Jeff Albers, a 1993 Kelley graduate. Albers is executive chairman and former CEO of Blueprint Medicines, a Cambridge, Massachusetts-based global precision therapy company that discovers and develops life-changing therapies for people with cancer and blood disorders.
"Being able to combine my appreciation for the Kelley School with my passion for life sciences was a unique way for Alison and me to feel like we could make an impact for future students who share our desire to learn more about this space," added Albers, who earned a Bachelor of Science degree in marketing. "Our hope is that it allows more students at IU to be exposed to the opportunities within life sciences where they can benefit society."
Idalene "Idie" Kesner, dean of the Kelley School and the Frank P. Popoff Chair in Strategic Management, thanked the Alberses for supporting a Kelley unit that is crucial to the state of Indiana.
"The mission of the Kelley School is to transform the lives of students, organizations and society through management education, research and service," Kesner said. "The Center for the Business of Life Sciences provides an excellent example of how we do that, serving the needs of Indiana companies whose products enable many people to live longer and better lives. Jeff and Alison Albers' gift will enable us to do even more."
Founded in 2008, the center is a valued resource to life sciences and health care companies, particularly those in Indiana, which ranks second among all U.S. states in terms of life sciences exports. These companies account for nearly a third of Indiana's overall exports.
The Center for the Business of Life Sciences offers a certificate program for students passionate about a career in life sciences or those wishing to better understand how business and science interact. Students – undergraduates and MBAs – learn through experience, as they provide business planning and consulting services to emergent tech-transfer companies and those involved with the Indiana Clinical and Translational Sciences Institute.
The center's industry advisory board meets several times a year, offering opportunities for life sciences executives to interact across sectors. Its conference series addresses current issues such as cybersecurity in health care, potential uses for artificial intelligence, and smart devices and government regulation. About 20 Kelley professors serve as faculty research fellows.
"Indiana is a disproportionately strong player in the life sciences, and we are helping fill the pipeline of people supporting the industry," said George Telthorst, a former medical devices company executive who leads the Center for the Business of Life Sciences. "There's now even more appreciation for the critical mass of the industry in our state.
"Since we began, people have come to realize even more how important it is. This has had an impact on the number of firms making new investments in operations here. Slowly, we are getting more outside investment in start-ups. This generous gift enables us to make sure our students continue to contribute to that success."
About half of the Kelley MBAs who go through programs offered by the center go to work for life sciences firms after graduation, including many in Indiana.
Jeff Albers has more than 25 years of experience working in the biopharmaceutical industry and bringing important new medicines to patients with cancer and rare diseases. He joined Blueprint Medicines in 2014 as CEO and led the research-stage company through an initial public offering. Since then, it has evolved into a leading precision medicine company. He previously served as president of Algeta, where he oversaw the successful commercial launch of a targeted cancer therapy before the company's acquisition by Bayer.
He also has held senior commercial and corporate development positions at Genzyme (now a division of Sanofi), including vice president of the U.S. hematology and oncology business unit, and was a life sciences corporate attorney at Mintz Levin Cohn Ferris Glovsky & Popeo. His first job after graduating from Kelley was working for Pfizer Inc., in Indianapolis. He currently serves on the board of directors at Magenta Therapeutics and Kymera Therapeutics and is on the board of advisors for Life Sciences Cares. He also holds an MBA and J.D. from Georgetown University. The Alberses reside in Wellesley, Massachusetts, and have three children.