While every Indiana University campus health center aims to deliver high-quality care, the Health and Wellness Center at IU South Bend is in many ways in a league apart. Unlike most other campus health centers across the country, IU South Bend's center doesn't serve just students, faculty and staff – it also provides care to the community.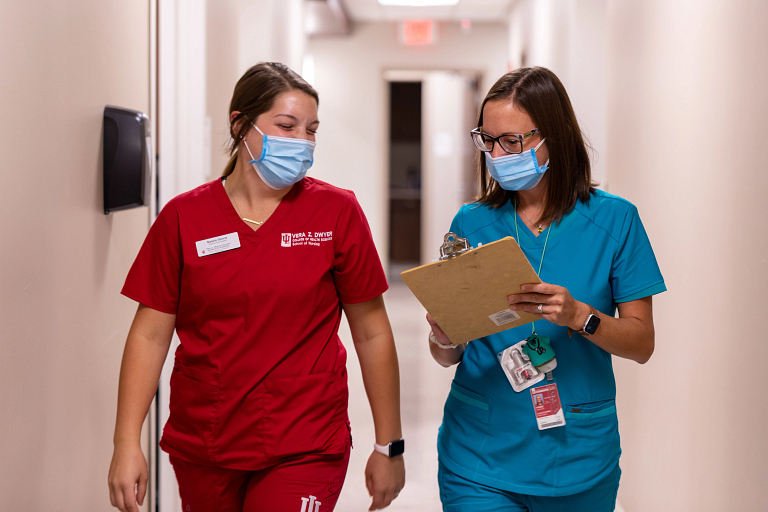 It's a mission whose origins trace back to the late '80s, when the center first developed a proposal to meet the needs of everyone who lives near it – regardless of whether they're a part of the campus.
"The reason we do this is really very simple," said Teresa Dobrzykowski, an associate professor of nursing at IU South Bend. "We're nurses."
In her role as a faculty member and director of patient services at IU South Bend, Dobrzykowski helped established the center's mission to provide clinical care to the community in 1989.
"Nurses go into our profession to provide care, and we saw a huge need for affordable health care in our community," she said. "We saw it then, and we see it now. We regarded our campus clinic as a means to provide that care – and also as a means to show our own students how they could prepare themselves as caregivers."
The center, which is classified as a 503c non-profit organization, provides many types of care, said Kari Frame, director of clinical operations at the Health and Wellness Center at IU South Bend. These include wellness care, non-urgent care and sexual care, such as physicals, well-women exams, birth control, emotional health, respiratory infections, rapid testing, eye and ear infections, and testing and treatment.
The Health and Wellness Center works with local and state governments to surveil, monitor and treat tuberculosis under a partnership with the St. Joseph County Public Health Department; conduct free screenings for sexually transmitted diseases under a grant from the Indiana State Department of Health; and conduct free screenings for HIV/AIDS under a partnership with AIDS Ministries/AIDS Assist of Northern Indiana.
Other specialty services include vaccinations and assistance to survivors of sexual assault.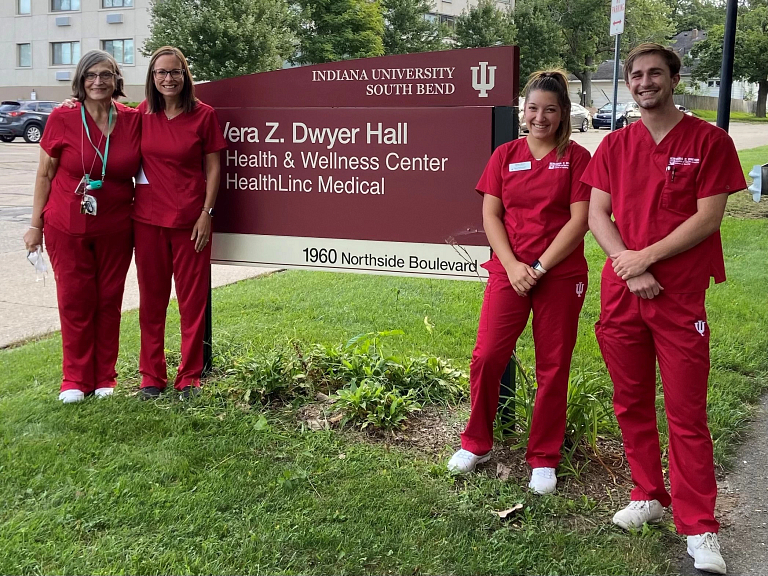 During the COVID-19 pandemic, for example, the center served as a crucial site for the distribution of vaccines from Pfizer and Moderna, including booster shots for older adults. The center also provides flu shots and immunization against other diseases, including routine vaccines such as adult varicella; tetanus, diphtheria, pertussis; measles, mumps, rubella; and Hepatitis B, which is available at nearly no cost through a federal program.
Assistance to survivors of sexual assault include providing physical exams to individuals and primary care immediately following a sexual assault. As a certified adult nurse practitioner and sexual assault nurse examiner, Dobrzykowski's work at the clinic makes the Health and Wellness Center only the second non-emergency room location in the state able to provide this difficult and highly sensitive care.
"Providing sexual and intimate partner violence care in a primary care setting allows for seamless, continuous care, which is not possible through a traditional emergent or urgent care setting," she said.
The center is also strongly committed to providing open and welcoming care to members of the LGBTQ community, said Frame.
In 2018, the center experienced its most significant expansion in years through a partnership with HealthLinc, a nonprofit healthcare provider that delivers medical, dental, optometry and behavioral health services to individuals in northwest Indiana. The partnership was one of the first collaborations between a public university and a federally qualified health center in the country.
The two organizations co-occupy the same physical location, Frame said, making referrals between the two organizations fast and easy. IU employees, students and community members who need to connect to a general practitioner to discuss the results of their annual heath screening can simply walk across the hall to get an appointment. Community members who receive care at center can also easily "cross the aisle."
About 20 percent of the people served at the clinic are members of the community, the majority of whom are uninsured or underinsured. The remaining 80 percent are students, faculty and staff.
The clinic's status as a provider of community health also benefits students' education, Frame said. Students from the campus' clinical lab sciences program learn about equipment used to analyze blood at the center, for example, and nursing students often perform community health rotations at the clinic.
Additionally, students from the campus' health promotion program work with the center on outreach projects, such as the creation of COVID care kits that provided quarantined students with basic supplies such as over-the-counter medications, hand sanitizer and masks at the height of the pandemic.
"This experience has really benefitted me," said Natalie Garcia, a nursing major at the clinic who said she gained the opportunity to practice talking to people about their long-term heath, as opposed to hospital experiences where patients require more acute care. "It's important to learn how to communicate about long-term health goals and prevention," she said.
Another senior nursing major at the clinic, Eric Yankosky, cited his experience with a "vaccination blitz," during which they vaccinated over 100 community members against COVID-19 in a single day, noting the center played an important role protecting the local population against coronavirus.
"The clinic's work is really amazing," said Michelle Mehall, a senior nursing student whose work at the clinic included creating materials on sexual assault awareness. "It's really opened my eyes to what a clinic can do for its campus – and for its community."