Jordan Davis has a message for her fellow Indiana University seniors: "We are responsible for reimagining our world, and we should not accept the status quo."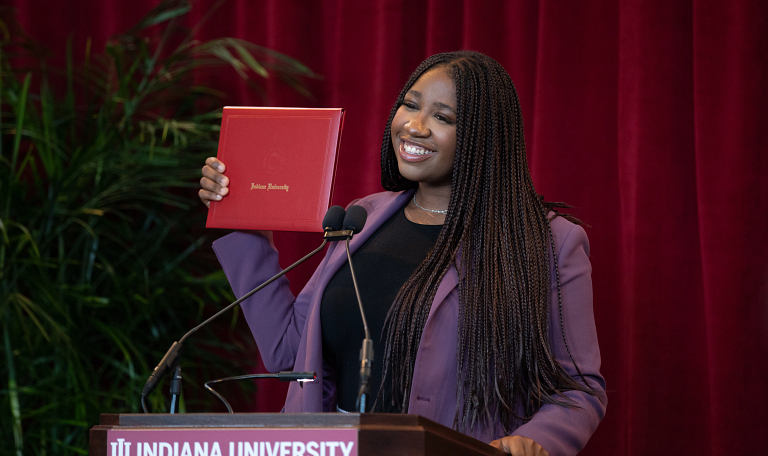 She'll share that message as the student speaker at IU's spring undergraduate commencement ceremony at 10 a.m. May 7 at Memorial Stadium. The graduate commencement ceremony will take place at 3 p.m. May 6 at Simon Skjodt Assembly Hall.
Davis' message is rooted in her personal experiences and observations, and forged by her desire to make the experiences of all IU Bloomington students more inclusive and equitable.
"As a Black woman at a primarily white institution, when I walked into a lot of rooms early on in my career at IU, I found myself thinking, 'That doesn't seem right.' Or, 'There should be more people here who look like me.' Or, 'There should be more women leading this room,'" said Davis, a Kelley School of Business student who's majoring in marketing and international business.
"Just kind of questioning what I was seeing and what I was told was 'normal' was important to me because I always have had this curiosity and wondered why things are the way they are."
That curiosity and questioning drove Davis' involvement with student leaders, groups and projects to rethink and reinvent what's considered "normal" on campus.
The Dayton, Ohio, native joined IU Student Government as a sophomore, as the director of health and well-being. She worked with the campus Facility Operations unit on inclusionary policies to create an equitable taskforce that implemented sanitary products in every all-gender restroom. The goal, Davis said, was to make the campus more inclusive for nonbinary and transgender students, and take a holistic approach to health and well-being for students of all backgrounds.
Davis got involved in Kelley Student Government as a junior. As vice president of outreach, she was instrumental in creating the Black Student Action Committee, initiating the schoolwide "I Am, I Am Not" campaign and creating legislation that requires diversity on student organization panels. The Black Student Action Committee provides an arena for addressing grievances and making the Kelley School more inclusive for future Black students, Davis said. The "I Am, I Am Not" campaign focused on dispelling stereotypes and promoting inclusion and diversity.
"We all, no matter what identity you are – majority, minority – we all are stereotyped in some way, so let's speak about these stereotypes and bring awareness to them and how we're contributing to them," Davis said. "That was a really cool schoolwide campaign that touched different IU campuses."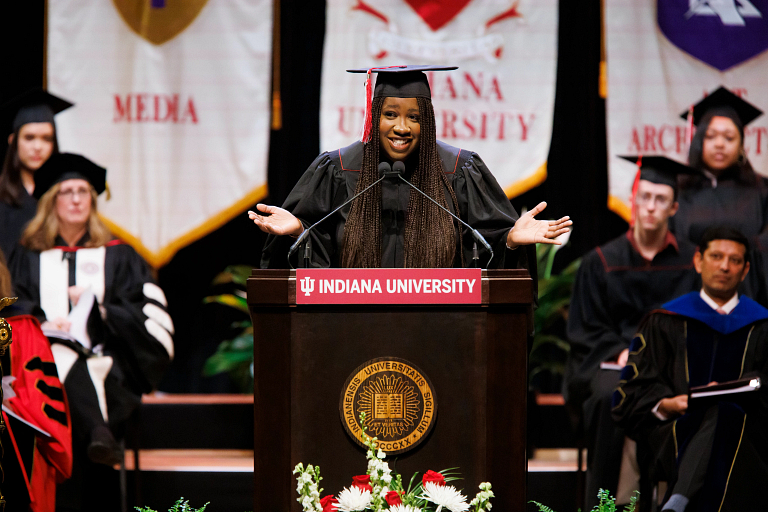 The legislation that Davis co-wrote for panel diversity, which was approved by the executive committee of Kelley Student Government, requires Kelley student organizations to have a panelist who is a woman or nonbinary, and a panelist who is Black, Indigenous or a person of color. The organizations also are encouraged to feature other levels of diversity on the panel, such as someone from the LGBTQ+ community, a military veteran or active military member, or someone who's disabled. Davis said student organizations can't get funding or marketing for events that bring in external guests unless the representation policies are followed.
"Everything I do has the future students in mind. Ultimately, I'm always thinking, 'How does this affect future students coming after me?'" said Davis, the 2022 Herman B Wells Award winner, which honors an outstanding senior who has excelled academically and is an established leader at IU. "A lot of what I have done and other student leaders have done is dismantling systems and breaking things down and building them back up. We do it because the students in five or 10 years will greatly benefit from it and won't have to go through the same barriers and obstacles."
Clark Barwick taught Davis in an honors business communication course. As a mentor and one who recommended her for the student speaker role, he said he's been impressed by Davis' efforts to make IU more aware, accountable and compassionate.
"As a Black woman, Jordan took on a significant and very public role at IU when the racial and social injustice of 2020 forced a reckoning with systemic and institutional racism," Barwick said. "I could not have been more impressed with her courage and willingness to lead and insist on change in ways that would have been unthinkable for me when I was a sophomore in college."
Barwick said he's certain that no matter what career path Davis chooses, she'll continue to be an activist and speak up for those without a voice in society.
The near future for Davis includes a job as an associate consultant with Bain & Co. in Chicago, where she'll help clients with strategic and management issues. Long-term, though, her dream is to be a talk-show host on the level of Oprah Winfrey.
"I want to make sure I'm just being a great role model for younger Black women and for women in general," she said. "I want it to have the elements of a talk show, like talking with celebrities and trying to make sure that people feel connected to people they look up to, but at the same time figure out ways to give back to communities that are marginalized.
"I would want to make sure than I can financially empower other communities around the world, and ultimately bring people together."
Davis' ability to connect people through helpful actions is something Kelley School Dean Idalene "Idie" Kesner noted in her nomination letter for Davis as the student commencement speaker. Kesner said Davis has advocated for students, built a sense of community and inclusion, served as a mentor and focused on students' health and well-being.
"I am confident that she will continue to be a major contributor to whatever organization she joins," Kesner wrote, "and I'm confident that she will help her future organizations create a more diverse, equitable and inclusive culture and environment, just as she has done for IU and the Kelley School."