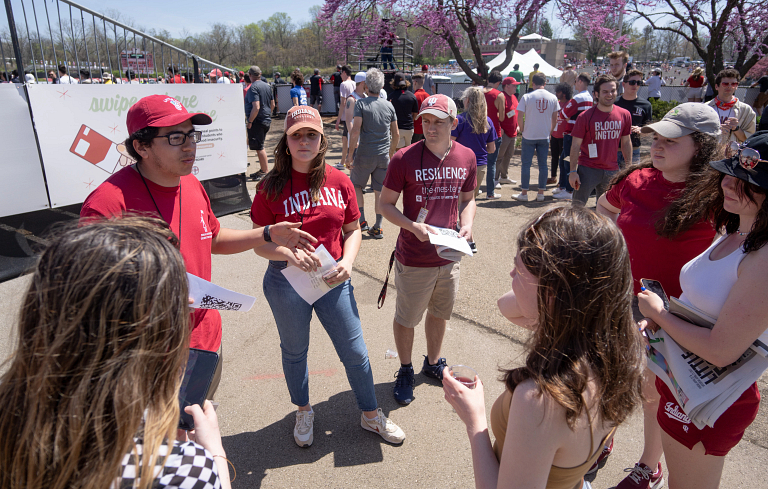 While this year's Little 500 celebrated Indiana University's cycling history and the men's and women's teams that competed, it also served as a platform for an important student-focused cause: food insecurity.
IU Student Foundation volunteers talked to people at the races about the issue and the ways they could help. Also, $1 of every student ticket sold went to the Students Helping Students crowdfunding campaign, which raises awareness about campus resources available for students facing food insecurity. Ticket sales generated $5,929 that will be contributed to the campus food insecurity fund, and the official Little 500 sponsor, salesforce.org, will donate an additional $5,000 to the cause.
A 2021 survey indicates that about 30 percent of students at four-year colleges struggle to obtain nutritionally adequate and safe foods because availability is limited or uncertain, and the COVID-19 pandemic has added to that challenge. During the 2020-21 academic year, Crimson Cupboard – a pantry that offers free, healthy food to IU Bloomington students – helped an average 450 individuals and served an average 3,850 meals per month. In the 2021-22 school year, those monthly averages have increased to 600 individuals and 7,100 meals, said Brandon Shurr, Crimson Cupboard director and senior assistant director of engagement for the Division of Student Affairs.
The IU Bloomington campus has used a coordinated effort to fight food insecurity that started when Crimson Cupboard joined the Division of Student Affairs in 2019. Those efforts now include working with campus and off-campus partners and a meal-sharing program where students can request meal points or donate unused points to help students, Shurr said.
The meal-sharing program was started in April by multiple campus partners, including the Office of the Provost, IU Dining, Division of Student Affairs, University Technology Services, Auxiliary Business Services and Crimson Cupboard. In the program's first week, nearly 80 students requested meals, and they received more than 330.
"Students have been and continue to be an integral part of raising awareness and fighting against food insecurity," Shurr said. "It was a student who saw a need, met with IU staff and started the Crimson Cupboard in 2015. It was also students who started the conversation and advocated for a meal-share program on campus. Student voices in raising awareness of and sharing campus resources around food insecurity are an integral part to fighting food insecurity."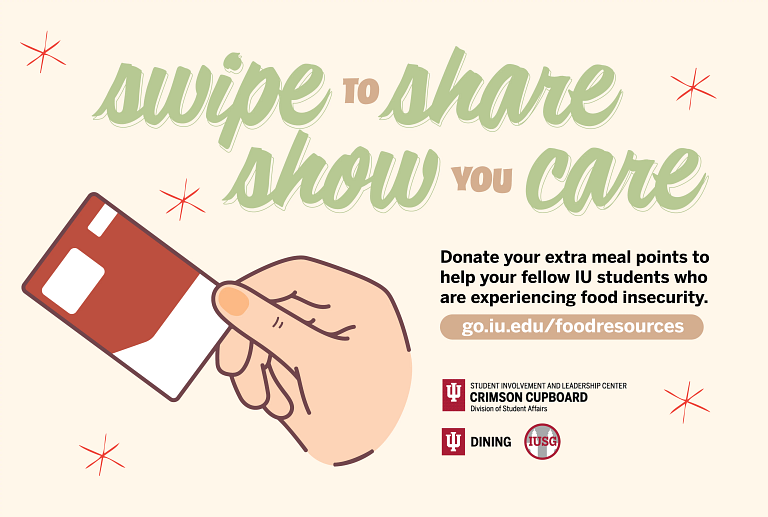 Junior Agrayan Gupta and Jagrit Sardeshpande got the idea for the meal-sharing program after realizing they had a lot of unused meal points going to waste. They researched solutions and discovered a national organization called Swipe Out Hunger, which creates donatable meal share programs in colleges across the U.S.
"It was a very student-driven solution outside of traditional organizations," Gupta said.
They built a team of students, including former IU Student Government vice president Ruhan Syed, and reached out to IU Dining, the dean of students and other administrators to gain support and approval for the idea.
"Each one was extremely welcoming of the idea, and once it was approved, every administrator from Division of Student Affairs to Information Technology to IU Dining has been instrumental in the meal-sharing program's development," Gupta said.
Gupta and the others who created the meal-sharing program are talking with student organization leaders to spread the word, he said, and fliers have been distributed that explain how students can donate meal points.
Spreading awareness about food insecurity and campus resources also has been a focus of IU Student Foundation Steering Committee members such as senior Isabel Karnuta. At the beginning of the spring semester, Karnuta and her classmates hosted a panel discussion, inviting student leaders and IU faculty to share stories and information with IU Student Foundation members. The Steering Committee has assisted with the Students Helping Students campaign by encouraging committee members to become campaign ambassadors.
"Primarily, we made it our goal this semester to really try to educate ourselves and general IUSF members on what food insecurity actually looks like on a college campus," Karnuta said.
For the Little 500 races, Karnuta and other Steering Committee members worked with Shurr to create pitboard advertising for the meal-sharing program. Some of IU Student Foundation's Alumni and Student Engagement Committee members attended Little 500 to encourage students and other spectators to donate to the meal-sharing program.
"Our hope was that we would be able to reach a larger audience at Little 500, and hope that people would leave knowing a little bit more about the IU's resources for those experiencing food insecurity," Karnuta said.