The Indiana University Bloomington College of Arts and Sciences did something different during the week before final exams this year. The week, once monikered "Dead Week" due to the cancelation of classes in preparation for finals, was rebranded. From the ashes of Dead Week rose College Care Week, created to give students opportunities to focus on their mental health during a time of deadlines and heightened pressure.
"Finals can make or break people, especially if you're an upperclassman and you only have so many classes where you can prove yourself until you are ready to get that degree," said Shay George, a freshman pursuing her degree in psychology. "I think for any student during finals week, or the week before finals week, that anxiety is really high."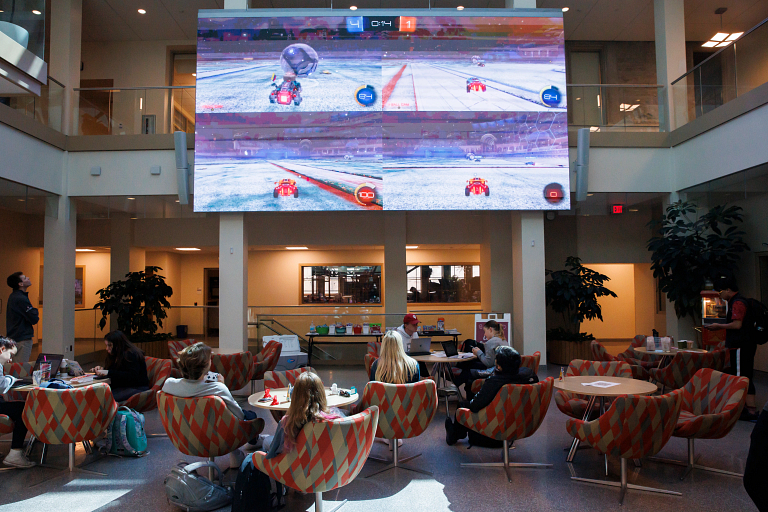 Self-care can fall to the wayside during stressful times, and the College saw the importance of supporting students both mentally and physically. Daily offerings included a to-go breakfast and snack bar served out of the Walter Center for Career Achievement in Ernie Pyle Hall, which provided bagels, doughnuts, fresh fruit, coffee and tea. Massage chairs were available each day, and private rooms were reserved for quiet study. There was also a meditation room reserved for students observing Ramadan.
More than 3,000 students took part in College Care Week, which offered an eclectic mixture of events across the Bloomington campus. Activities represented some of the unique topics of study that students can explore via the College of Arts and Sciences.
Two popular activities during the week included "Play Day at The Media School" and "Pet-a-Pup Day." Students had the opportunity to play X-Box games together on the giant screens in the atrium of The Media School. The following day, more than 1,000 students visited with dogs at Ernie Pyle Hall. Faculty and staff from the College volunteered to bring their pets, including 30 dogs and two cats, for students to pet and play with as a form of therapy.
"Getting to see the dogs was definitely a stress relief," said Cora Stillwell, a freshman studying psychology. "My friends and I all felt a lot better after. They were so sweet and playful, and overall, it was a great experience."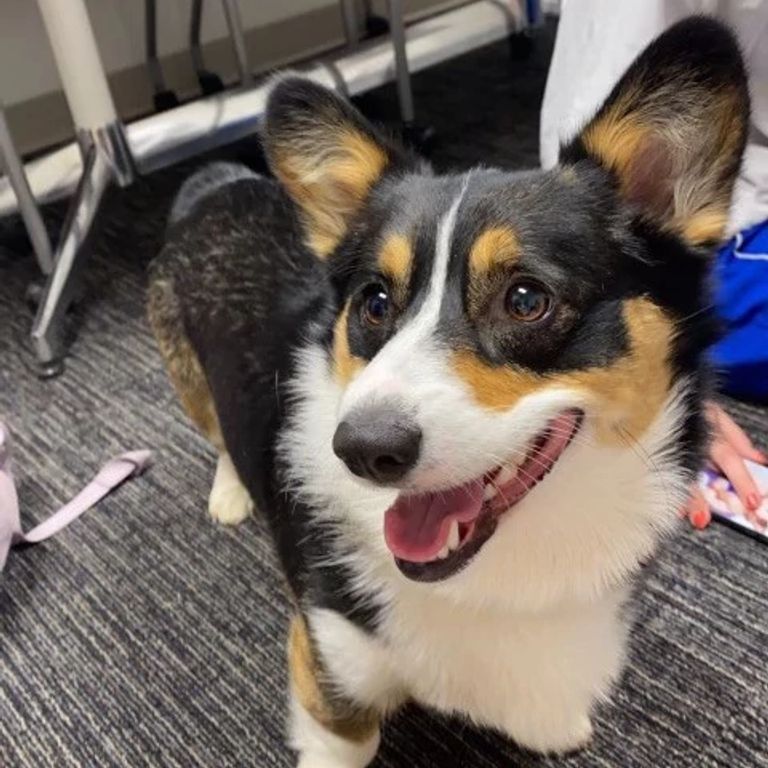 Instructors from the College also volunteered their time to lead fun and engaging activities throughout College Care Week.
A "Brain Chill" activity organized by the Neuroscience Club took place in the atrium of the Psychological and Brain Sciences Building. Using electroencephalography – headsets with scalp sensors and equipment that detects electrical activity – students' brain waves were translated into a color-changing neurofeedback display. Ben Ramsden, Neuroscience Club faculty advisor and coordinator for Undergraduate Neuroscience Teaching Labs in the Department of Psychological and Brain Sciences, explained the science behind "Brain Chill."
"Blue colors are thought to be more correlated with 'chill' and 'focus' EEG activity patterns," Ramsden said. "Once they practice getting the right amount of 'blue,' they next switch their attention to a toy car track and use the same chilled and focused brain state to speed up and slow down the race cars by simply using their brain waves. Our Neuroscience Club thought this would be an excellent College Care Week activity since it gets us all thinking about fun things rather than finals, while trying to get 'chilled' at the same time."
James Clark, coordinator of freshmen laboratories in the Department of Chemistry, performed a magic show for students. Some of the tricks Clark demonstrated included using liquid nitrogen to make smoke and bubbles, making water disappear, turning fire green and playing with hydrogen balloons. He explained the science behind each magical experiment.
"There will be fire, there will be explosions and there will be bad science jokes," Clark said. "It's laid back and fun, so students can relax."
Miriam Northcutt Bohmert, assistant professor in the Department of Criminal Justice and faculty affiliate in the Department of Gender Studies, organized a letter-writing activity where local elementary students wrote letters to undergraduate students, offering words of encouragement and advice. Students received letters and enjoyed Oreos and Uno together during the session.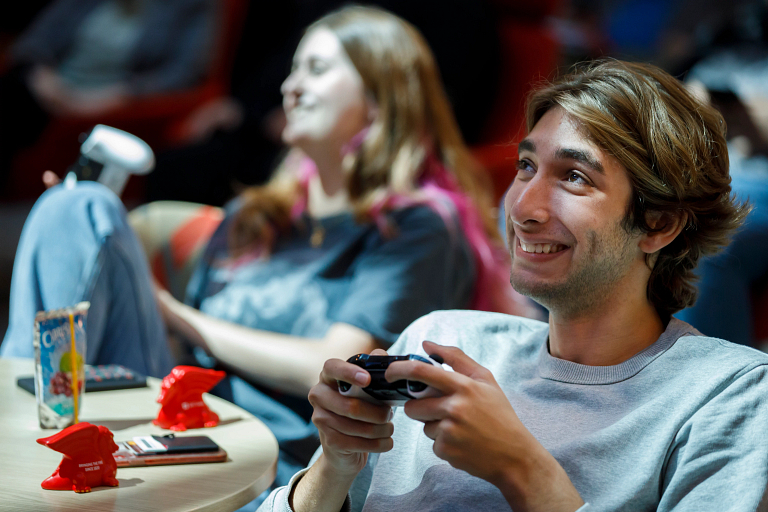 "The elementary students wrote words of advice, like 'Do your best and forget the rest' or 'I know you can do it,'" Bohmert said. "College students were also encouraged to write letters back to the elementary students – future Hoosiers – and tell them their favorite parts of college life."
Pravina Shukla, provost professor in the Department of Folklore and Ethnomusicology, teaches the popular undergraduate course "World Arts and Culture." Shukla planned a relaxing coloring and painting activity.
The session included a richly illustrated discussion exploring the cultural and religious significance of traditional art. Shukla's activity delved into the painted plates of Turkey, the Acoma Pueblo Native American pottery of New Mexico and contemporary paintings from Nigerian artist Prince Twins Seven-Seven.
"The painted ceramic plates with beautiful flower motifs have a very deep religious meaning," Shukla said. "Within Islam, the flowers represent the human soul and the harmony of humans living together. Once you go deep inside the culture, you understand the cultural, religious and spiritual meaning to the motif and the beautiful plates you see."
Students who participated in the session could take home art supplies and coloring pages displaying the various motifs.
"Students can relax by just talking about art and beauty and expression of identity through motifs," Shukla said. "While you are taking a break from studying, you can just color and be reminded of the fact that things can be both beautiful and very meaningful once we understand them in a context."