Since he was 12, Griffin Gonzalez has dreamed of becoming a sportscaster. He has spent each year since pursuing his dream, which is how he found himself at Indiana University.
During the past four years in Bloomington, Gonzalez – who recently graduated with his degree in sports journalism from The Media School – found himself swimming in a sea of vast opportunities, including the chance to live broadcast the legendary Little 500 cycling race.
"I came to IU because they said I would get the most experience starting on day one," Gonzalez said. "One of my favorite stories is they let me cover a soccer practice before I even moved into my dorm. I love it here because they kept the promise, and they said they would let me pursue this to my fullest ability as much as I want to. They've upheld every single word of that."
Gonzalez was named a 2021 STAA All-American, a competition that recognizes the most outstanding collegiate radio and TV sports broadcasters in the country. His recognition marked the second consecutive year that a Media School student received the honor.
IU provides students many opportunities to gain broadcast experience covering Big Ten sports. Gonzalez worked as an in-arena emcee during basketball games at Simon Skjodt Assembly Hall and as a director for The Hoosier Network.
Gonzalez's final broadcast as an IU undergrad was the 2022 men's Little 500. Much like the cyclists who compete, students involved in the Little 500 live broadcast prepare for the event for several months prior to the race. They spend time researching teams and gathering feature stories to share.
Media School associate professor Galen Clavio, director of both undergraduate studies and the National Sports Journalism Center, serves as a producer of the live men's and women's Little 500 broadcasts each year. The live broadcast is executed through a partnership among The Media School, IU Radio-TV Services and the IU Student Foundation. Together, they work to make the live race feed available for free via broadcast.iu.edu as well as on Facebook and live tweeted on the @IUSportsMedia Twitter account.
Clavio leads a large team of students and assigns roles, such as field reporters, color commentators and producers.
"We feature stories that are gradually assembled by students over the course of the winter and early spring, and then those same students go out to spring series events or individual time trials," Clavio said. "We were just preparing the whole time so that we were all really well-educated about what is going to go on at the race."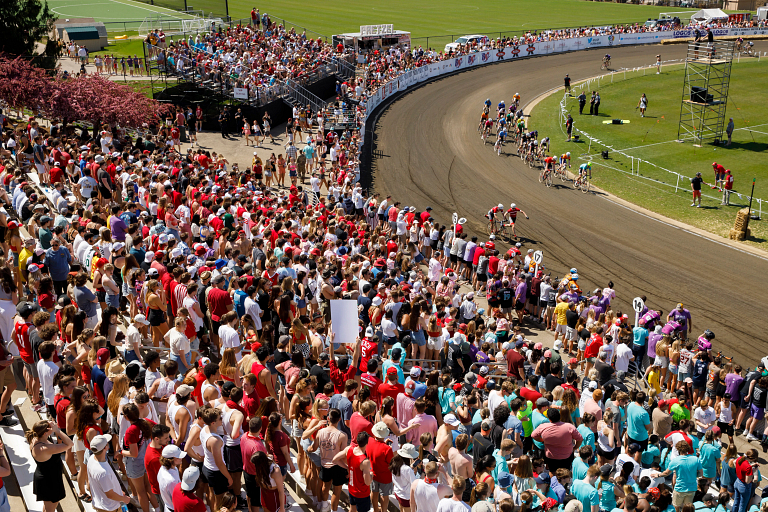 The broadcast attracts tens of thousands of fans from across the world, and, with such a large audience tuning in, preparation ahead of time is key.
"The one thing some people think is that these riders just come together and ride 200 laps in one day," Gonzalez said. "That's not at all how it works. They have a year-round training regimen. There's a lot of coverage that goes into that preseason. It's a lot of getting to know teams and trying to find the best storylines we can, so when it comes to race day, we can tell the best stories."
One of the stories the students chased down before the 2022 broadcast was an interview with Dave Blase, the inspiration behind the main character of the 1978 Academy Award-winning film "Breaking Away." Grace Ybarra, who recently graduated with her degree in sports journalism, worked as a field reporter for both the women's and men's races and interviewed Blase during the live broadcast of the women's race. An IU alumnus and winner of the 1962 Little 500, Blase has attended the Little 500 races each year.
Ybarra's experience at IU has included working as a sideline reporter for the Big Ten Network and as an Indiana basketball reporter with Inside the Hall. She had covered the Little 500 previously. Even with the pre-race research she conducted and her years of experience, Ybarra said the women's race did not come without exciting surprises.
"I was surprised by the fact that Melanzana lapped the field because Delta Gamma did the same the year before, and it was very uncommon," Ybarra said. "I knew it could happen, but it was very wild to cover it two years in a row."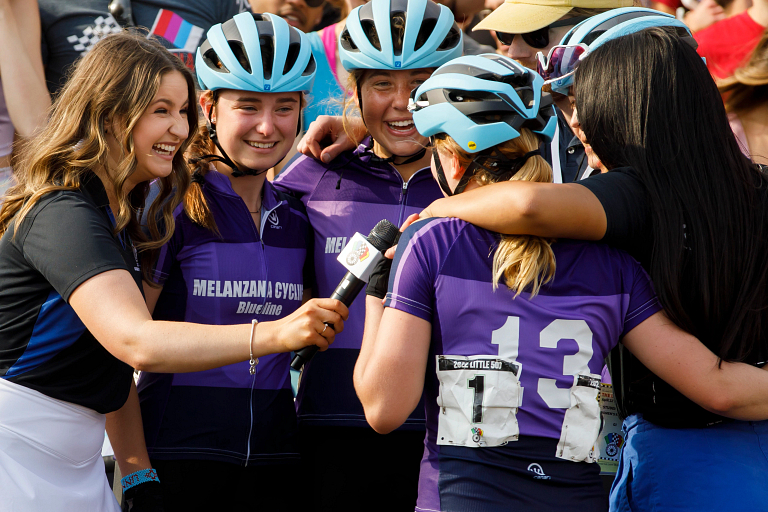 The 2022 Little 500 saw the return of fans to the stands at Bill Armstrong Stadium. Due to the pandemic, the races were canceled in 2020 and resumed in 2021 but without the usual fanfare and crowds. Both Ybarra and Gonzalez said they were excited for the return of race fans.
"I was a field reporter for the race last year, too, so it was such a complete 180 to be down on the field reporting with the roar of the fans and all of the colors there," Ybarra said. "It was really cool to finally be back and have a full circle moment about how far I've come – from being a fan to the reporter down on the field."
"You really don't understand just how much the fans bring until they're not there," Gonzalez said. "I think people might have taken it for granted before now. Everyone's so excited, and I got to take a step back and realize just how cool and unique this event is at Indiana University."
Gonzalez and Ybarra are moving on after graduation to take their skills and experience gained at IU and fulfill the dreams they have had since childhood.
"It was sadly my final broadcast at IU as a student," Ybarra said. "It was super fulfilling, but I did shed a few tears at the end of the men's race. I was next to Griffin, and it was our last broadcast, so we both shared a hug and tried to push through the sadness to be happy about all we've accomplished."
Ybarra already has a job lined up as a sports reporter and anchor at WCBI-TV, a leading network for news, weather and sports in Northeast Mississippi and West Alabama. Ybarra will cover the SEC and high school sports.
"Indiana prepared me for the next stage of my life better than I could have ever imagined," said Gonzalez, who is about to fulfill his childhood dream: He will soon begin his post-collegiate career as a sports reporter at WDRB in Louisville, Kentucky.