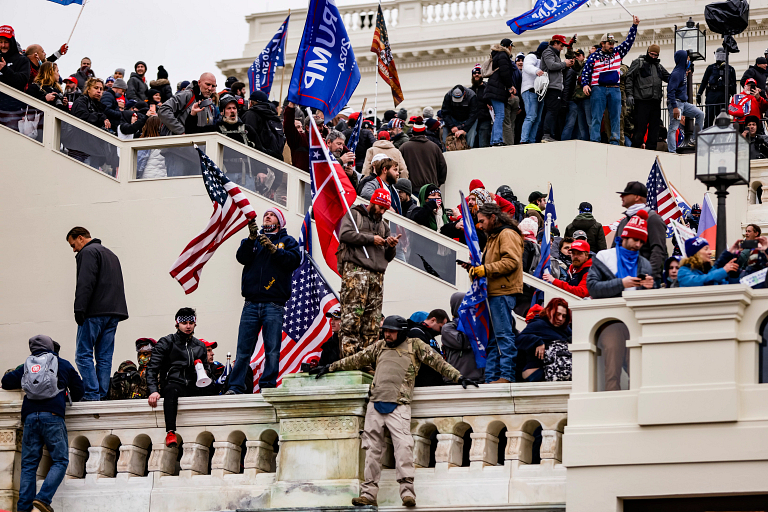 Nine Indiana University alumni in the field of journalism earned a 2022 Pulitzer Prize – including eight on a Washington Post team of more than 100 that was honored for its reporting on the Jan. 6, 2021, insurrection at the U.S. Capitol.
That honor continued a tradition of excellence. Indiana University has been educating students in journalism for more than 100 years – through the Department of Journalism, the School of Journalism and now The Media School – and graduates have earned the Pulitzer Prize, the top award in the profession, in most decades.
Four of the alumni who contributed to the Post's reporting – each of whom earned a Bachelor of Arts in journalism – recently shared their thoughts about covering the story, winning the Pulitzer Prize for Public Service and their experiences at IU:
Mettler and Contrera met at a scholarship ceremony for The Media School when they were incoming freshmen. From there, they became colleagues at the Indiana Daily Student, roommates for three years and lifelong friends.
After graduating, Mettler became a reporter at the Tampa Bay Times, and Contrera joined The Washington Post. A few years later, Mettler joined The Post, adding to the newspaper's long roster of Hoosier employees. In 2019, they traveled together to Eldoret, Kenya, to visit Media School Director of Journalism Jim Kelly during his year as a Fulbright Scholar at Moi University.
McClain majored in journalism at IU, with an emphasis in photojournalism, and his goal was to work at a daily newspaper as a news photographer. He previously worked at the Ventura (California) County Star and Rocky Mountain News in Denver.
O'Hara frequently works for national newspapers and magazines. Her work has been published in National Geographic, The New York Times, NPR, CNN, The Wall Street Journal and People magazine, among other publications.
Question: What was your role with the Post team's coverage of the insurrection on Jan. 6 and with follow-up stories?
Contrera and Mettler: We were among more than a dozen reporters on the ground at the Capitol for this story.
McClain: My contribution was being part of the photo coverage on Jan. 6.
O'Hara: I am a freelance photojournalist in Phoenix, Arizona, covering the ripple effects of the election fraud lie. I began working on this story before Election Day 2020 and then stayed on the story for follow-up articles following the insurrection.
Q: What was that atmosphere like for you as a member of the media covering this story?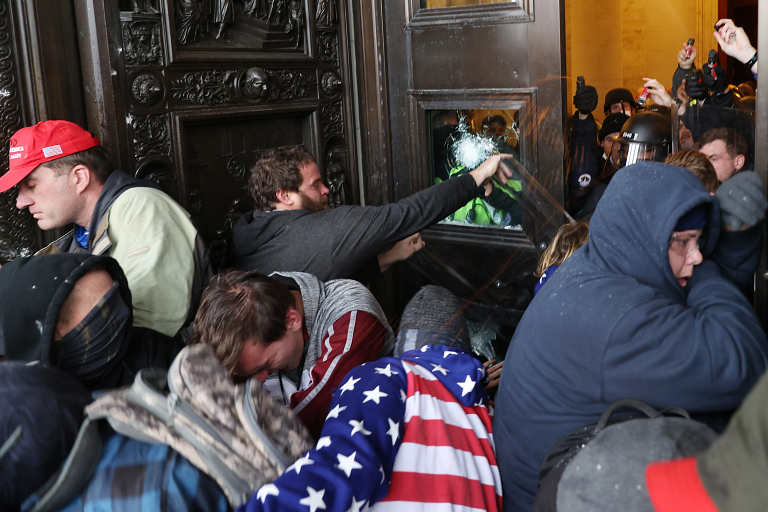 Contrera: I'll never have the right words to describe what it felt like to watch rioters overtake the Capitol. That day forever changed our country and forever changed me. Katie and I took turns filing feeds: One of us would write down or call in what we were seeing while the other one watched out for danger.
Individuals were hunting down members of the media, yelling threats and smashing reporters' gear. More than once we moved each other out of harm's way. Our colleagues who carry camera equipment had it far harder than we did, and we are still immensely thankful to every journalist on our team who kept each other safe.
Mettler: Jess and I have been friends for a long time, a bond that has made being colleagues and reporting partners all the more meaningful. That was especially true in the weeks and months following the insurrection.
What she saw that day is what I saw that day. It was a shared experience. We were a team, we helped keep each other safe, and when bad faith actors tried to minimize the severity and significance of the Capitol breach, we were able to remind each other that what we saw was real and true. I'll be forever grateful to the journalism school and Indiana Daily Student for giving us the gift of lifelong friendship and a shared foundation to do responsible journalism.
Witnessing the insurrection is something that I'll always carry with me. As journalists, we are taught to create distance between ourselves and what we cover. But that was impossible to do on Jan. 6. Like the dozens of other journalists there that day, we experienced the insurrection as reporters doing our job. But we also experienced it as human beings – just like the police officers, elected officials, congressional staffers and Capitol employees who were threatened, too.
Personally, I hope this reflection on the insurrection coverage and its impact can serve as a reminder that the journalism industry – and journalism education – has a long way to go when it comes to mental health. We must be more trauma-informed, both for our own well-being but also for the well-being of the people whose stories we are trusted to tell. We need training. We need support. We need honesty and transparency.
McClain: On Jan. 6, I began before dawn as people assembled for a rally that included remarks by President Donald Trump. The crowd was sizable, stretching from the Ellipse, located behind the White House, to the Washington Monument. I was a little apprehensive entering the day after being screamed at and threatened the day before at a lead-up rally.
I began to relax a bit as the atmosphere in the morning was somewhat more subdued than it had been the day prior. This, however, began to shift as the speeches began. As the rally wrapped up, word spread that crowds at the U.S. Capitol were breaching the barricades. I headed toward Capitol Hill, trying to move as fast as I could among the masses of people who were headed the same direction.
Upon arriving at the Capitol, I photographed people who had taken over the inauguration staging area located on the west side of the building. I eventually worked my way around to the east side of the Capitol, capturing a variety of scenes. The most difficult part was navigating through the masses of people.
I observed a mixture of anger and celebration on display. One scene that stands out to me was seeing a young girl, whose face was full of anger, pointing at a man in the crowd and declaring that he was a member of antifa and telling others to get him. The entire time I was photographing I was conscious of looking out for my own safety, careful not to put myself in a situation that I felt I couldn't get out of.
O'Hara: I reported from Arizona, but there were some occasions I felt nervous. Many participants in Stop the Steal rallies were anti-news media and were COVID deniers, and I was afraid I was going to get sick from anti-mask prevalence.
Q: What does it mean to you to win a Pulitzer Prize?
Mettler: We learned a long time ago that awards should never dictate the journalism we do, and the reality is that we played a very small part in an organization-wide effort to cover one of the most significant moments in American history through audio, video, photo, graphics, design and text. We did our jobs.
Of all the awards, though, I think the Pulitzer for Public Service is most meaningful, because it recognizes the best of what journalism should be: a team effort, centered in truth and precision and serving the people, impossible without humility and collaboration at every stage of the process. To be recognized alongside people who embody all that and also happen to be some of your best friends and fellow Hoosiers? Even better.
McClain: It is very surreal to be part of this Pulitzer. This was a team effort in every way. More than anything else, I am very fortunate to work at a paper that is constantly producing meaningful and important work.
O'Hara: It means a lot for this story to be recognized as being helpful to the public. I'm honored to be named alongside other IU alumni who I deeply admire.
Q: How did IU help prepare you for covering an event such as this?
Contrera: On our first day in professor Jim Kelly's class for the Ernie Pyle Scholars program, he told us to look around the room. He said some of the people we were seated near would be the friends who one day stood next to us at our weddings. This will soon prove to be true: Katie will be in my wedding next year. I don't think anyone could have predicted that we would also witness an attempted coup on democracy together. But I'm deeply grateful to have made it through that day with Katie by my side.
There are so many lessons from IU's journalism program that I carry with me always, especially from professors such as Jim Kelly, Tom and Kelley French, Joe Coleman, Bonnie and Steve Layton, Tony Fargo and Nancy Comiskey. The culture of friendship and support Ruth Witmer fostered at the Indiana Daily Student is what we always try to replicate at The Washington Post. Luckily, the newsroom is filled with Hoosiers to help us do it. Now if only we had a Nick's nearby.
McClain: My education at Indiana University gave me the foundation I needed to be successful in photojournalism. I credit so much of my career to professor Steve Raymer. His photography and mentorship were a huge influence on me. He was an example of how one could make a living as a photojournalist, a career I never considered before arriving at IU. What resonated the most with me was that he was not only an accomplished photographer, but also an outstanding journalist.
O'Hara: I learned how to localize national news stories and I believe that prepared me for this story.
Q: What opportunities did you take advantage of at IU that helped prepare you for your career?
McClain: While studying journalism at IU, I worked primarily at the Arbutus as a photographer and also as a photo editor. The yearbook was such a great training ground. We were allowed a lot of creative freedom and ability to come up with our own story ideas. It gave me a great foundation to go into the workforce as a daily photojournalist.
O'Hara: During my time in Bloomington I was very involved with the Indiana Daily Student. I worked as a photojournalist, designer, photo editor, art director and prepress producer. The relationships I made there endure today, and those journalists are still some of my most trusted confidants. I also did a Hazeltine project that jumpstarted my career.