BLOOMINGTON, Ind. – Indiana University President Pamela Whitten and IU Foundation President J T. Forbes recognized two individuals and two families as 2022 Partners in Philanthropy during a June 2 ceremony. These leaders' service and contributions have helped shape the university's future in lasting ways.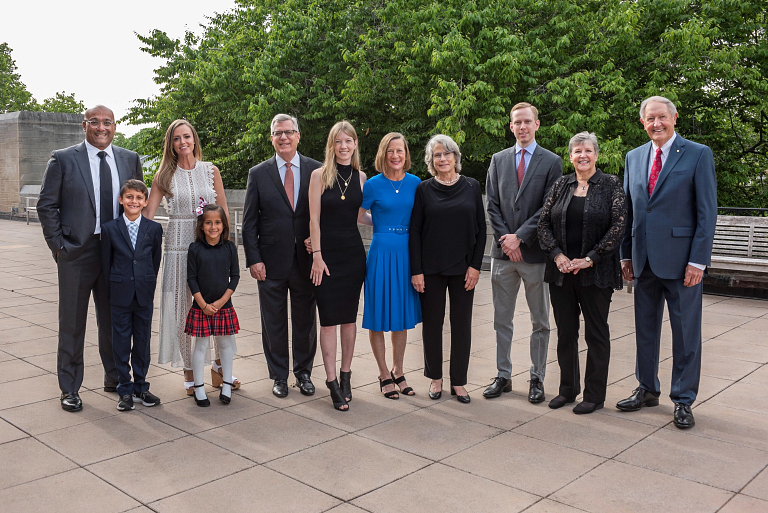 "Generous philanthropic support and dedicated volunteer service are enormously important to the success of our nation's colleges and universities," Whitten said. "Through the Partners in Philanthropy Awards, Indiana University is proud to honor some of IU's most dedicated advocates, supporters and volunteers who have helped transform the face of the university. On behalf of IU, I extend our deep and enduring gratitude to all of them."
Honorees received one of three awards: the Cornerstone Award, Keystone Award or Family Legacy Award. Each year, nominations are solicited from all IU campuses. A committee of representatives from IUPUI, IU Bloomington and regional campuses selects the award recipients.
"This year's honorees share an exemplary dedication to the vision of Indiana University as a place of discovery, learning, creative expression and growth," Forbes said. "Their generous giving and service have helped IU advance knowledge and transform lives for generations to come."
The Cornerstone Award: The Bade family
The Bade family, headed by Aasif and Tasia Bade, was honored with one of this year's Cornerstone Awards, which recognizes individuals whose partnership, volunteerism and generosity have been instrumental to the success of a single IU philanthropic initiative for a campus, program or school.
The Bades focus their philanthropy on causes that provide children the opportunity to achieve their full potential and chance to reach the American dream, regardless of race or ZIP code.
Aasif was a 21st Century Scholar at IU and graduated in 2003 with a bachelor's degree in finance from the Kelley School of Business. Professionally, Aasif held positions at Duke Realty Corp. before starting Ambrose Property Group in 2008. Under his leadership, Ambrose has become one of the nation's fastest-growing e-commerce/industrial real estate firms.
Tasia earned her bachelor's degree in psychology from Hanover College, then developed a love for IU while pursuing her Master of Business Administration. She began her career in commercial real estate, transitioned into a finance role and has since dedicated her time to the couple's children, Kamran and Alina, and to her community.
Aasif and Tasia Bade were driving forces in the construction of the Excellence Academy – the $48 million, 66,575-square-foot facility that created a new "front door" to the IU Bloomington athletics campus. Offering IU student-athletes the best resources to protect their health, safety and wellness, the Excellence Academy also features the Bade Family Career Counseling Center. A full-time staff member and a purpose-built space are now dedicated to mentoring student-athletes as they prepare for life after IU.
The Cornerstone Award: Cathy Springer Brown
Cathy Springer Brown was honored with one of this year's Cornerstone Awards.
Born and raised in Clarendon Hills, Illinois, Brown received her bachelor's degree from Butler University and her master's degree in adult education from IU. She served as education director of the Indiana Judicial Center, an agency of the Indiana Supreme Court, for 30 years. After retiring in 2010, she was a consultant on various projects for the Supreme Court.
Brown and her husband, Rick, who passed away in early 2021, have supported the Herron School of Art and Design consistently for over 15 years. Alongside her sister and brother-in-law, Mary Ann and Scott Hillstrom, the Browns established the Frank C. Springer Family Innovative Faculty Award in 2010, Herron's first endowed faculty research award. Most recently, Brown established the Richard "Rick" Brown Pre-College Scholarships to support students with financial aid.
Brown is in her fourth term as chair of Herron's Dean's Advisory Board and is also a member of the IU Foundation's Arbutus Society, the Herron Legacy Society, the John Herron Society, the Indianapolis Art Center and the Hoosier Art Salon, among others.
The Keystone Award: Kenneth A. Beckley
Kenneth A. Beckley received the Keystone Award, which recognizes individuals who have shown exemplary leadership through their volunteerism and generosity for multiple IU campaigns or fundraising initiatives.
Beckley graduated in 1962 with a bachelor's degree in radio and television from IU Bloomington. While a student at IU, he was involved in Kappa Delta Rho fraternity and the Little 500. His professional experience began as a reporter and anchor; later, he was a member of the first WRTV co-anchor team.
In 1977, he became the first director of university relations for IUPUI. Later, he was the public face and voice of H.H. Gregg for 18 years while serving as corporate executive vice president.
After retiring, he returned to IU in 2002, serving five years as president and CEO of the IU Alumni Association. His leadership led to the growth of programs and services, increased membership, and established the Jerry F. Tardy Operating Endowment.
After more than 40 years of serving IU in volunteer and staff roles, Beckley is a member of all four recognition societies of the IU Foundation. He was co-chair of the campaign to establish an endowment for paid student internships in Radio-Television and was a charter member of The Media School Dean's Advisory Board. He also established an endowment to support The Media School, including the Ken and Audrey Beckley Studio, a facility for TV broadcast news classes and production workshops and IU's first student-run television station.
The Family Legacy Award: The Johnson Family
The Johnson Family received the Family Legacy Award, which recognizes families who have a time-honored tradition of exemplary volunteerism and generosity with Indiana University.
Three generations of the Johnson family have carried on a tradition of service and philanthropy through financial support, active volunteerism and leadership in more than 20 distinct areas within IU. Before their passing, Dick and Ruth Johnson were among IU's most active volunteers and donors, Subsequent generations – including their children, Rick, Alice and Jenny, and grandchildren, Ricky and Annie – carry on that tradition.
The Johnson family's philanthropic efforts have benefited the IU Foundation, the College of Arts and Sciences, the Kelley School of Business, the Jacobs School of Music, the Herron School of Art and Design, the O'Neill School of Public and Environmental Affairs, the Eskenazi Museum of Art, and more than a dozen other important programs and initiatives.
Members of the Johnson family have been unfailingly generous in sharing their time and expertise in service of IU. Both through board membership and through informal advocacy in countless settings, members of the family continue to serve as ambassadors for the university.
About the IU Foundation
Founded in 1936, the Indiana University Foundation maximizes private support for Indiana University by fostering lifelong relationships with key stakeholders and providing advancement leadership and fundraising services for campuses and units across the university. Today, the IU Foundation oversees one of the largest public university endowments in the country, with a market value of more than $3.5 billion. IU is consistently ranked among the top four of Big Ten universities in annual voluntary support.