BLOOMINGTON, Ind. – Indiana University President Pamela Whitten and IU Foundation President J T. Forbes recognized two individuals and two families as 2022 Partners in Philanthropy during a June 2 ceremony. These leaders' service and contributions have helped shape the university's future in lasting ways.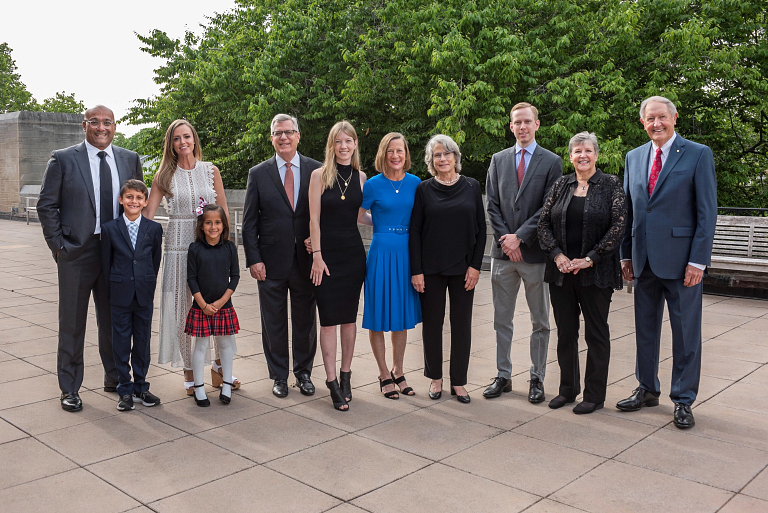 "Generous philanthropic support and dedicated volunteer service are enormously important to the success of our nation's colleges and universities," Whitten said. "Through the Partners in Philanthropy Awards, Indiana University is proud to honor some of IU's most dedicated advocates, supporters and volunteers who have helped transform the face of the university. On behalf of IU, I extend our deep and enduring gratitude to all of them."
Honorees received one of three awards: the Cornerstone Award, Keystone Award or Family Legacy Award. Each year, nominations are solicited from all IU campuses. A committee of representatives from IUPUI, IU Bloomington and regional campuses selects the award recipients.
"This year's honorees share an exemplary dedication to the vision of Indiana University as a place of discovery, learning, creative expression and growth," Forbes said. "Their generous giving and service have helped IU advance knowledge and transform lives for generations to come."
The honorees
About the IU Foundation
Founded in 1936, the Indiana University Foundation maximizes private support for Indiana University by fostering lifelong relationships with key stakeholders and providing advancement leadership and fundraising services for campuses and units across the university. Today, the IU Foundation oversees one of the largest public university endowments in the country, with a market value of more than $3.5 billion. IU is consistently ranked among the top four of Big Ten universities in annual voluntary support.