Jayma Meyer is tired of firsts.
"The first woman broadcaster in Major League Baseball, the first woman to lead the United States Olympic Committee – those are all great firsts, but we need to be talking about true equality," Meyer said.
Fighting for women's equality in sports has been Meyer's passion turned profession for the past decade. Meyer is a visiting clinical professor in the Indiana University Paul H. O'Neill School of Public and Environmental Affairs, where she teaches sports law and public policy. She's also counsel at global law firm Simpson Thacher & Bartlett, where she does pro bono work on cases involving gender equity in sports – an issue she knows intimately.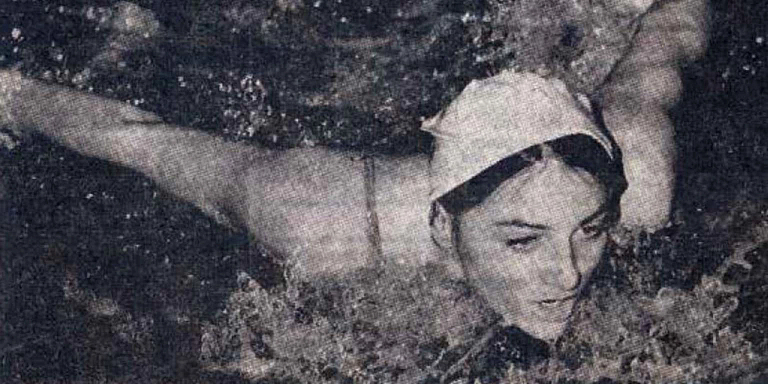 Meyer spent the first eight years of her life in Bloomington, Indiana, living just a few blocks away from the Bryan Park Pool. As a child, she would walk over to swim in the morning and then stick around to watch Doc Counsilman and the IU men's swimming team practice.
"I would stand outside the pool area and cling to the chain link fence for hours watching them, just so amazed at all the fun they were having while engaging in such hard work," she said.
It inspired Meyer to become a swimmer herself, leading her to take lessons and start swimming with a team. She really started to excel after moving to Valparaiso, Indiana, where she competed in both Amateur Athletic Union and YMCA swimming. She set state records and made it to the Junior National Olympics, but then she got to high school. There was no girls' swimming team, and the boys' coach refused to allow her even to practice with the guys, so Meyer was left to train on her own.
The local YMCA allowed her to swim at 5:30 a.m., as long as her mom accompanied her as a "lifeguard." Meyer was also given a designated lane at Valparaiso University, where she could train during free swim after school.
"It was very lonely, as you can imagine," she said. "Basically I hit a wall."
She only got a chance to train with others during the summer, when she would travel to Florida to work with a swimming coach. Meyer had one dream in mind: making it to the Olympics. She came close; she was among the top 10 women in the world in butterfly in 1971. But a serious medical issue took her out of the water for three months. While she qualified for the Olympic trials, the lost training time meant she didn't make the team.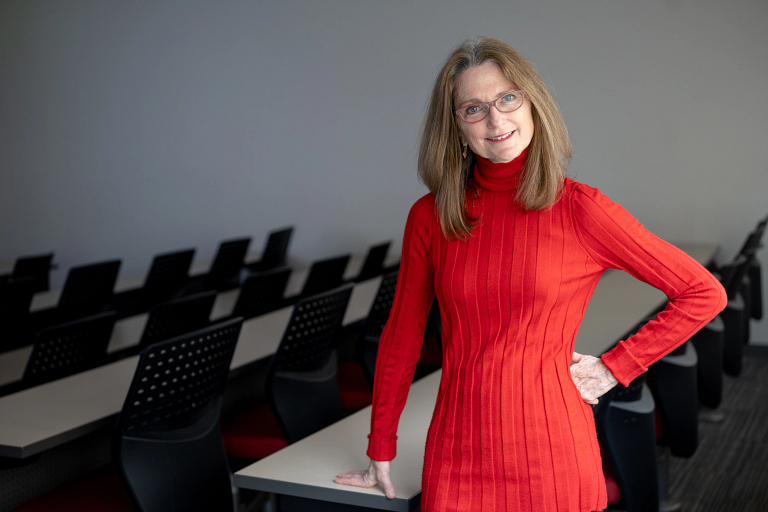 Rather than going to the 1972 Olympics in Munich, Meyer came to IU Bloomington. But here, too, there were no opportunities for women to swim competitively at the time. Title IX passed in 1972, forbidding federally funded schools from engaging in sex discrimination in any program or activity, but change came slowly. Regulations related to athletics didn't take effect until 1975, and it took years for substantial change at many institutions. So Meyer stopped swimming.
"I was utterly disappointed that this could happen again. It happened in high school, and here it was happening again in college," Meyer said. "I wasn't an activist, but I decided right then I needed the tools to bring about change in gender equity and more broadly in social justice."
She found those tools at what's now known as the O'Neill School, where fairness and justice were common themes in her coursework. Meyer was part of the school's first graduating class, and then went on to study law at Georgetown University Law Center. She built a successful career in antitrust litigation before shifting her focus to an issue that has stuck with her since her youth: gender equity in sports.
"I don't want girls feeling like they're second-class citizens," she said. "And that message is sent to both the girls who experience the inequities and the girls who are not playing sports but witness them."
Accordingly, Meyer has become a strong advocate, providing pro bono representation in a variety of cases involving Title IX violations in athletics.
One such case that Meyer is leading is a federal class-action lawsuit against Hawaii's largest public high school. Among the claims is that the girls have received fewer opportunities to engage in sports, resulting in lower participation among girls than boys at the school. The complaint also alleges that the girls had no access to the athletics-only locker room, no pool time for water polo – necessitating that they swim in the ocean for practices – and inferior game and practice facilities.
"In fact, the girls had to lug around their equipment and athletic clothing all day because they did not have lockers (unlike the male athletes) and then had to change under the bleachers or at Burger King," Meyer said.
While many of the cases she litigates result in positive changes, Meyer said they also provide an important reminder: 50 years after Title IX passed, the fight for gender equity continues.
"It's hugely better for girls than it was in '72, but there's much more still to do," She said. "I plan to do everything possible to make certain we keep moving forward."