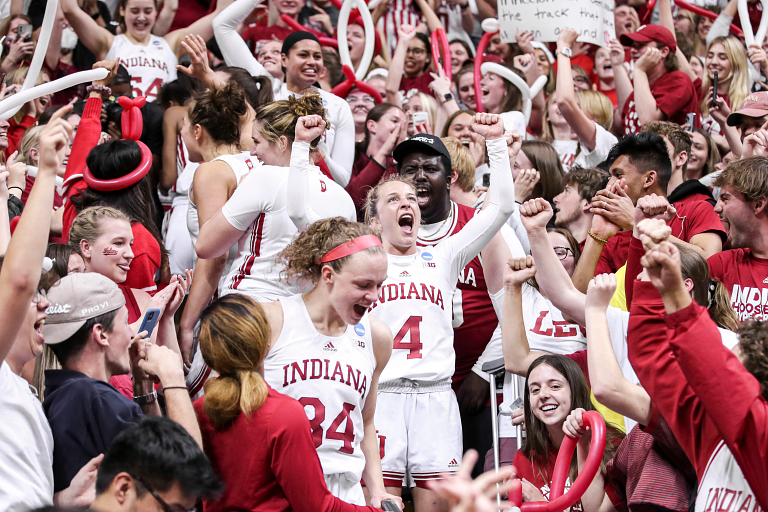 A crowd of 9,627 fans cheered as the Indiana University women's basketball team, sporting its classic cream-and-crimson uniforms, took the court at Simon Skjodt Assembly Hall for its second-round NCAA Tournament game in March. IU's roster featured domestic and international scholarship players who had been playing hoops since they were children.
Fifty years ago, such a scene was almost unimaginable for women who wanted to play basketball – or any sport – at IU and colleges across the country.
When IU started a varsity women's basketball program for the 1971-72 academic year, players were recruited with fliers posted around campus announcing tryouts. Most of the players were majors in the School of Health, Physical Education and Recreation, and they added numbers to their HPER shirts to create their basketball jerseys. The team practiced and played games in an upper-level gym in the HPER building with a limited gathering of family and students watching.
However, the enactment of the Education Amendments Act of 1972 that summer set a course for progress, with women's athletics programs making significant strides toward equity with men's programs. The federal legislation included Title IX, which prohibits discrimination based on sex at federally funded educational institutions. That includes athletics, meaning there must be equal participation opportunities and financing for men and women.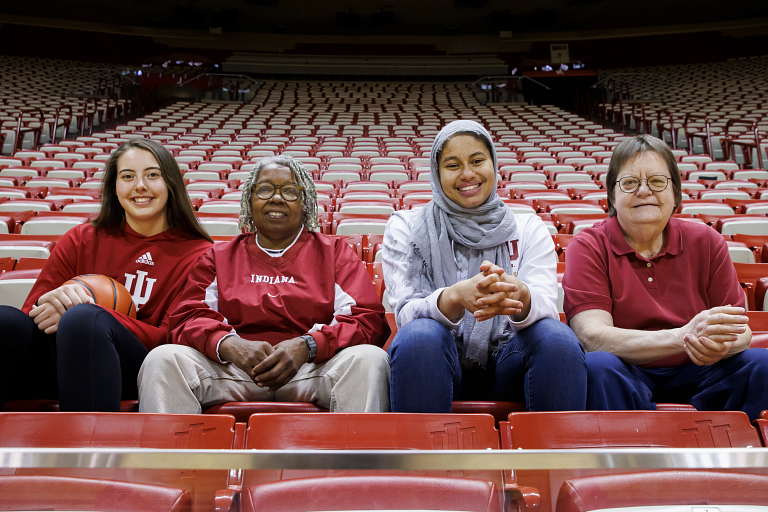 Now, the IU Department of Athletics offers 12 varsity sports for women and 10 for men, with the maximum number of scholarships allowed by the NCAA awarded in each sport.
Former and current IU women's basketball players Evelyn Butler, Vella Jo Price, Kiandra Browne and Mackenzie Holmes gathered recently to discuss their experiences at IU and the impact of the legislation.
"We definitely wouldn't be where we are without Title IX, and I'm very thankful for that," said Browne, who just completed her sophomore season at IU.
Initial steps
The women's liberation movement in the 1960s and the Civil Rights Act of 1964 helped create athletics opportunities for women at IU and other schools. Basketball and field hockey were the first extramural women's sports teams offered in the 1960s.
However, IU's women's basketball program didn't play its first official game as a varsity sport until Jan. 22, 1972, defeating Valparaiso 70-40 under head coach Bea Gorton.
Butler, a member of that team who also played softball and field hockey, said she was excited to play collegiately because her high school didn't have varsity women's sports.
In the beginning, though, women's sports operated on a shoestring budget.
The women's basketball uniforms initially doubled as the uniforms for the softball team. A warmup jacket was an off-the-rack blue sweatshirt with a white script "Indiana University" embroidered later. For a couple of years, the basketball players had no trainers to tend to their injuries and had to seek medical care on their own. They learned how to wrap each other's ankles, Butler said.
The players also didn't have academic support staff within the athletics department to turn to for help, and didn't get to register early for classes to accommodate their schedules like athletes do now. Players also had to pay for their own meals, so McDonald's was a common choice for the players because it was cheap.
"We basically had nothing," Butler said. "I played because I wanted to, because I enjoyed the game of basketball."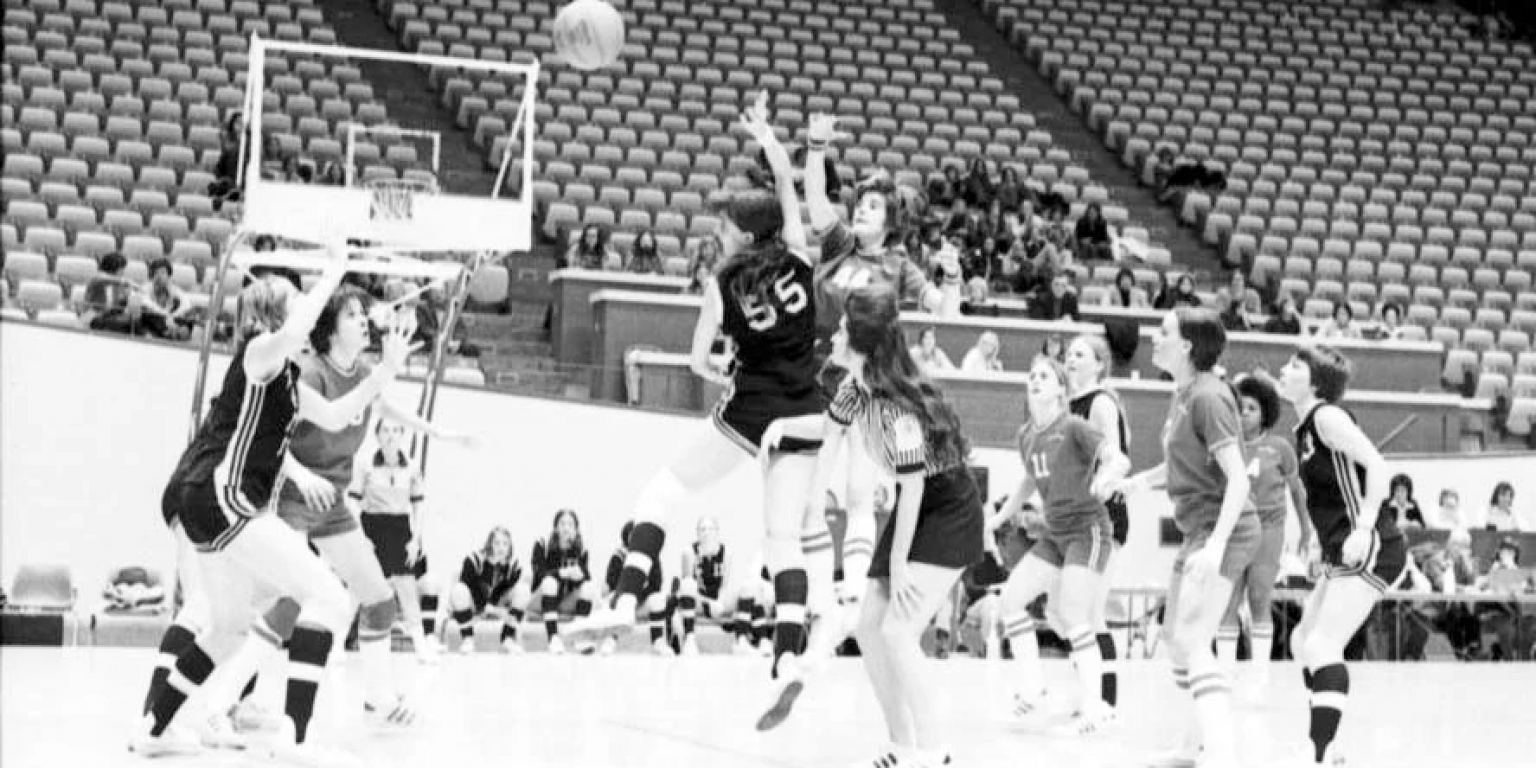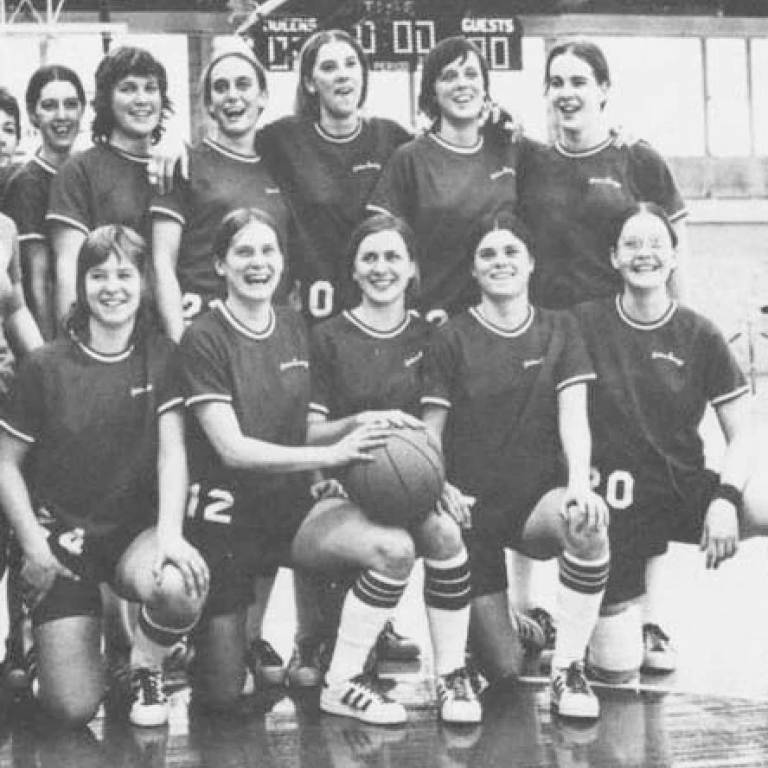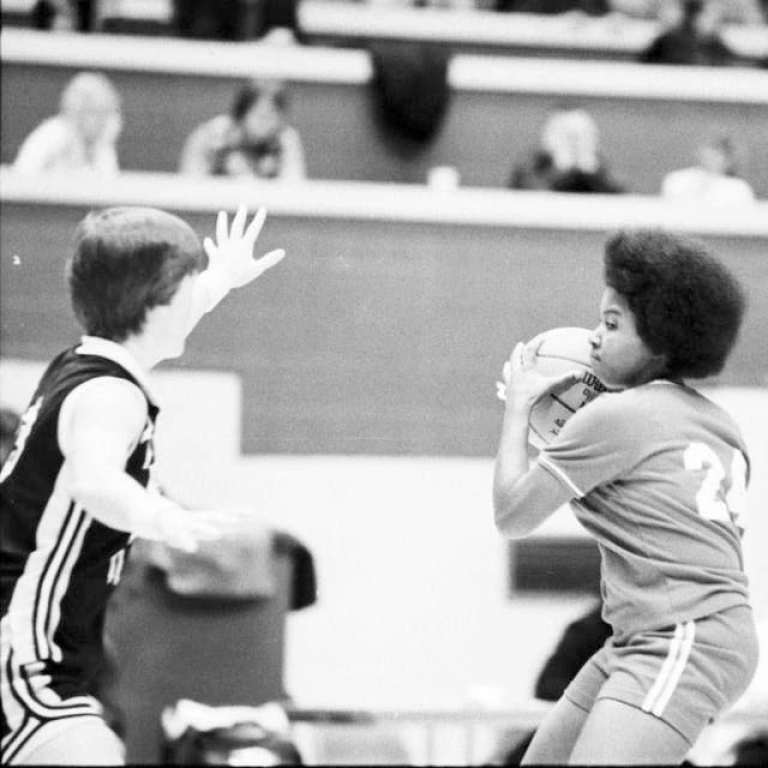 Photos courtesy of IU Archives
Eventually, the women's basketball team was allowed to play games in what is now Simon Skjodt Assembly Hall.
"That was like a big moment for us," Butler said.
But that opportunity still had caveats.
"We sat and waited for some men's practices to get over to play games with teams in the Big Ten," Butler said. "Our games could not start until they were finished, even if the start time had passed because they wanted to practice longer."
Although Title IX was enacted June 23, 1972, significant changes for women's athletics were slow to occur.
" I don't know that we were fully taught what it's supposed to be; it was kind of like you had to go find out for yourself," said Price, who played on the basketball team from 1972 to 1975, and on the softball team from 1972 to 1976. "It took a couple of years from when it passed for us to feel any real effects from it."
Total expenses for the 1972-73 women's basketball team, including travel, lodging, meals, officials, entry fees and uniforms, were $3,222.36, according to a document in IU Archives. The cost for the shirts and shorts the players wore was shared equally by the softball program.
The women's basketball team traveled to road games in IU-owned vans that the coaches drove, Butler said. The first time the team flew to a game was for the Association for Intercollegiate Athletics for Women national tournament in 1973, when the Hoosiers reached the Final Four. Traveling by plane to New York was made possible by financial support from the IU Foundation.
However, that joyous moment wasn't experienced by every player.
"Because of budget limitations, I wasn't able to travel with the team to the 1973 Final Four, even though I was on the team and also played on the JV team," said Price, who works in IU's Office of Institutional Equity. "At first, we were told everyone could go; then the day before, a few of us were told we wouldn't be able to go."
Significant progress
Hearing about Butler's and Price's experiences from 50 years ago makes current Hoosiers Browne and Holmes realize how much has changed over five decades.
"It's really crazy to think how far it's come since the '70s," said Holmes, a junior on the team in the 2021-22 season.
Both Holmes and Browne said their basic understanding of Title IX is that women should receive what the men receive.
IU athletes – both men and women – have access to staff who help with injuries, training and nutrition, and provide academic support. The men's and women's basketball programs, for example, each have their own practice courts, meeting rooms and locker rooms in Cook Hall, and they share a weight room. Traveling to away games by plane is common.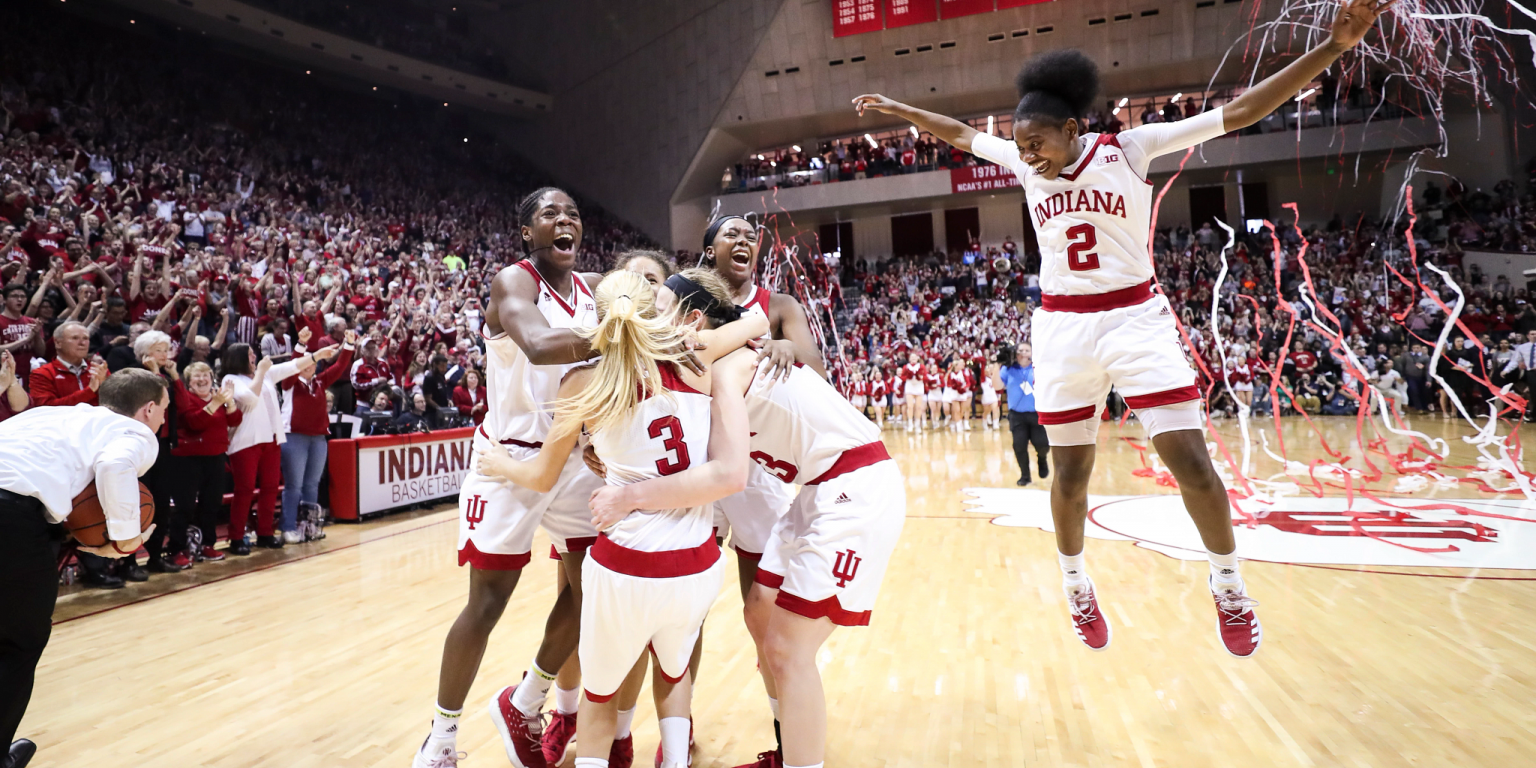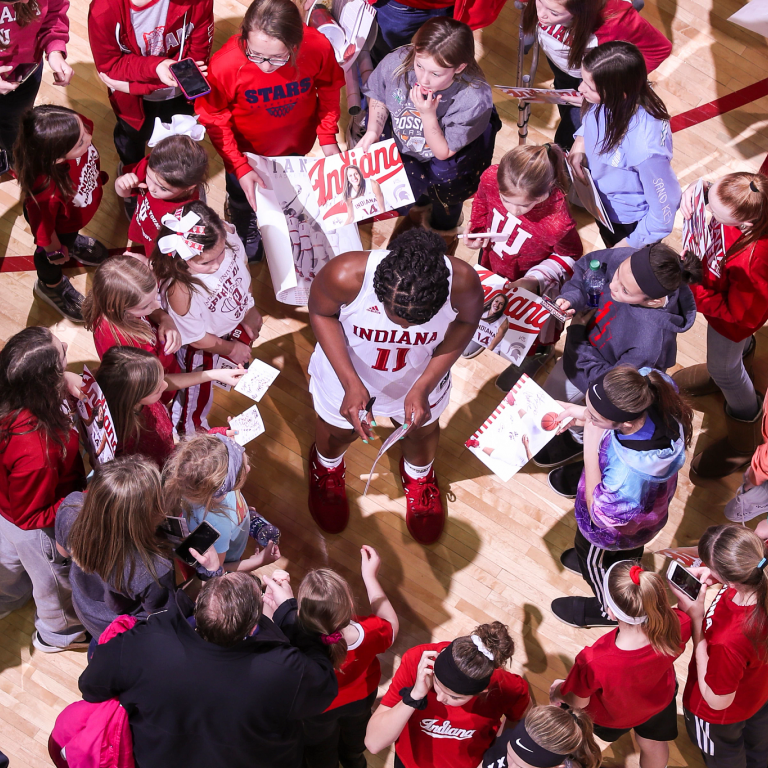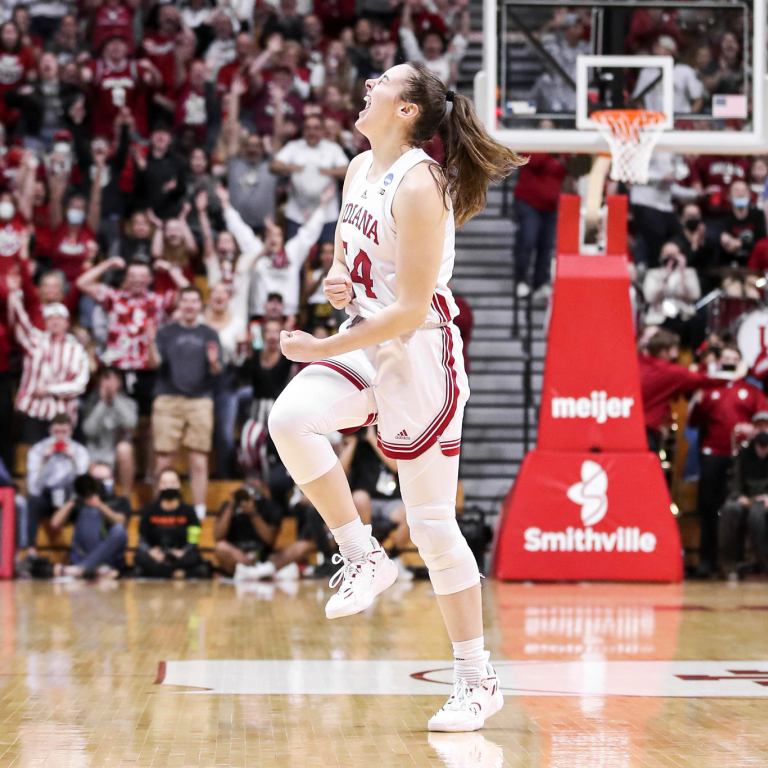 Photos by John Sims, Gracie Farrall and Craig Bisacre, Indiana University Athletics
According to the 2021 Equity in Athletics Disclosure Act Survey, total expenses for IU's women's sports programs for 2020-21 were just over $19 million. Comparatively, the women's athletics budget for the 1974-75 school year was $122,000.
Athletics scholarships weren't available for women at IU until 1976. Today, 139 are awarded across the 12 women's sports, while 161 are awarded across the 10 men's sports – skewed by the 85 allowed for football.
Browne and Holmes said they appreciate the resources and opportunities available to them that many other students don't receive, such as athletics scholarships, academic advisors, early registration for classes and medical help from trainers.
"I'm so thankful to be a student-athlete here; I'm on scholarship," Holmes said. "I really can't be complaining; I have so many blessings in my life."
Holmes and Browne said they also appreciate the fan support the team receives, with thousands showing up for home games – a significant difference from the sparse crowds in the early years of the program. The thousands of fans at the Hoosiers' home NCAA Tournament games in March made it difficult for the opposing teams to hear play calls and communicate with each other, Holmes said.
"It's just such an advantage to have fans like that, and I feel like that's something I'm so thankful for," she said. "Do we sell out Assembly Hall? No, but we get a lot of fans. It's incredible the support we get."
More work to do
Despite the progress that's been made over 50 years, the current and former players said there's more to be made. One area is with the attitudes and rhetoric surrounding women's sports.
Price said that when she grew up, she was told that girls didn't do certain things. They were expected to take home economics classes, not play sports. So she had to play basketball with her male cousins. When she did get to play girls basketball, it was a six-on-six version: Two players stayed at one end of the court to play only offense, two players stayed at the other end to play only defense, and two players could move anywhere.
Butler, also familiar with six-on-six basketball, said the belief was that girls were unable to play the same style of basketball as men because they were not athletic enough.
Browne said similar beliefs still exist today.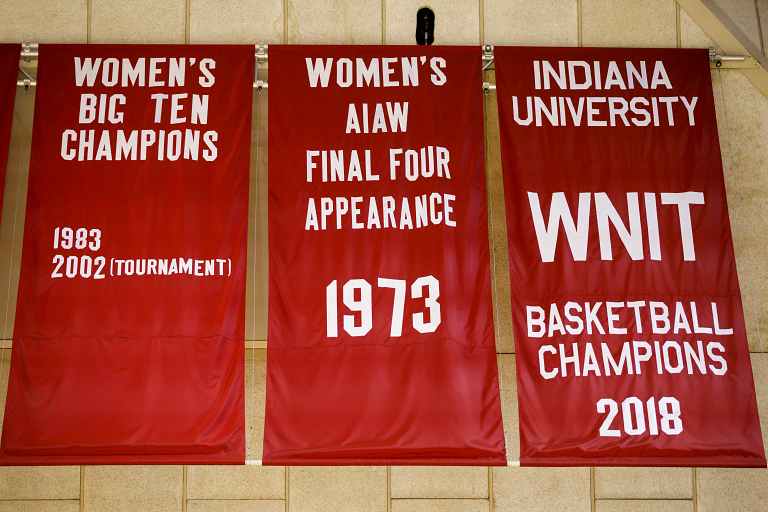 "A lot of the rhetoric that surrounds it is still the same," she said. "We're talking about being too dainty or being soft or not as strong or not as fit. There are still barriers we're trying to break down."
Browne said she played basketball with boys while growing up in Montreal, and she put in the same work as male players who aspired to play basketball at higher levels. While that might result in similar collegiate opportunities, Browne said men have more opportunities to play professional basketball and receive huge contracts.
The WNBA has just 12 teams and no minor league. The NBA has 30 teams plus an affiliated minor league with 29 teams.
"At the end of the day, we're both putting in the work, we're both putting in the sweat equity, we're both working hard," Browne said. "But there is so much of an imbalance."
Price said that imbalance means that women in college athletics have to rely on their degrees more than men.
Imbalance has been seen in other ways, too.
The NCAA came under scrutiny in March 2021 for the significant disparity in amenities afforded the men's and women's basketball players in their respective NCAA tournaments. A subsequent external review found the NCAA had acted with systemic gender inequity, had maximized the value of the men's tournament as the organization's primary funding source and perpetuated a narrative that women's basketball was unprofitable – even though ESPN televised every game of the 2021 women's tournament. For this year's NCAA tournaments, the men and women received the same amenities.
"When we see what happened with the NCAA tournament last year and this year, suddenly in a year they were able to get us the same things as the men," Browne said. "Things don't take time; it takes attention."
For its part, IU is trying to be proactive in bolstering its women's athletics programs. Last year it announced the IU Women's Excellence Initiative for IU's female student-athletes and their athletics programs.
"The path forward has not always been fast, and it has not always been easy," said Scott Dolson, IU vice president and director of intercollegiate athletics. "We have come a very long way during these last 50 years, but there's still plenty of work that needs to be done. That reality is why we launched our IU Women's Excellence Initiative.
"Through this initiative and our long-standing commitment to our women's athletics programs, we look forward to celebrating many enormous accomplishments from our current and future female student-athletes who represent Indiana University and Hoosiers all across the country for many years to come."