When she isn't busy taking advantage of research opportunities at Indiana University Bloomington, incoming junior Kathryn Riordan loves to play pickleball and watch early 2000s teen dramas with her friends, and she recently celebrated her birthday with a "Taylor Swift in Space" theme party. She is also on a unique career pathway to foreign service as one of 15 students – and one of only five women – selected nationwide by the U.S. Department of State to receive the Foreign Affairs Information Technology Fellowship.
As a FAIT Fellowship recipient, Riordan will receive up to $75,000 in academic funding. She will work as an intern, first at the Department of State in Washington, D.C., and later at a U.S. embassy or consulate overseas.
She doesn't know where she will be placed overseas when the time comes, but Riordan said she's excited for what the future holds for both herself and other women in the industry.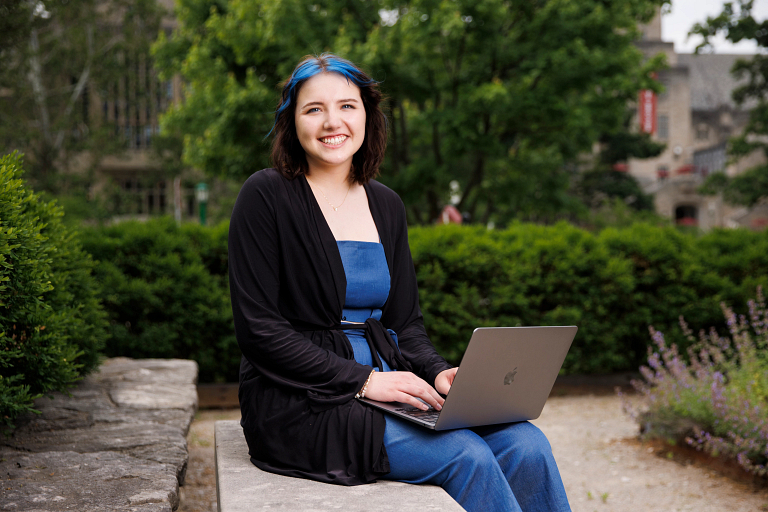 "At this moment, women have a really cool opportunity to empower other women and young girls to be interested in tech," Riordan said. "As a part of the national Women in Cybersecurity organization, I've had the opportunity to attend their last few conferences. It's insanely cool to look around the room and see hundreds of women who hold cyber roles across the industry and learn about their own journey into cyber and their diverse backgrounds."
Spreading the word that careers in cyber are attainable for everyone, no matter their gender, financial status or range of interests, is important to Riordan.
"Cyber is for everyone," she said. "There are around 150 individual sectors within cyber; you can do anything you want. There are human-centered roles and education roles. Cyber has so many options for people who are problem solvers or creative thinkers."
Riordan, who grew up in Columbus, Indiana, could have attended college anywhere. She applied to 30 schools nationwide, but she chose IU Bloomington because of the Cybersecurity and Global Policy Program in the Luddy School of Informatics, Computing and Engineering.
Ranked in the top 25 undergraduate cybersecurity programs in the country, the Cybersecurity and Global Policy Program at IU is the first of its kind, as it combines technical skills with the study of language, culture and global policy. Created through a partnership among the College of Arts and Sciences, the Luddy School and the Hamilton Lugar School of Global and International Studies, the program prepares students for the rapidly growing cybersecurity job market.
"It seemed so unique and innovative," Riordan said. "I thought the research opportunities at Luddy were really cool, and it seemed like the best of both worlds because both Luddy and the Hamilton Lugar School are small schools on a big campus."
While academics were the biggest draw, Riordan said the cultural opportunities at IU were an added bonus.
"I liked the idea that I could find both academic fulfillment and new things to seek out in my free time here," she said. "I had the opportunity to watch Yo-Yo Ma perform a few weeks ago, and he gave a guest lecture on music in wartime earlier in the day. I saw 'Waitress' as it left Broadway in the fall. In the winter I went to both the men's and women's IU vs. Purdue basketball games.
"IU routinely has the number one ranked Model U.N. in the Big Ten, and more than 750 other campus organizations to explore. This semester I joined the Theme Park and Attractions Club and the Creative Coding Club. Most opportunities that are provided for students are free, which is really cool."
Once she chose to attend IU, Riordan said she was met with support from faculty before the fall semester even started. The summer before her freshman year, she received a call from Isak Nti Asare, co-director for the Cybersecurity and Global Policy Program.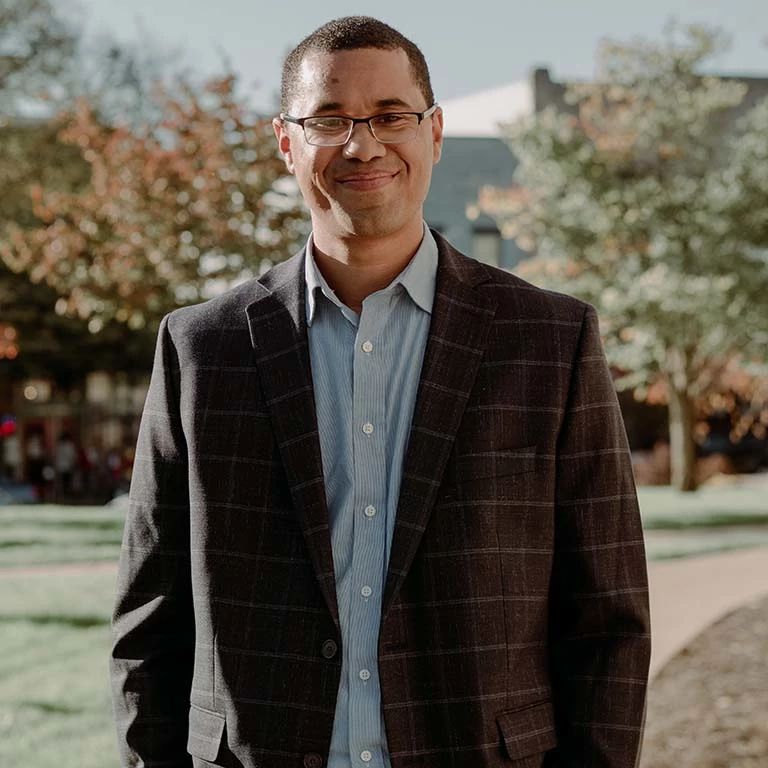 "He called me and said 'I will do whatever it takes to make you wildly successful at IU,' and I think that statement from him has really rung true because he has definitely dedicated quite a bit of energy to pushing me toward these things," Riordan said.
Asare encouraged Riordan to apply to the FAIT Fellowship because he said that in addition to her technical skills, she also has a desire to serve her nation.
"Organizations of every type are being hurt by the shortage of cybersecurity workers, and this is acutely so in the public sector," Asare said. "The students in our program have a sophisticated understanding of programming, data structures, networked systems and security protocols, alongside the wide range of privacy, cultural, legal, economic and diplomacy issues associated with the field. Kate's strong public-service ethos speaks for itself. She wants to use her skills to make the United States a more prosperous, safe and secure nation."
That drive to make a difference comes naturally for Riordan. With a mother who works as a special education teacher and a father who pastors a Lutheran church, she said she was raised to help others.
While at IU, Riordan has found ample opportunities to use her technical and global policy skills for the betterment of others. In addition to serving as chapter president for the Women in Cybersecurity student organization, Riordan is a Luddy Makerspaces technician and a Luddy Ambassador. She works as a researcher with the Luddy Security and Privacy Lab where she conducted user experience research with the Tor Browser, a free and open-source internet browser that provides anonymity to users. The Tor Browser can help people living in restrictive regimes where the internet is censored and the global freedom index ranks low. Riordan received the 2021 Executive Dean's Award for Undergraduate Research and Creative Activity for that project.
"I feel very strongly about the way that vulnerable populations are affected by cybersecurity," Riordan said. "Cyber awareness and cyber education is really important to me."
Riordan said she hopes high school students will look into the cybersecurity programs at IU, especially since diversity within the field is critical to its success in the future.
"Our data set should reflect our population, and our creators should reflect the people that we want to be using it," Riordan said. "I definitely am thankful for those who paved the way for me to have these opportunities to explore the field here at IU, and we now have the opportunity to pay it forward."