Editor's note: A Ukrainian version of this news release is also available.
BLOOMINGTON, Ind. – A new agreement will support up to 20 humanities and social sciences scholars who are in or from Ukraine for one-year, nonresidential fellowships at Indiana University Bloomington, Provost Rahul Shrivastav has announced.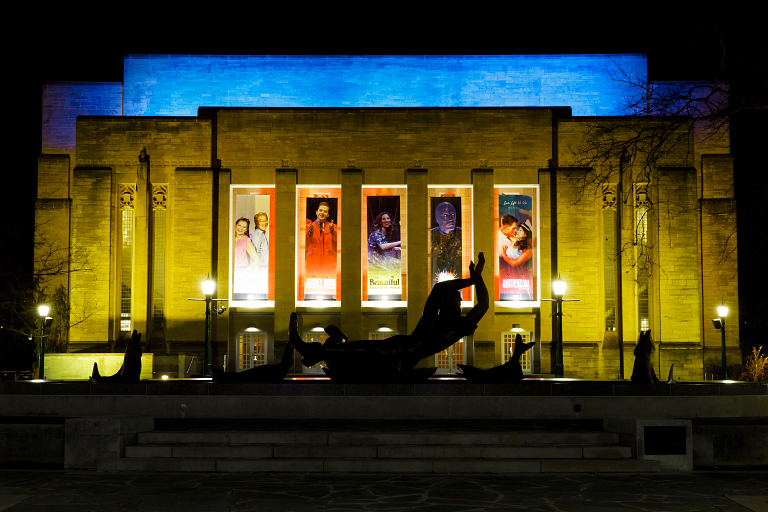 The IU Robert F. Byrnes Russian and East European Institute at the Hamilton Lugar School of Global and International Studies will administer the new IU-Ukraine Non-Resident Scholars Program. The agreement is one of IU's responses to the Russian Federation's unprovoked military assault on Ukraine, which has left around 7.1 million Ukrainians internally displaced. Nearly 6.8 million have fled as refugees.
"Among the internally and internationally displaced are thousands of scholars – the majority of whom hope to return to Ukraine and to their homes as soon as possible to contribute to the rebuilding of the country and the continued education of its young people," Shrivastav said.
IU Vice President for International Affairs Hannah Buxbaum said the program will strengthen and extend existing collaborations between Ukrainian scholars and IU faculty as well as enable and support new joint projects.
"IU has been a leader in research, language training and area studies in Eastern Europe for over six decades," Buxbaum said. "This fellowship will provide urgently needed support to Ukraine's intellectual community."
Founded in 1958 as IU's first area studies program, the Russian and East European Institute is a hub for innovation in scholarship and new ways of thinking about this dynamic region. The institute is a Title VI National Resource Center and Foreign Language and Area Studies program with more than 90 affiliated faculty in schools and departments across the IU Bloomington campus, including College of Arts and Sciences faculty in anthropology, second language studies, and Slavic and East European languages and cultures; faculty in the O'Neill School of Public and Environmental Affairs; and others who specialize in the study of Ukraine. 
In addition to administering the program, the Russian and East European Institute will organize regular webinars during which fellows can share work and build community; faculty can oversee fellows' participation in a spring 2023 conference; and the institute can solicit final reports from fellows. 
Sarah D. Phillips, director of the Russian and East European Institute and a professor of anthropology, said the program was designed in consultation with Ukrainian scholars and meets a vital need for nonresidential fellowships.
"Many fellowships conceived in response to the war in Ukraine are for scholars who had to leave Ukraine," Phillips said. "They provide important support for those now living abroad. But many Ukrainian scholars – for legal, professional or personal reasons – cannot leave the country, even in wartime. These IU nonresidential fellowships will allow them to continue their research, teaching and publication projects without leaving the country. Our colleagues are eager to rebuild and strengthen Ukraine's educational and scholarly infrastructure, and this program will contribute to that."
Collaborations with both tenure-track and non-tenure-track IU faculty members are encouraged, though not required. The IU partners and liaisons should be current faculty. Ph.D. candidates at IU will also be considered for this role. Collaborative projects may include a one-on-one collaboration or larger, multi-researcher collaborations. While these funds are designated for Ukrainian applicants, IU faculty may apply for other internal or external funding to support their work.
Fellows will be invited to participate in the annual Taras Shevchenko Ukrainian Studies Conference, which in 2023 will be organized by the IU Department of Slavic and East European Languages and Cultures in cooperation with the Russian and East European Institute.
Scholars in and from Ukraine who are currently enrolled in a postgraduate program, or hold a kandidat, doctorate or Ph.D. in any discipline within the social sciences and humanities, are eligible for this program. Proficiency in English is a plus but not a requirement for eligibility.
The application is now available in both English and Ukrainian, and the deadline to complete is Aug. 1, 2022. Successful applicants will receive a $5,000 grant to support their research, writing and/or teaching, and will have a one-year appointment as visiting scholars with an IU computing account, including access to the digital resources and virtual borrowing privileges of IU Libraries, Media Collections Online, Kanopy and IU ScholarWorks.
Inquiries about the application process and the program should be sent to reei@indiana.edu with the subject line "IU-Ukraine Non-Resident Scholars Program."