BLOOMINGTON, Ind. – Ten faculty members from Indiana University will receive Fulbright U.S. Scholar Awards for the 2022-23 academic year from the U.S. Department of State and the Fulbright Foreign Scholarship Board.
They are among over 800 U.S. citizens who will have the opportunity to conduct research or teach abroad in the coming academic year through this program. They join a network of thousands of Fulbright alumni, including 61 Nobel Prize laureates, 89 Pulitzer Prize recipients and 40 who have served as a head of state or government.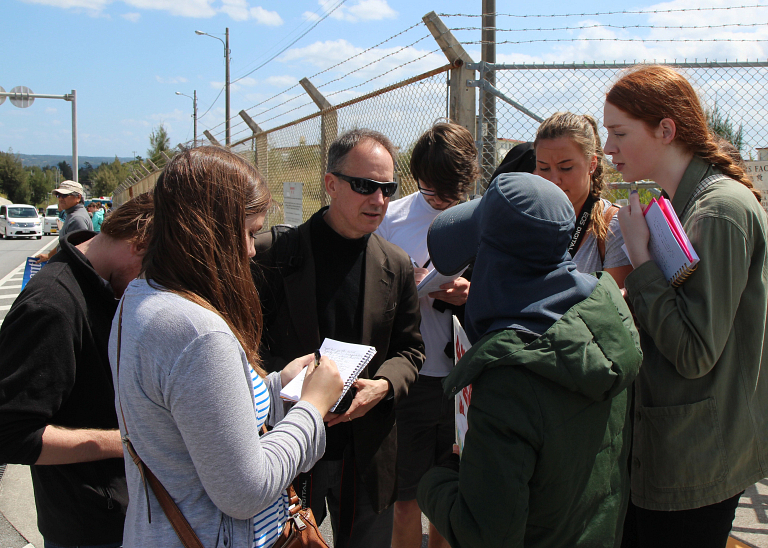 "On behalf of Indiana University, congratulations to each of our faculty who were recently awarded a Fulbright," IU President Pamela Whitten said. "We are proud of their pursuit of excellence in their fields and grateful they will have an opportunity to enrich their research and teaching. This recognition of faculty from across our university and a diversity of disciplines is well-deserved and represents a continuation of IU's nearly 45-year history of producing Fulbright awardees whose work strengthens our global community."
The IU faculty Fulbright recipients represent IU Bloomington, IUPUI, IU Kokomo, IU South Bend and IUPUC. The recipients and their projects include:
Suzanne Babich, professor in the Richard M. Fairbanks School of Public Health at IUPUI, associate dean of global health, and global health acting chair. She will travel to Croatia in spring 2023 to work with colleagues in Rijeka to establish a new interprofessional Master of Public Health program that will equip graduates with foundational knowledge and skills in public health. She will also teach and mentor students and faculty.
David Bosco, associate professor in the Hamilton Lugar School of Global and International Studies at IU Bloomington, who will travel to Spain in fall 2022 and will be based at the University of Cadiz. He will be researching maritime security cooperation with professor Alejandro del Valle Galvez, an expert in maritime law. The project follows up on research Bosco has been conducting in recent years and will build on his recent book, "The Poseidon Project: The Struggle to Govern the World's Oceans."
Joseph Coleman, a journalist and professor of practice in The Media School at IU Bloomington, who will travel to Tokyo in summer 2022 and spring 2023 to research the growth of immigrant communities in Japan. The Japanese government has loosened immigration controls in hopes of attracting foreign labor to remedy labor shortages as the population ages. Coleman will investigate the motivations and experiences of individual migrants and examine the challenges of settling into a society that has long seen itself as mono-ethnic.
Elizabeth Cullen Dunn, professor in the College of Arts and Sciences' Department of Geography at IU Bloomington, who will travel to the University of Warsaw in Poland during spring and summer 2023. In cooperation with the Kyiv School of Economics, she will offer a hybrid course on global humanitarianism and aid to displaced people. The virtual component will bring Ukrainian students into the conversation with the Polish students attending in person. She has been conducting fieldwork on volunteer responses to war since Russia invaded Ukraine and hopes to continue this research on the ground. Additionally, she will work on her book, "The Crowdsourced War."
Rebecca Manring, a professor in the College of Arts and Sciences' Department of Religious Studies and the Dhar India Studies Program at IU Bloomington, as well as adjunct faculty in comparative literature, who will pursue fieldwork connected with the Dharma-mangal, a Middle Bengali epic she is translating. The award will allow her to travel to West Bengal in two successive springs to observe the two-week festival in honor of the god Dharma and discuss it with participants.
James Mendez, division head and assistant professor in the Department of Chemistry, IUPUC, who will travel to Bratislava, Slovakia, in spring 2023. He will work with Ivan Simkovic, a principal research scientist at the Slovak Academy of Sciences, on a system for 3D printing composites made from chitin, a naturally occurring polymer. This could provide a framework for both renewable and biologically compatible 3D-printed materials. They are also planning several outreach programs at surrounding schools and colleges to discuss modern applications of 3D printing.
Joanna Niżyńska, associate professor of Polish literature and culture in the College of Arts and Sciences' Department of Slavic and East European Languages and Cultures at IU Bloomington, who will be stationed in Warsaw at the Polish Institute of Advanced Studies. Her focus will be on developing her upcoming book, "The Polish-Jewish Memory in Postcommunist Poland and the Legacy of Communism Fifty Years After March 1968." Her work will illuminate the conditions of Polish-Jewish cultural memory in postcommunist Poland and call for a more nuanced vocabulary for future developments.
Kathy Parkison, emerita professor in the School of Business' Department of Economics at IU Kokomo, who plans to travel to Ashgabat, the capital city of Turkmenistan, in fall 2022 and spring 2023. During a 2005 Fulbright in Georgia, she developed a program on economic education and aims to replicate it in a different location. She also hopes to work with in-service and pre-service teachers, faculty members and Turkmenistan's Ministry of Education.
Elaine Roth, professor of film studies at IU South Bend, will travel to Mexico City to teach and serve as a U.S. Studies Chair at the Ibero-American University. Roth was also named a Fulbright U.S. Scholar in 2010-11, studying American literature, cinema and cultural studies at the Complutense University of Madrid in Spain.
Juergen Schieber, professor in the College of Arts and Sciences' Department of Earth and Atmospheric Sciences at IU Bloomington, who will travel to Milan and Bologna during spring 2023 and partner with Claudio Pellegrini at the Institute of Marine Sciences. Schieber and Pellegrini have worked together for years on high-resolution sedimentological and paleoclimate analysis from Adriatic mud-belt cores.
"The selected faculty are distinguished experts in their fields of study, and this prestigious award will allow them to engage in research abroad, expand their professional networks, and strengthen ties with our international partner institutions," IU Vice President for International Affairs Hannah Buxbaum said. "We congratulate all of them and are proud that they will represent Indiana University around the world."
Indiana University Bloomington was named a top producer for the Fulbright U.S. Student Program the past seven years and was a top producer for the U.S. Scholar Program for six years in a row. The long tradition of Fulbright awardees at IU started in 1951, and the university has seen award recipients every year since 1979. Their awards and international work bring distinction and perspective to IU.
For over 75 years, the Fulbright Program has provided more than 400,000 participants – chosen for their academic merit and leadership potential – with the opportunity to exchange ideas and find solutions to challenges facing our communities and our world.
This information may be updated, as Fulbright awards are offered, and acceptances confirmed, on a rolling basis. Recipients may also defer their awards.