For the first time since the COVID-19 pandemic, women from across Indiana University gathered in person for a day of networking and professional development at the Women of IU Conference.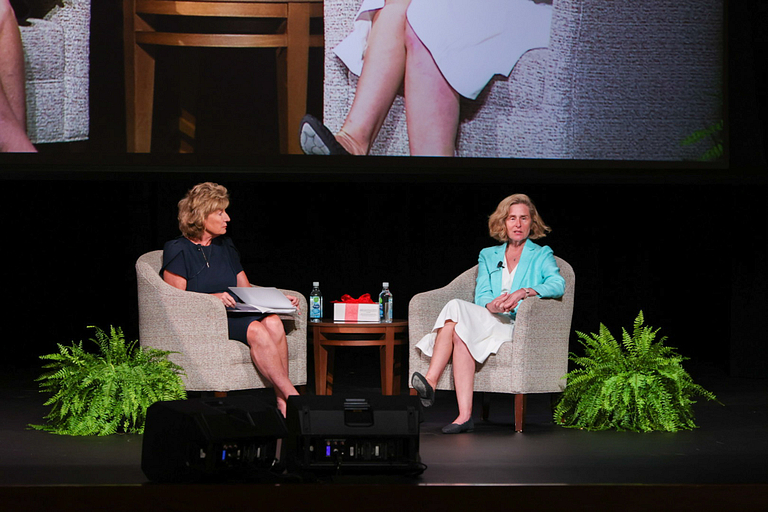 Held in the historic Madam Walker Legacy Center in Indianapolis, the day of learning kicked off with a keynote address from IU President Pamela Whitten, the first woman to lead the university.
Whitten spoke about her journey to becoming IU president and highlighted some of the work she's done during her first year, including establishing an Academic Tuition and Fees Task Force, Climate Action Planning Committee, Task Force on Graduate Education and Presidential Diversity Hiring Initiative.
Whitten also answered questions during a discussion with Vice President for Regional Campuses and Online Education Susan Sciame-Giesecke. Whitten said the most rewarding part of her job one year in has been the time she's spent with the IU community.
"We are ambitious to do better for our students and for each other, and so the opportunity to have those conversations – sometimes they're very quick conversations, people out the door running, starting things – it's very rewarding," she said.
Sciame-Giesecke also asked Whitten about the most challenging part of her job. Whitten said it's hard at times to not impose her personal opinions related to current events, such as recent Supreme Court decisions, on the institution. But she also encouraged others in the IU community to express themselves when they are passionate about such issues.
"I will say that it's vitally important to me that we continue to not only recognize but also foster an environment of free speech and everyone's right to speak out as they wish on things," Whitten said. "Certainly as there are folks at Indiana University that want to personally represent their feelings, that's welcome. It's important to us to also recognize and defend our own, and so we've put out statements related to the work of Dr. (Caitlin) Bernard, and we continue to defend her."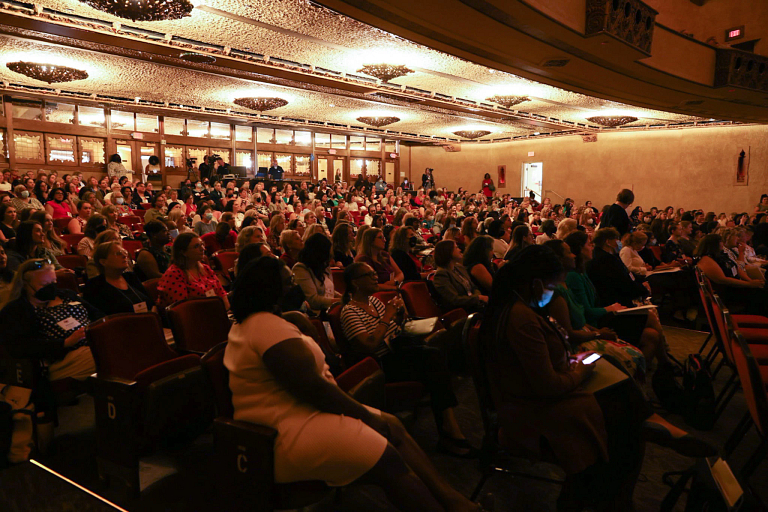 The conference also featured a discussion on Title IX between Karen Bravo, dean of the IU Robert H. McKinney School of Law at IUPUI, and Jayma Meyer, a visiting clinical professor in the O'Neill School of Public and Environmental Affairs at IU Bloomington. The legislation, which turned 50 this year, opened up academic and professional opportunities for women by prohibiting sex discrimination at federally funded institutions.
Meyer grew up swimming competitively but found few or no opportunities at the high school or college levels for women in the 1970s. Her experience has inspired her legal career, which focuses on Title IX violations.
The conference concluded with a keynote address from Indianapolis native A'Lelia Bundles, author of "On Her Own Ground: The Life and Times of Madam C.J. Walker," which was the nonfiction source for "Self Made," the Netflix series starring Octavia Spencer. Bundles is the inaugural Center for Africana Studies and Culture Prestigious Fellow in the School of Liberal Arts at IUPUI.
Bundles spoke about how the stories we learn about others can influence how we perceive and treat them. Growing up in the '50s, she said, the history she read included few stories of women, and hardly any about Black women.
"Now I write biographies so kids in the future will be able to read these books," Bundles said.
Bundles said she wants future generations to read and hear stories that are often overlooked and represent a more complete, accurate history of the state and nation.