BLOOMINGTON, Ind. – Nearly all Indiana University campuses saw an increase in beginner student enrollment in the fall 2022 semester, according to the university's official enrollment census on Aug. 29. This is the first time since the start of the COVID-19 pandemic in 2020 that the university has seen growth in this student population on nearly all campuses, including increases at three of IU's five regional campuses.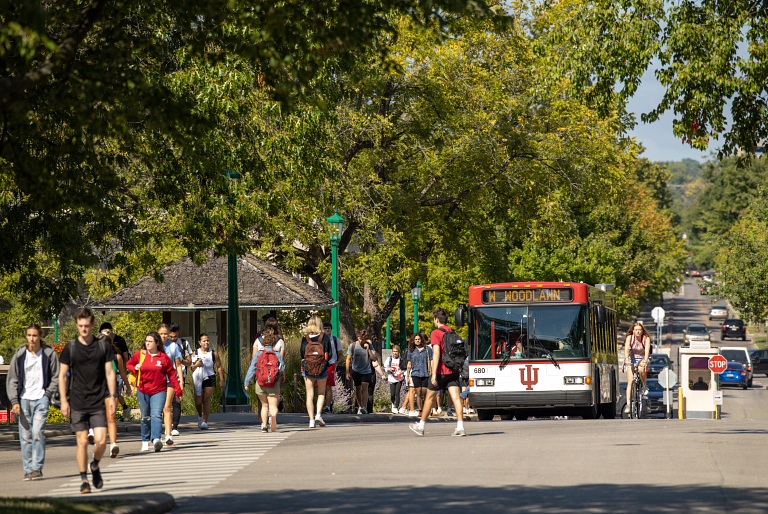 The university also continues to further diversify its student body, setting a record for the number of domestic students of color enrolled this year. More than 30 percent of the IU student body – almost 25,000 students – are domestic students of color.
"This fall, we welcome a powerhouse of more than 90,000 students to Indiana University with a record number of students of color and growth in the number of international students in our IU family," IU President Pamela Whitten said. "The vast array of experiences, knowledge, cultures, talents and skills represented in our student body is a source of pride and strength as we begin this 2022-23 academic year."
Overall enrollment across all IU campuses is 90,065, with 15,922 of these students beginning their academic career with the university in the fall 2022 semester. International student enrollment increased for the fall 2022 semester to 7,432, with 15 percent increases in this population on both the Bloomington and IUPUI campuses.
IU Bloomington
The incoming class of beginner, degree-seeking students sets a new record at IU Bloomington with 9,736 students enrolled, a nearly 3 percent increase over the fall 2021 class of incoming students. The campus's total enrollment is 47,005, composed of 35,660 undergraduates and 11,345 graduate and professional students, all of which are increases from the previous year.
IU Bloomington students come from all 92 Indiana counties, all 50 U.S. states and 121 countries of citizenship. In addition to diverse geographic backgrounds, IU Bloomington's students also bring to campus diverse cultural backgrounds. Domestic students of color on the Bloomington campus make up 28 percent of the student body, a record share of the population. International student enrollment also increased to 5,437 students.
Students in the incoming class also bring diverse educational backgrounds, with a common theme of academic success. More than 1,800 beginning students are in the Hutton Honors College, and 5,502 have been directly admitted to their school of choice within IU Bloomington. In addition, 3,605 incoming students achieved a 4.00 high school GPA (on a 4.0 scale), and more than 5,200 received academic scholarships through the Office of Enrollment Management – 16 percent more than in fall 2021.
In addition to academic scholarships, 73 percent of incoming students received gift aid, including scholarships and grants, which is an increase from the previous fall. The incoming class of beginning students also includes 1,523 students receiving federal Pell Grants, which are awarded to undergraduate students demonstrating exceptional financial need.
IUPUI
Enrollment across IUPUI's Indianapolis campus and two regional education centers totals 25,979, with 24,141 students enrolled at the Indianapolis campus this fall. IUPUC in Columbus welcomed 925 students, while IU Fort Wayne enrollment this fall is 913.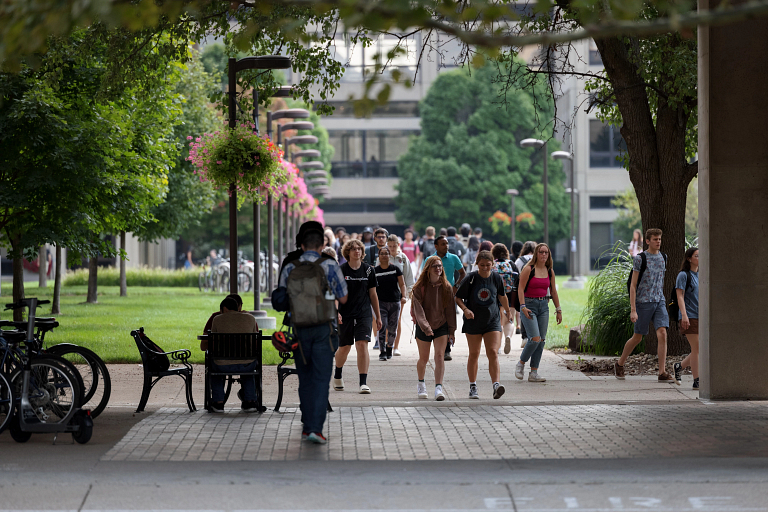 IUPUI is also seeing a record share of students of color this fall, with this population accounting for nearly 35 percent of those enrolled. Asian Americans, Hispanics/Latinos and students who identify with two or more races also have record shares of the student body.
The Indianapolis campus saw a beginner student class of 3,147 students. Of the 24,141 students in Indianapolis, 15,966 are undergraduate students while 8,175 are seeking graduate or professional degrees.
Regional campuses
While overall enrollment decreased slightly at IU's regional campuses, several of the campuses saw increases in the number of degree-seeking beginner students this fall. IU South Bend's beginner class increased more than 10 percent over last year's, while IU East saw a 6 percent increase and IU Southeast increased 3 percent over last fall.
Following the trends seen at IU Bloomington and IUPUI, domestic students of color also make up a record share of the student body at IU's regional campuses. Nearly 30 percent of the student body are students of color. Hispanic/Latino students and those who identify with two or more races also hold record shares of enrolled students.
IU Online
IU Online continues its trend of increasing enrollments and growth this fall. A record 8,353 students are enrolled in IU Online's 220 degree and certificate programs. IU Online programs are all taught and developed by IU faculty, and more than 40 of the programs are collaborations between multiple IU campuses.
The university continues to see positive trends in the desire for online education options from its students, with half of all IU students taking one or more online classes. In addition, 20 percent of IU's more than 1.15 million credit hours are from online courses.