BLOOMINGTON, Ind. – Indiana University Bloomington students will soon begin moving into residence halls for the 2022-23 school year, with more than 7,500 students arriving between Sunday, Aug. 14, and Tuesday, Aug. 16. All students moving into residence halls at IU Bloomington will go through a centralized check-in process at Simon Skjodt Assembly Hall when they arrive on campus.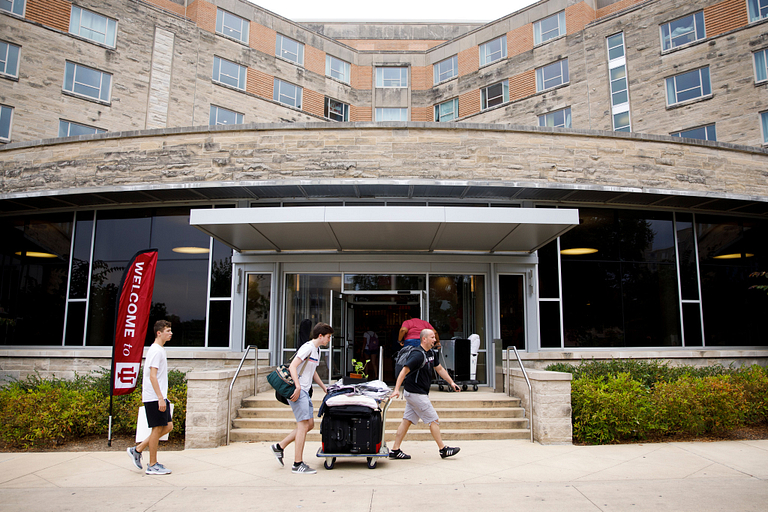 These students will enter check-in from the State Road 45/46 Bypass at Gate 11, Purple Lot, and park in the Green Lot by the north entrance of Simon Skjodt Assembly Hall. Students will then use the facility's north entrance to check in. All students should bring a photo ID, preferably their IU CrimsonCard, which will be activated on site for residence hall access.
Families, guests and visitors should wait for their students outside; no tours are allowed inside the south lobby of Simon Skjodt Assembly Hall. Check-in will be open from 8 a.m. to 6 p.m. Aug. 14 and 8 a.m. to 5 p.m. Aug. 15 and 16.
Once students have completed centralized check-in, they will proceed to their residence halls. Individual parking and move-in instructions for each residence hall are available on the Residential Programs and Services website.
Travelers should check the Indiana Department of Transportation website before heading to Bloomington for any potential delays or detours due to construction or traffic. IU Police Department officers will be stationed at several intersections around campus, and signs will help guide traffic.
IU President Pamela Whitten will be greeting students during move-in on Aug. 14, while IU Bloomington Provost Rahul Shrivastav will welcome students around campus on Aug. 15.
Wednesday, Aug. 17, will mark the start of Welcome Week activities aimed at helping students find their way around, make new friends and acclimate to campus. Highlights include: